Jennifer Fosberry
DATE OF SCHOOL VISIT
Wednesday, October 26. (Jennifer will be visiting two schools: one in the morning and one in the afternoon)
AUTHOR
Jennifer Fosberry
ABOUT THE BOOK
Isabella: Girl in Charge follows the plucky, purple-haired title character on her latest adventure. When her parents are slow to start on a morning that she has big plans, Isabella channels famous female political figures to make sure her voice is heard in this timely ode to women in politics. Isabella: Girl in Charge features: Sandra Day O'Connor – First woman appointed to the Supreme Court; Frances Perkins – First woman Cabinet member (Secretary of Labor); Jeanette Rankin – First woman elected to Congress (Montana); Nellie Tayloe Ross – First female governor (Wyoming); Susanna Madora Salter – First woman mayor (Argoia, KS); a timeline of women in U.S. politics.
ABOUT THE AUTHOR
JENNIFER FOSBERRY is a science geek turned children' book writer. She is the author of several New York Times bestsellers including My Name is Not Isabella; Isabella: Girl on the Go; and My Name is Not Alexander. After working in the high-tech industry in Silicon Valley and running away to Costa Rica for a few years, she returned to the San Francisco Bay area to read, write, and try to get out of housework. She lives with her husband and three children and her little dog, too. Read more about Jennifer on her website. ABOUT THE ILLUSTRATOR: Mike Litwin is an award-winning illustrator who combines oil glazing, colored pencil, collage, and other mixed media to create scenes that serve the imagination and education of children.
SCHOOL TYPE & GRADES
Elementary, grades K-4, ages 4-8.
DESIRED # OF STUDENTS
50-250. The more the better!
LENGTH & TOPIC OF PRESENTATION
45 minutes to an hour depending on the age group. Jennifer offers exciting and motivating assembly programs and workshops. With each new book she brings a variety of educational topics fit for any audience. She has been known to dance with toddlers, talk about "the business" with fifth graders, and teach educators how to empower their students through the love of literature. Her path from self-published to traditionally published to New York Times Bestseller has inspired other writers. Presentations can be tailored to your needs. Read more about her school visits on Jennifer's website.
AV NEEDS
Projector, screen, microphone, and a plug-in for VGA cord. And, a bottle of water.

ORDER FORMS
Tattered Cover will design an order form that the school should distribute in advance of the author visit, and again on the day of the event to all student attendees.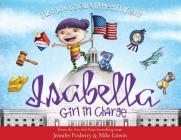 $16.99
ISBN: 9781492641735
Availability: Available to Order - Usually Arrives in Our Store in 4 to 7 Days
Published: Sourcebooks Jabberwocky - October 4th, 2016
---