Andrea Wang
DATE OF SCHOOL VISIT
Flexible dates. Andrea is not available for school visits on Fridays. Please provide possible dates and select a morning or afternoon slot.
ABOUT THE AUTHOR
As a child, Andrea Wang made dumplings and took baths with orange peels to prepare for Chinese New Year. When not traveling, she lives in Colorado with her husband, two children, and a dog named Mochi. This is her first picture book and it was a winner of a 2018 Honor Award from the Asian Pacific American Librarians Association (APALA).
ABOUT THE BOOK: The Nian Monster
Tong tong! The legendary Nian monster has returned at Chinese New Year. With horns, scales, andwide, wicked jaws, Nian is intent on devouring Shanghai, starting with Xingling! The old tricks to keep him away don't work on Nian anymore, but Xingling is clever. Will her quick thinking be enough to save the city from the Nian Monster?
LENGTH & TOPIC OF PRESENTATION
45 minutes, including Q&A. Andrea's "Meet the Author" presentation consists of a short segment about her and how she became an author, an interactive reading of The Nian Monster, and presents ways for students to be brave and creative in finding and telling their own stories. Along the way, students will learn about Chinese culture plus some fun Chinese sound words!
SCHOOL TYPE & GRADES
Elementary School; grades K-3
DESIRED # OF STUDENTS
We like at least 50 students, and a maximum of 150 students.
AV NEEDS
Projector, projector screen, microphone. And, a bottle of water.
PROMOTING & PREPARING FOR THE EVENT
Promoting and preparing for the author's school visit is the most important ingredients for a successful, educational, and fun event. Please be sure to carefully read: What an Author Visit is All About.
HASHTAGS/SOCIAL MEDIA
#tatteredcover
#andreawang
#nianmonster
ORDER FORMS
Tattered Cover will design an order form that the school should distribute in advance of the author visit, and again on the day of the event to all student attendees.
FOR STUDENTS/TEACHERS/FAMILIES/ETC. WHO WISH TO BUY BOOKS AND PAY FOR THEM WITH A CREDIT CARD
Link to share with students and their families to buy the author's books and pay with a credit card:
www.tatteredcover.com/book-list-andrea-wang
FYI: There are instructions in the link above for the purchaser, which includes the fact that the purchaser must print the confirmation email out and show it to you.
DO NOT give a book to someone unless they show you their printed online confirmation OR you verify the order has been placed by checking the Online Ordering spreadsheet we'll be sharing with you. (If the order doesn't appear, email us the name of the student and parent's name and we can keep watch for an order from them and alert you.)
Tattered Cover keeps track of all online orders.
DEADLINE: Online orders with SCHOOL PICK UP will only be available for one week after the school visit. Orders placed after that time will need to be picked up at one of our locations, or shipped.

$17.99
ISBN: 9781499807035
Availability: On Our Shelves Now
Published: little bee books - March 5th, 2019
---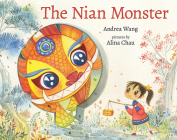 $16.99
ISBN: 9780807556429
Availability: Available to Order - Usually Arrives in Our Store in 4 to 7 Days
Published: Albert Whitman & Company - December 1st, 2016
---