The goal of Hue-Man Experience at Tattered Cover is to help individuals, organizations and businesses that want to learn more about underrepresented titles and authors, have a trustworthy brand to source relevant material. Hue-Man Experience will source from all major and independent publishers, as well as conducting its own efforts to locate local talent. Within Tattered Cover's organization, Hue-Man Experience will focus on identifying, curating and recommending diverse authors, writers and artists, to ensure thoughtful representation from Black, Indigenous and People of Color throughout its stores.
---

DECEMBER RECOMMENDATIONS ►►►
HOLIDAY GIFT GUIDE
The winter holidays are a time for love, warmth, and togetherness.
And what better way to rejoice than to snuggle up cozy with the people you love and a good book?
"For you or a gift for someone else?" That is the question…
LIFE, I SWEAR: INTIMATE STORIES FROM BLACK WOMEN ON IDENTITY, HEALING, AND SELF-TRUST
By Chloe Dulce Louvouezo
► A mixture of poignant essays, gorgeous photography, and sophisticated design elements, Life, I Swear is a chronicle of transformation and growth by and for modern-day Black women. Some of today's most influential Black female voices chronicle their private journeys, offering testimonies of living through pain and joy with raw honesty and unapologetic self-love.

MILK BLOOD HEAT
By Dantiel W. Moniz
► *Featured as one of Tattered Cover's Books of the Year*
"A gorgeous debut" (Lauren Groff) from Dantiel W. Moniz, one of the most exciting discoveries in today's literary landscape, Milk Blood Heat depicts the sultry lives of Floridians in intergenerational tales that contemplate human connection, race, womanhood, inheritance, and the elemental darkness in us all.

YOU ARE YOUR BEST THING
By Tarana Burke and Brene Brown
► NEW YORK TIMES BESTSELLER • Tarana Burke and Dr. Brené Brown bring together a dynamic group of Black writers, organizers, artists, academics, and cultural figures to discuss the topics the two have dedicated their lives to understanding and teaching: vulnerability and shame resilience.

THE 1619 PROJECT
By Nikole Hannah-Jones
► The New York Times Magazine's award-winning "1619 Project" issue reframed our understanding of American history by placing slavery and its continuing legacy at the center of our national narrative. This new book substantially expands on that work, weaving together eighteen essays that explore the legacy of slavery in present-day America with thirty-six poems and works of fiction that illuminate key moments of oppression, struggle, and resistance. The essays, including one by Linda Villarosa, show how the inheritance of 1619 reaches into every part of contemporary American society, from politics, music, diet, traffic, and citizenship to capitalism, religion, and our democracy itself.
This is a book that speaks directly to our current moment, contextualizing the systems of race and caste within which we operate today. It reveals long-glossed-over truths around our nation's founding and construction—and the way that the legacy of slavery did not end with emancipation but continues to shape contemporary American life.

THE SON OF THE HOUSE
By Cheluchi Oneymelukwe-Onuobia
► The lives of two Nigerian women divided by class and social inequality intersect when they're kidnapped, held captive, and forced to await their fate together. In the Nigerian city of Enugu, young Nwabulu, a housemaid since the age of ten, dreams of becoming a typist as she endures her employers' endless chores. She is tall and beautiful and in love with a rich man's son. Educated and privileged, Julie is a modern woman. Living on her own, she is happy to collect the gold jewelry lovestruck Eugene brings her, but has no intention of becoming his second wife. When a kidnapping forces Nwabulu and Julie into a dank room years later, the two women relate the stories of their lives as they await their fate.

Pulsing with vitality and intense human drama, Cheluchi Onyemelukwe-Onuobia's debut is set against four decades of vibrant Nigeria, celebrating the resilience of women as they navigate and transform what remains a man's world.

BLACK FUTURES
Edited by Kimberly Drew and Jenna Wortham
► Writer and activist Kimberly Drew and New York Times staff writer Jenna Wortham compile a vivid and unique collection of work in Black Futures, a book that offers multiple perspectives on the question: What does it mean to be Black and alive right now? Drawing on images, photos, essays, memes, tweets, interviews, and more, this collection of work offers contributions from Black academics, activists, thought leaders, and creators. Black Futures earned starred reviews from both Kirkus Reviews and Booklist, with Kirkus Reviews describing it as "a must-own compendium illustrating the richness, joy, and power of the modern Black experience."


SHANTÉ KEYS AND THE NEW YEAR'S PEAS
By Gail Piernas-Davenport
► This book is so much fun! Told in rhyme and with vibrant illustrations, it's a book that never fails to raise a smile. Shanté is on a mission to find lucky New Year black-eyed peas for Grandma's New Year's Day dinner. As she searches, she learns about the lucky New Year's foods that all her neighbors enjoy. -Kali Villarosa
RED SHOES
By Karen English, Illustrated by Ebony Glenn
► Malika is delighted when Nana surprises her with a beautiful new pair of red shoes! And with a click-click-clack and a swish, swish, swish. Malika wears her wonderful new shoes everywhere she goes. But one day, the shoes begin to pinch Malika's toes. And alas, they don't let her forget that her feet have grown! Soon Malika and Nana are off to the Rare Finds Resale Shop, where the shoes can be resold -- so another little girl can enjoy them! Who will be the next to wear the red shoes? Malika wonders. Then Inna Ziya buys the shoes, and readers follow the shoes all the way across the world to Africa, where Amina, another little girl, who has fasted her first time for Ramadan is about to get an amazing gift!

---
NOVEMBER RECOMMENDATIONS ►►►
BLACK COOKBOOKS AND FOOD FOR THE SOUL
Yams, and turkey, and mac-and-cheese, oh my!
This month's theme is centered around Black Cookbooks and food that nourishes the soul. Here are some of Clara's favorites:
NOTES FROM A YOUNG BLACK CHEF
By Kwame Onwuachi, Joshua David Stein

► By the time he was twenty-seven years old, Kwame Onwuachi had opened—and closed—one of the most talked about restaurants in America. He had sold drugs in New York and been shipped off to rural Nigeria to "learn respect." He had launched his own catering company with twenty thousand dollars made from selling candy on the subway and starred on Top Chef. Through it all, Onwuachi's love of food and cooking remained a constant, even when, as a young chef, he was forced to grapple with just how unwelcoming the food world can be for people of color. In this inspirational memoir about the intersection of race, fame, and food, he shares the remarkable story of his culinary coming-of-age; a powerful, heartfelt, and shockingly honest account of chasing your dreams—even when they don't turn out as you expected.

SWEET POTATO SOUL
by Jenne Claiborne

► *STAFF PICK* "You don't have to give up soul-satisfying foods to eat Vegan. That is, not if you have Jenne Claiborne's genius cookbook, Sweet Potato Soul! 100 vegan recipes that riff on Southern cooking in a playful and most flavorful way, like Bootylicious Gumbo, Jalapeño Hush Puppies, Coconut Collard Salad, Georgia Watermelon & Peach Salad, Sweet Potato Cinnamon Rolls, and of course a killer Sweet Potato Pie recipe you have to try! This book will change your vegan cooking forever."
— Stephanie Coleman, former Director of Buying

BLACK GIRL BAKING
by Jerrelle Guy

► *As seen on Netflix's High on the Hog*
Jerrelle leads you on a sensual baking journey using the five senses, retelling and reinventing food memories while using ingredients that make her feel more in control and more connected to the world and the person she has become. Whole flours, less refined sugar and vegan alternatives make it easier to celebrate those sweet moments that made her who she is today. Escape everyday life and get lost in the aromas, sounds, sights, textures and tastes of Black Girl Baking.

BROTHA VEGAN
by Omowale Adewale
► Brotha Vegan, unpacks the lived experience of black men on veganism, fatherhood, politics, sexuality, gender, health, popular culture, spirituality, food, animal advocacy, the environment, and the many ways that veganism is lived and expressed within the Black community in the United States.
Edited by Omowale Adewale—founder of Black Vegfest, and one of the leading voices for racial and economic justice, animal rights, and black solidarity—Brotha Vegan includes interviews with and articles by folks such as Brooklyn Borough President Eric Adams, Doc (of Hip Hop is Green), chef Bryant Terry, physicians Anteneh Roba and Milton Mills, DJ Cavem, Stic of Dead Prez, Kimatni Rawlins, and many others. At once inspiring, challenging, and illuminating, Brotha Vegan illustrates the many ways it is possible to be vegan and reveals the leading edge of a "veganized" consciousness for social renewal.
► With more than 100 modern and delicious dishes that draw on Terry's personal memories as well as the history of food that has traveled from the African continent, Afro-Vegan takes you on an international food journey. Accompanying the recipes are Terry's insights about building community around food, along with suggested music tracks from around the world and book recommendations. For anyone interested in improving their well-being, Afro-Vegan's groundbreaking recipes offer innovative, plant-based global cuisine that is fresh, healthy, and forges a new direction in vegan cooking.

BLACK FOOD
Edited by Bryant Terry
► In this stunning and deeply heartfelt tribute to Black culinary ingenuity, Bryant Terry captures the broad and divergent voices of the African Diaspora through the prism of food. As much a joyful celebration of Black culture as a cookbook, Black Food explores the interweaving of food, experience, and community through original poetry and essays, including "Jollofing with Toni Morrison" by Sarah Ladipo Manyika, "Queer Intelligence" by Zoe Adjonyoh, "The Spiritual Ecology of Black Food" by Leah Penniman, and "Foodsteps in Motion" by Michael W. Twitty. Visually stunning artwork from such notables as Black Panther Party creative director Emory Douglas and artist Sarina Mantle are woven throughout, and the book includes a signature musical playlist curated by Terry.


HIGH ON THE HOG
by Jessica B. Harris

► Acclaimed cookbook author Jessica B. Harris has spent much of her life researching the food and foodways of the African Diaspora. High on the Hog is the culmination of years of her work, and the result is a most engaging history of African American cuisine. Harris takes the reader on a harrowing journey from Africa across the Atlantic to America, tracking the trials that the people and the food have undergone along the way.

► In Jubilee, Tipton-Martin brings these masters into our kitchens. Through recipes and stories, we cook along with these pioneering figures, from enslaved chefs to middle- and upper-class writers and entrepreneurs. With more than 100 recipes, from classics such as Sweet Potato Biscuits, Seafood Gumbo, Buttermilk Fried Chicken, and Pecan Pie with Bourbon to lesser-known but even more decadent dishes like Bourbon & Apple Hot Toddies, Spoon Bread, and Baked Ham Glazed with Champagne, Jubilee presents techniques, ingredients, and dishes that show the roots of African American cooking—deeply beautiful, culturally diverse, fit for celebration.

---
OCTOBER RECOMMENDATIONS ►►►
MOVERS, SHAKERS AND TRAILBLAZERS: BOOKS FOR BLACK ENTREPRENEURS AND OTHER BOSSES
This month's curated list features Black CEOs, boss babes, and all-around inspirational leaders approved by Ms. Villarosa herself.
As the leaves fall, cozy up with one of these reads – and then get to work, sis!

YEAR OF YES: HOW TO DANCE IT OUT, STAND IN THE SUN AND BE YOUR OWN PERSON
By Shonda Rhimes

► This poignant, intimate, and hilarious memoir explores Shonda's life before her Year of Yes—from her nerdy, book-loving childhood to her devotion to creating television characters who reflected the world she saw around her. The book chronicles her life after her Year of Yes had begun—when Shonda forced herself out of the house and onto the stage; when she learned to explore, empower, applaud, and love her truest self. Yes.

BLACK BUCK
by Mateo Askaripour

► *STAFF PICK* "This sarcastically funny novel made me laugh and cry, with a curve ball ending that left me saying "This is America"." -Anya, Hue-man Experience Coordinator
There's nothing like a Black salesman on a mission. An unambitious twenty-two-year-old, Darren lives in a Bed-Stuy brownstone with his mother, who wants nothing more than to see him live up to his potential as the valedictorian of Bronx Science. But Darren is content working at Starbucks in the lobby of a Midtown office building, hanging out with his girlfriend, Soraya, and eating his mother's home-cooked meals. All that changes when a chance encounter with Rhett Daniels, the silver-tongued CEO of Sumwun, NYC's hottest tech startup, results in an exclusive invitation for Darren to join an elite sales team on the thirty-sixth floor.


THE LAST BLACK UNICORN
by Tiffany Haddish

► Placed in the foster care system as a teen, and struggling to read at a basic level in ninth grade, Haddish found that humor and jokes helped her endure. By turns hilarious, filthy, and brutally honest, The Last Black Unicorn shows the world who Tiffany Haddish really is—humble, grateful, down-to-earth, and funny as hell. And now, she's ready to inspire others through the power of laughter.

LIFE IN MOTION: AN UNLIKELY BALLERINA
by Misty Copeland

► Determination meets dance in this New York Times bestselling memoir by the history-making ballerina Misty Copeland. recounting the story of her journey to become the first African-American principal ballerina at the prestigious American Ballet Theatre.Misty opens a window into the life of an artist who lives life center stage, from behind the scenes at her first classes to her triumphant roles in some of the world's most iconic ballets. Life in Motion is a story of passion, identity and grace for anyone who has dared to dream of a different life.

RABBIT: A MEMOIR
by Patricia Williams

► Patricia Williams (aka Ms. Pat) was born and raised in Atlanta at the height of the crack epidemic. One of five children, Pat watched as her mother struggled to get by on charity, cons, and petty crimes. At age seven, Pat was taught to roll drunks for money. At twelve, she was targeted for sex by a man eight years her senior. By thirteen, she was pregnant. By fifteen, Pat was a mother of two.
Alone at sixteen, Pat was determined to make a better life for her children. But with no job skills and an eighth-grade education, her options were limited. She learned quickly that hustling and humor were the only tools she had to survive. Rabbit is an unflinching memoir of cinematic scope and unexpected humor. With wisdom and humor, Pat gives us a rare glimpse of what it's really like to be a black mom in America.

RISE AND GRIND: OUTPERFORM, OUTWORK, AND OUTHUSTLE YOUR WAY TO A MORE SUCCESSFUL AND REWARDING LIFE
by Daymond John

► New York Times bestselling author of The Power of Broke and "Shark" on ABC's hit show Shark Tank, Daymond John takes an up close look at the hard-charging routines and winning secrets of individuals who have risen to the challenges in their lives and grinded their way to the very tops of their fields. Along the way, he also reveals how grit and persistence both helped him overcome the obstacles he has faced in life and ultimately fueled his success.explores how grit, persistence, and good old-fashioned hard work are the backbone of every successful business and individual, and inspires readers to Rise & Grind their way the top.

---
SEPTEMBER RECOMMENDATIONS ►►►
The Hue-Man Experience at Tattered Cover covers everything from the classics to the newly released. This month's reading list is centered around the drop of some of the most-anticipated reads of the year. Everything from Gabrielle Union to intimate stories from The Black Panther Party, we've got you covered.

HOW TO WRESTLE A GIRL
By Venita Blackburn

► Venita Blackburn's characters bully and suffer, spit and tease, mope and blame. They're hyper aware of their bodies and fiercely observant, fending off the failures and advances of adults with indifferent ease. Stark and sharp, hilarious and ominous, these pieces are scabbed, bruised, and prone to scarring.
A rising star, Blackburn is a trailblazing stylist, and in How to Wrestle a Girl she masterfully shakes loose a vision of girlhood that is raw, vulnerable, and never at ease.

MISFITS: A PERSONAL MANIFESTO
by Micaela Coel

► When invited to deliver the MacTaggart Lecture at the Edinburgh International Television Festival, Michaela Coel touched a lot of people with her striking revelations about race, class and gender, but the person most significantly impacted was Coel herself. Building on her celebrated speech, Misfits immerses readers in her vision through powerful allegory and deeply personal anecdotes—from her coming of age in London public housing to her discovery of theater and her love for storytelling. And she tells of her reckoning with trauma and metamorphosis into a champion for herself, inclusivity, and radical honesty.
Misfits is a triumphant call for honesty, empathy and inclusion. Championing "misfits" everywhere, this timely, necessary book is a rousing coming-to-power manifesto dedicated to anyone who has ever worried about fitting in.

THREE GIRLS FROM BRONZEVILLE: A UNIQUELY AMERICAN
MEMOIR OF RACE, FATE, AND SISTERHOOD
by Dawn Turner

► A "beautiful, tragic, and inspiring" (Publishers Weekly, starred review) memoir about three Black girls from the storied Bronzeville section of Chicago that offers a penetrating exploration of race, opportunity, friendship, sisterhood, and the powerful forces at work that allow some to flourish…and others to falter. In the vein of The Other Wes Moore and The Short and Tragic Life of Robert Peace, Three Girls from Bronzeville is a piercing memoir that chronicles Dawn's attempt to find answers. It's at once a celebration of sisterhood and friendship, a testimony to the unique struggles of Black women, and a tour-de-force about the complex interplay of race, class, and opportunity, and how those forces shape our lives and our capacity for resilience and redemption.

YOU GOT ANYTHING STRONGER?
by Gabrielle Union

► Picking up right where Union's best-selling memoir, We're Going To Need More Wine leaves off, this follow up is guaranteed to make you laugh as the stories dive deeper. Gabrielle Union writes, "This time, I need to be more vulnerable—not so much for me, but anyone who feels alone in what they're going through. I have recently found true strength in that vulnerability, and I want to share that power with you here, through this book."
UNBOUND: MY STORY OF LIBERATION AND THE BIRTH OF THE ME TOO MOVEMENT
by Tarana Burke

► From the founder and activist behind one of the largest movements of the twenty-first century, the me too movement, Tarana Burke debuts a powerful memoir about her own journey to saying those two simple yet infinitely powerful words—me too—and how she brought empathy back to an entire generation in one of the largest cultural events in American history.
THE TREES
by Percival Everett
► Percival Everett's The Trees is a page-turner that opens with a series of brutal murders in the rural town of Money, Mississippi. When a pair of detectives from the Mississippi Bureau of Investigation arrive, they meet expected resistance from the local sheriff, his deputy, the coroner, and a string of racist White townsfolk. The murders present a puzzle, for at each crime scene there is a second dead body: that of a man who resembles Emmett Till.
In this bold, provocative book, Everett takes direct aim at racism and police violence, and does so in a fast-paced style that ensures the reader can't look away. The Trees is an enormously powerful novel of lasting importance from an author with his finger on America's pulse.
BELIEVING: OUR THIRTY-YEAR JOURNEY TO END GENDER VIOLENCE
By Anita Hill
► From the woman who gave the landmark testimony against Clarence Thomas as a sexual menace, a new manifesto about the origins and course of gender violence in our society; a combination of memoir, personal accounts, law, and social analysis, and a powerful call to arms from one of our most prominent and poised survivors.
PLEASE DON'T SIT ON MY BED IN YOUR OUTSIDE CLOTHES
By Phoebe Robinson

► Following Robinson's Everything's Trash, but It's Okay and You Can't Touch My Hair, her latest essay collection comes with takes on pop culture, her own life, and Black Lives Matter, among other topics.
"We've all been through a trying time, which is why I wrote something to make you laugh until you pee a little, feel until you want to rage a little, and think until you go back to laughing a little. That means telling you about the embarrassing accident that happened while quarantining with my boyfriend, the ways Black Lives Matter and performative allyship have taken center stage, my mom begrudgingly leaving her house so she could meet Michelle Obama, my decision to not have kids, and everything I've learned from running multiple companies (Pro tip: Always have a wig on standby for impromptu Zoom meetings)." -Phoebe Robinson
REVOLUTION IN OUR TIME: THE BLACK PANTHER PARTY'S PROMISE TO THE PEOPLE
By Kekla Magoon

► With passion and precision, Kekla Magoon relays an essential account of the Black Panthers—as militant revolutionaries and as human rights advocates working to defend and protect their community.
In this comprehensive, inspiring, and all-too-relevant history of the Black Panther Party, Kekla Magoon introduces readers to the Panthers' community activism, grounded in the concept of self-defense, which taught Black Americans how to protect and support themselves in a country that treated them like second-class citizens. For too long the Panthers' story has been a footnote to the civil rights movement rather than what it was: a revolutionary socialist movement that drew thousands of members—mostly women—and became the target of one of the most sustained repression efforts ever made by the U.S. government against its own citizens.
---
AUGUST RECOMMENDATIONS ►►►
Welcome to Hot Book Summer! This book list is meant to transport you away from your (post) Covid lockdown into a world of imagination - full of passion, intrigue, secrets and reveals. The stories take place everywhere from upscale island locales to southern sultry sands, yet all these books speak to Love. They represent Love in its many forms, from familial love, sistahood, soulmates, queer joy, love of justice...all wrapped with reverence and love of the beauty and nature.

Queen Sugar
By Natalie Baszile

► Queen Sugar the multigenerational family drama unwinds the story of captivating characters coming together to repair relationships and save their legacy. The novel, now a TV series was adapted, directed, and executive produced by Ava DuVernay with Oprah Winfrey serving as an executive producer. The story centers around three siblings who return to Louisiana to save their father's sugarcane field. Queen Sugar is steeped in New Orleans history, while also depicting modern life in the Deep South and the struggle to keep wealthy white farmers from taking their land.

Dear Haiti, Love Alaine
by Maika Moulite Maritza Moulite

► Co-written by sisters Maika and Maritza Moulite, the novel begins when Quick-witted high school journalist Alaine Beauparlant gets booted from her elite private school after a prank goes awry She warily accepts an invitation from her aunt to spend her suspension at the family's estate in Haiti–where her estranged mom is recuperating from a political fiasco.

In her family's homeland for the first time, Alaine is put to work at her aunt's start-up helping native children in need. Alaine meets locals, and is shown the ropes by Jason, a fellow intern whose charming ways are making work a bit more challenging. while there she finds letters, articles, emails, and diary entries that also help her know the mother she's never really understood.

Here Comes the Sun
by Nicole Y. Dennis-Benn

► A New York Times Notable Book of the Year and Winner of the LAMBDA Literary Award for Lesbian Fiction, Dennis- Benn captures the distinct rhythms of Jamaican life and dialect. She pens a tender hymn to a world hidden among pristine beaches and the wide expanse of turquoise seas. At an opulent resort in Montego Bay, Margot hustles to send her younger sister, Thandi, to school. Taught as a girl to trade her sexuality for survival, Margot is ruthlessly determined to shield her sister from the same fate. When plans for a new hotel threaten their village, Margot sees not only an opportunity for her own financial independence but also perhaps a chance to admit a shocking secret: her forbidden love for another woman. From a much-heralded new writer, Here Comes the Sun offers a dramatic glimpse into a vibrant, passionate world most outsiders see simply as paradise.

Summer On the Bluffs
by Sunny Hostin

► The View cohost and New York Times bestselling author Sunny Hostin dazzles with this brilliant novel about a life-changing summer along the beaches of Martha's Vineyard. Welcome to Oak Bluffs, the most exclusive black beach community in the country. This picturesque town hugging the sea is a mecca for the crème de la crème of black society Meet Ama, the heart of the novel, and godmother to Perry, Billie, and Olivia. Ama is an talented Wall Street alum who faced sexism and racism in her career but worked hard to craft herself a beautiful life, complete with a beach house in Oak Bluffs.

When Ama's husband passes away and she begins to consider her next chapter and she invites her goddaughters for one last summer together. This summer is unlike any before, as Ama has informed the girls that, at the season's end, she will be giving the house to one of them. What unfolds is a summer of questions, love, and answers as the family holds on for dear life.
Island Queen
by Vanessa Riley
► This historical novel is based on the true life story of Dorothy Kirwan Thomas, a free woman of color who rose from slavery to become one of the wealthiest and most powerful landowners in the early 1800's Caribbean. From the port cities of the West Indies to the drawing rooms of London's elite, Island Queen is a sweeping portrait of a true larger-than-life woman who made her mark on history.
Seven Days in June
by Tia Williams
► Witty and romantic, Seven Days tells the story of Brooklynite Eva Mercy, a single mom and bestselling erotica writer, and Shane Hall, a reclusive, enigmatic, award-winning literary author. When they meet unexpectedly at a literary event, sparks fly, raising not only their past buried traumas, but the eyebrows of New York's Black literati. What no one knows is that twenty years earlier, teenage Eva and Shane spent one crazy, torrid week madly in love. Over the next seven days in the middle of a steamy Brooklyn summer, Eva and Shane reconnect. Seven Days in June, a Reese Witherspoon Book Club pick, is by turns humorous, warm and deeply sensual.
While Justice Sleeps
By Stacey Abrams
► A political thriller by, yes, that Stacey Abrams. The New York Times bestseller is a gripping novel set within the halls of the U.S. Supreme Court—where a young law clerk finds herself embroiled in a shocking mystery plotted by one of the most preeminent judges in America. While Justice sleeps pulls the reader along the strands of a complex web of politics, raw ambition and deadly deception.
---
JULY RECOMMENDATIONS ►►►

The Soul of Baseball: A Road Trip Through Buck O'Neil's America
by Joe Posnanski
► About Buck O'Neil, an American professional baseball player in the Negro Leagues during the 1940s and 1950s. O'Neil's contributions to the game of baseball and his love for the sport garnered national attention when he was featured in Ken Burns' 1995 documentary Baseball.

Only the Ball Was White: A History of Legendary Black Players and All Black Professional Teams
by Robert Peterson
► Early in 1920's, the New York Giants sent a scout to watch a young Cuban play for a baseball club for Foster's American Giants in the Negro Leagues. During one at-bat this talented slugger lined a ball so hard that the right fielder was able to play it off the top of the fence and throw Christobel Torriejti out at first base.The scout liked what he saw , but was disappointed the player was light brown and had rough hair. Here was a young player who would have gone up the major leagues if not for the unofficial boundary that prevented hundreds of star quality athletics from playing in big-league baseball.

Black Diamond: The Story. Of the Negro Baseball Leagues
by Frederick L. McKissack and Patricia C. McKissack
► A 1994 book which tells the history of African-American and Latin American involvement with baseball in the United States.

Black Writers/Black Baseball: An Anthology of Articles from Black Sportswriters Who Covered the Negro Leagues
by Aby Jim Reisler

► This revised edition is an anthology of 10 African American sportswriters who covered baseball's Negro Leagues in the first part of the 20th century. The writers include Sam Lacy, Wendell Smith, Frank A. Young, Joe Bostic, Chester L. Washington, W. Rollo Wilson, Dan Burley, Ed Harris, A.S. "Doc" Young and Romeo Dougherty. The men represented here were pioneers in their own right. Writing for black weekly newspapers, they faced the same conditions as the leagues' players, from discrimination to endless travel. Yet it was through their writings that the public, both black and white were given an up-close, inside look at the day-to-day happenings of Negro League baseball.

We are the Ship
by Kadir Nelson
► Kadir is bringing rich History of African American painting and art to a beautifully illustrated book targeted to kids but enjoyable by people of any age. Nelson writes in a first-person anonymous Black ballplayers voice, with simple language belying the complexity and challenges of early black baseball.

Satchel: The Life and Times of an American Legend
by Larry Tye
► A very well read audiobook that covers all the bases for Sachel Page who was a majestic and enigmatic pitcher. He was great on and off the field and his story gives us a look at the man inside.He invented his trademark hesitation pitch in reform school throwing bricks at rival gang members. Also an ebook.

Queen of the Negro Leagues
by James Overmyer
► "Queen of the Negro Leagues" by James Overmyer. This book honors the life of Effa Manley, the trailblazing female and co-owner of baseball's Newark Eagles of the Negro Leagues. The first woman inducted into the Baseball Hall of Fame. There was no one like Effa Manley in the sports world of 1930s and 1940s. She was a sophisticated woman who never shrank from going head to head with men. A fascinating story about a trailblazing woman in an interesting time and place.
Game Changers: 100 years of Negro League Baseball
by Jason L. Hanson
► Game Changers is a 40-page, richly illustrated booklet that offers an overview of African American history in baseball and the little-known but pivotal role Denver played in breaking down the color barrier.
►►► Click here to View A Conversation Between Kwame Spearman and Clara Villarosa About The Negro Leagues
---
JUNE RECOMMENDATIONS ►►►
In June, it is most honorable to acknowledge, celebrate and commemorate the achievements that African Americans were a part of. Both Juneteenth and PRIDE are annual reminders that African Americans stopped at nothing to be seen, heard, and felt. This month's reads should move you, inform you, or even encourage you to stop at nothing when seeking liberation, autonomy, and the means to authentically be YOU.

Juneteenth (A Novel)
by Ralph Ellison
► In Juneteenth, Ralph Ellison evokes the rhythms of jazz and gospel and ordinary speech to tell a powerful tale of a prodigal son in the twentieth century. At the time of his death in 1994, Ellison was still expanding his novel in other directions, envisioning a grand, perhaps multivolume, story cycle. Always, in his mind, the character Hickman and the story of Sunraider's life from birth to death were the dramatic heart of the narrative. And so, with the aid of Ellison's widow, Fanny, his literary executor, John Callahan, has edited this magnificent novel at the center of Ralph Ellison's forty-year work in progress—its author's abiding testament to the country he so loved and to its many unfinished tasks.
On Juneteenth
by Annette Gordon-Reed
► The essential, sweeping story of Juneteenth's integral importance to American history, as told by a Pulitzer Prize–winning historian and Texas native Annette Gordon-Reed.
Weaving together American history, dramatic family chronicle, and searing episodes of memoir, Annette Gordon-Reed's On Juneteenth provides a historian's view of the country's long road to Juneteenth, recounting both its origins in Texas and the enormous hardships that African-Americans have endured in the century since, from Reconstruction through Jim Crow and beyond. All too aware of the stories of cowboys, ranchers, and oilmen that have long dominated the lore of the Lone Star State, Gordon-Reed—herself a Texas native and the descendant of enslaved people brought to Texas as early as the 1820s—forges a new and profoundly truthful narrative of her home state, with implications for us all.

Juneteenth for Mazie
by Floyd Cooper
► Mazie is ready to celebrate liberty and freedom. She is ready to celebrate a great day in American history. The day her ancestors were no longer slaves. Mazie remembers the struggles and the triumph, as she gets ready to celebrate Juneteenth. In this children's narrative, Floyd Copper captures the essence of liberation and the celebration of African American Freedom in the United States with his illustrations.
All Different Now: Juneteenth, the First Day of Freedom
by Angela Johnson, with illustrations by E.B. Lewis
► Through the eyes of one little girl, All Different Now tells the story of the first Juneteenth, the day freedom finally came to the last of the slaves in the South. Since then, the observance of June 19 as African American Emancipation Day has spread across the United States and beyond. This stunning picture book includes notes from the author and illustrator, a timeline of important dates, and a glossary of relevant terms. Told in Angela Johnson's signature melodic style and brought to life by E.B. Lewis's striking paintings, All Different Now is a joyous portrait of the dawn breaking on the darkest time in our nation's history.

They, She, He Easy as ABC
by Maya Christina Gonzalez, Matthew Sg
► They, She, He easy as ABC shows that including everyone is all part of the dance. It's easy. It's fundamental. As the dance begins the kids proclaim, "No one left out and everyone free," in a sing-song rhyme about inclusion. This sets the stage for readers to meet 26 kids showing us their dance moves.

Surpassing Certainty
by Janet Mock
► Fueled by her dreams and an inimitable drive, Janet makes her way through New York City intent on building a career in the highly competitive world of magazine publishing—within the unique context of being trans, a woman, and a person of color. Hers is a timely glimpse about the barriers many face—and a much-needed guide on how to make a way out of no way. Long before she became one of the world's most respected media figures and lauded leaders for equality and justice, Janet learned how to advocate for herself before becoming an advocate for others. In this "honest and timely appraisal of what it means to be true to yourself" (Booklist), Surpassing Certainty offers an "exquisitely packaged gift of her experiences...that signals something greater" (Bitch Magazine).

Black Boy Out of Time: A Memoir
by Hari Ziyad
► One of nineteen children in a blended family, Hari Ziyad was raised by a Hindu Hare Kṛṣṇa mother and a Muslim father. Through reframing their own coming-of-age story, Ziyad takes readers on a powerful journey of growing up queer and Black in Cleveland, Ohio, and of navigating the equally complex path toward finding their true self in New York City. Exploring childhood, gender, race, and the trust that is built, broken, and repaired through generations, Ziyad investigates what it means to live beyond the limited narratives Black children are given and challenges the irreconcilable binaries that restrict them.

Giovanni's Room
by James Baldwin
► In the 1950s Paris of American expatriates, liaisons, and violence, a young man finds himself caught between desire and conventional morality. With a sharp, probing imagination, James Baldwin's now-classic narrative delves into the mystery of loving and creates a moving, highly controversial story of death and passion that reveals the unspoken complexities of the human heart.

I'm A Wild Seed
by Sharon Lee De La Cruz
► In this delightfully compelling full-color graphic memoir, De La Cruz shares her process of undoing the effects of a patriarchal, colonial society on her self-image, her sexuality, and her concept of freedom. Reflecting on the ways in which oppression was the cause for her late bloom into queerness, we are invited to discover people and things in the author's life that helped shape and inform her LGBTQ identity. And we come to an understanding of her holistic definition of queerness.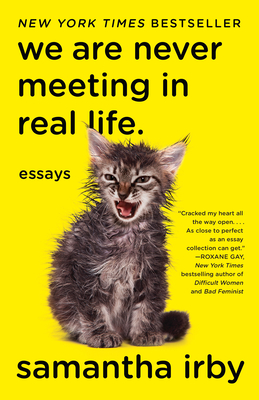 We Are Never Meeting In Real Life
by Samantha Irby
► Whether Samantha Irby is talking about how her difficult childhood has led to a problem in making "adult" budgets; explaining why she should be the new Bachelorette (she's "35-ish, but could easily pass for 60-something"); detailing a disastrous pilgrimage-slash-romantic-vacation to Nashville to scatter her estranged father's ashes; sharing awkward sexual encounters; or dispensing advice on how to navigate friendships with former drinking buddies who are now suburban moms (hang in there for the Costco loot!); she's as deft at poking fun at the ghosts of her past self as she is at capturing powerful emotional truths.

All Boys Aren't Blue: A Memoir-Manifesto
by George M. Johnson
► Taking readers through six decades of migratory transition, Imani chronicles the 20th centuries unprecedented cultural and demographic shifts that resulted from the movement of Black folks from the south. The book explores voting rights, domestic terrorism, discrimination, and segregation alongside the flourishing of arts and culture, activism, and civil rights. Imani shows how these influences shaped America's workforce and wealth distribution by featuring the stories of notable people and events, relevant data, and family histories - together painting the everlasting effects of the powerful journey.
---
APRIL RECOMMENDATIONS ►►►
The Black Experience in the United States has been an ongoing evolution of culture, success, and sociopolitical activism. The era of The Great Migration would be the steppingstone of prosperity as African Americans of the Rural south sought out autonomy and better economic opportunities.

Beginning in 1916 and lasting until 1970, The Great Migration was the relocation of more than 6 million African Americans to cities of the North, Midwest, and West. The need for industrial workers during the First World War and a yearning to escape the Jim Crow laws of the rural south, posed no greater chance for African Americans to redefine their experience.

During this time there would be an emergence of African American artists, writers, musicians, scholars, activists, and reimagined notions of African American Political Thought. The many trailblazers of this time would use their platforms to challenge societal and political issues revolving around race, economy, and justice. They would also create spaces like beauty salons and barbershops and founded other small businesses such as insurance and real estate companies where African Americans formulated community and assisted one another for the greater good. By 1970, more than half the United States African Americans resided in northern, western, and mid-western cities.

The Hue-Man Experience and the Tattered Cover invites you to embark on the many moments of the Black Experience. The following books have been curated to speak to the theme of The Great Migration, exploring African American narratives of prosperity, life, invention, and culture post the abolishment of slavery.

The Great Migration: Journey to the North
by Eloise Greenfield
► Through a collection of poems with illustrations by Jan Spivey Gilchrist, Eloise Greenfield depicts the experiences and emotions of African American families that participated in The Great Migration of the 20th century.

Wandering in Strange Lands: A Daughter of the Great Migration Reclaims Her Roots
by Morgan Jerkins
► Between 1916 and 1970, six million black Americans left their rural homes in the South for jobs in cities in the North, West, and Midwest - a movement known as The Great Migration. But while this event transformed the complexion of America and provided black people with new economic opportunities, Jerkins argues that it also disconnected them from their roots, their land, and their sense of identity. In this fascinating and deeply personal exploration, Jerkins recreates her ancestors' journeys across America, following the migratory routes they took from Georgia and South Carolina to Louisiana, Oklahoma, and California.

"Who Set You Flowin'?": The African-American Migration Narrative
by Farah Griffin
► Twentieth-century America has witnessed the most widespread and sustained movement of African-Americans from the South to urban centers in the North. Who Set You Flowin'? examines the impact of this dislocation and urbanization, identifying the resulting Migration Narratives as a major genre in African-American cultural production. Griffin unearths the Migration Narratives as an essential African American cultural tradition - taking readers through literary texts, migrant correspondence, painting, photography, rap music, blues, and rhythm and blues, isolating the tropes of Ancestor, Stranger, and Safe Space, to portray the vast complexities within the migrant experience.

This Is the Rope: A Story from the Great Migration
by Jacqueline Woodson
► Woodson creates a story of a family's journey north during the Great Migration, starting with a little girl in South Carolina who finds a rope under a tree one summer. That rope becomes a part of her family history - past down for three generations - tying together the family's belongings, used for games, and representing a path to a new life.

Black Protest and the Great Migration: A Brief History with Documents
by Eric Arnesen
► In this collection of articles from a variety of northern, southern, black, and white newspapers, magazines, and books Eric Arnesen explores the "Great Migration" by analyzing the economic, political, and social structures of the Jim Crow south in conjunction with the grassroots movements and social activism of the north and the south. This activism helped to fuel prosperity during the war years and redefine the African American identity during the era of industrialization and urbanization.

Color Me Dark: The Diary of Nellie Lee Love, The Great Migration North
by Patricia McKissack
► 11-year-old Nellie Lee Love is getting ready to leave her home in Tennessee with her grandparents, to accompany her family in Chicago who moved in search of greater opportunities. Through Nellie's personal accounts, we learn the importance of family values and living with love, as these factors play a huge role in helping Nellie get through her transition. Color me Dark is exemplary in explaining the emotions and experiences of adolescents that participated in Great Migration. More so, through Nellie, we learn about influential African American's such as Ida B. Wells-Barnett and W.E.B. DuBois and great atrocities such as the Chicago Riot of 1919.

The Warmth of Other Suns
by Isabel Wilkerson
► With stunning historical detail, Wilkerson tells a story of migration, the movement of Black people from South to North, through the lives of three unique individuals: Ida Mae Gladney, who in 1937 left sharecropping and prejudice in Mississippi for Chicago, where she achieved quiet blue-collar success; sharp and quick-tempered George Starling, who in 1945 fled Florida for Harlem, where he endangered his job fighting for civil rights, saw his family fall, and finally found peace in God; and Robert Foster, who left Louisiana in 1953 to pursue a medical career, the personal physician to Ray Charles as part of a glitteringly successful medical career. Wilkerson delves into the beauty and pain of Black people, the effects of movement, of success, of failures, all in pursuit of a better life.

The Great Migration: An American Story
by Jacobs Lawrence & Walter Dean Meyers
► Renowned artist Jacob Lawrence depicts the story of The Great Migration in a series of sixty panel paintings. Formally titled The Migration Series, Lawrence captures the movement of African Americans from rural southern states, to urban industrial cities in north and west. While this series was completed in 1941 at the start of the second Great Migration, Lawrence uses his paintings to speak to the broader "quest for freedom, equality, and opportunity that fuels ongoing patterns of migration around the world today.

South Side Girls: Growing Up in the Great Migration
by Marcia Chatelain
► Chatelain recasts Chicago's Great Migration through the lens of black girls. Focusing on the years between 1910 and 1940, when Chicago's black population quintupled, Chatelain describes how Chicago's black social scientists, urban reformers, journalists and activists formulated a vulnerable image of urban black girlhood that needed protecting. She argues that the construction and meaning of black girlhood shifted in response to major economic, social, and cultural changes and crises, and that it reflected parents' and community leaders' anxieties about urbanization and its meaning for racial progress. Girls shouldered much of the burden of black aspiration, as adults often scrutinized their choices and behavior, and their well-being symbolized the community's moral health. Referencing girls' letters and interviews, Chatelain uses their powerful stories of hope, anticipation and disappointment to highlight their feelings and thoughts, and in so doing, she helps restore the experiences of an understudied population to the Great Migration's complex narrative.

Remembering Lucile - A Virginia Family's Rise from Slavery and a Legacy Forged a Mile High
by Polly E. Burgos McLean
► Polly E. Burgos McLean uses the narrative of Lucile Berkeley Buchanan Jones to explore the rise of the African American middle class. From slavery in Northern Virginia to a new life in Colorado, Lucile Buchanan Jones is the first-born daughter of emancipated slaves. Refusing to be defined by the sexist and racist ideals of that time and confined to the treacherous laws of the Jim Crow South, Lucile used education to change her narrative as an African American woman. From personal history, McLean explores greater depictions of African American that concern race, class, education, gender, religion, and politics using a blend of Black feminist historiography. Remembering Lucile also depicts Colorado history, and the history of the University of Colorado and its Black Alumni.

Making Our Way Home: The Great Migration and the Black American Dream
by Blair Imani
► Taking readers through six decades of migratory transition, Imani chronicles the 20th centuries unprecedented cultural and demographic shifts that resulted from the movement of Black folks from the south. The book explores voting rights, domestic terrorism, discrimination, and segregation alongside the flourishing of arts and culture, activism, and civil rights. Imani shows how these influences shaped America's workforce and wealth distribution by featuring the stories of notable people and events, relevant data, and family histories - together painting the everlasting effects of the powerful journey.

The Promised Land: The Great Black Migration and how it Changed America
by Nicholas Lemann
► Focusing on the wave of migrants in the 1940s to the 1960s, Lemann analyzes families that left cotton plantations and small towns of the south to greater cities of opportunity in the north. More so, this analysis also explores how major politicians responded to the migration and failed to acknowledge its establishment until it was almost over. The Promised Land investigates how The Great Black Migrations altered politics and popular culture, offering an unnoted perspective of African American life and establishment in the United States.
---
MARCH WOMEN'S HISTORY MONTH RECOMMENDATIONS ►►►

A Black Women's History of the United States
(Book #5 in the ReVisioning American History Series)
by Daina Ramey Berry and Kali Nicole Gross
► "Beautifully researched book that tells little known stories about Black women in history. I liked that it didn't feature a single narrative but encompasses the diaspora of Black women and all of our contributions."


The Sum of Us: What Racism Costs Everyone and How We Can Prosper Together
by Heather McGHee
► "I think this book is important and relevant today as a roadmap for the future. It historically catalogs the ingrained inequality and how racism impacts our economy from the financial crisis, student debt, collapsing infrastructure including energy and power resources. McGhee connects the dots demonstrating that as long those massive divisions remain we will all fail and only through a collective cooperative effort can we all succeed."
"This is the book I've been waiting for."—Ibram X. Kendi, #1 New York Timesbestselling author of "How to Be an Antiracist"

In Search of the Color Purple
by Salamishah Tillet
► "I thought this was interesting the backstory and in depth analysis of such an iconic book."

The Rib King
by Ladee Hubbard
► "Very engaging contemporary novel, familiar yet original well told story. It explores historical dynamics of class and race and how we often our story has been co-opted. It shines a harsh light on how greed and ambition can turn people into their worst selves."

Zami: A New Spelling of My Name
by Audre Lorde
► "Biomythography chronicles her life in Harlem and is particularly devoted to the women who "shaped" her."
Just As I Am: A Memoir
by Cicily Tyson
Becoming
by Michelle Obama
The Yellow House
by Sarah M. Broom
---
FEBRUARY BLACK HISTORY MONTH RECOMMENDATIONS ►►►