The goal of Hue-Man Experience at Tattered Cover is to help individuals, organizations and businesses that want to learn more about underrepresented titles and authors, have a trustworthy brand to source relevant material. Hue-Man Experience will source from all major and independent publishers, as well as conducting its own efforts to locate local talent. Within Tattered Cover's organization, Hue-Man Experience will focus on identifying, curating and recommending diverse authors, writers and artists, to ensure thoughtful representation from Black, Indigenous and People of Color throughout its stores.
---
JULY RECOMMENDATIONS ►►►

The Soul of Baseball: A Road Trip Through Buck O'Neil's America
by Joe Posnanski
► About Buck O'Neil, an American professional baseball player in the Negro Leagues during the 1940s and 1950s. O'Neil's contributions to the game of baseball and his love for the sport garnered national attention when he was featured in Ken Burns' 1995 documentary Baseball.

Only the Ball Was White: A History of Legendary Black Players and All Black Professional Teams
by Robert Peterson
► Early in 1920's, the New York Giants sent a scout to watch a young Cuban play for a baseball club for Foster's American Giants in the Negro Leagues. During one at-bat this talented slugger lined a ball so hard that the right fielder was able to play it off the top of the fence and throw Christobel Torriejti out at first base.The scout liked what he saw , but was disappointed the player was light brown and had rough hair. Here was a young player who would have gone up the major leagues if not for the unofficial boundary that prevented hundreds of star quality athletics from playing in big-league baseball.

Black Diamond: The Story. Of the Negro Baseball Leagues
by Frederick L. McKissack and Patricia C. McKissack
► A 1994 book which tells the history of African-American and Latin American involvement with baseball in the United States.

Black Writers/Black Baseball: An Anthology of Articles from Black Sportswriters Who Covered the Negro Leagues
by Aby Jim Reisler

► This revised edition is an anthology of 10 African American sportswriters who covered baseball's Negro Leagues in the first part of the 20th century. The writers include Sam Lacy, Wendell Smith, Frank A. Young, Joe Bostic, Chester L. Washington, W. Rollo Wilson, Dan Burley, Ed Harris, A.S. "Doc" Young and Romeo Dougherty. The men represented here were pioneers in their own right. Writing for black weekly newspapers, they faced the same conditions as the leagues' players, from discrimination to endless travel. Yet it was through their writings that the public, both black and white were given an up-close, inside look at the day-to-day happenings of Negro League baseball.

We are the Ship
by Kadir Nelson
► Kadir is bringing rich History of African American painting and art to a beautifully illustrated book targeted to kids but enjoyable by people of any age. Nelson writes in a first-person anonymous Black ballplayers voice, with simple language belying the complexity and challenges of early black baseball.

Satchel: The Life and Times of an American Legend
by Larry Tye
► A very well read audiobook that covers all the bases for Sachel Page who was a majestic and enigmatic pitcher. He was great on and off the field and his story gives us a look at the man inside.He invented his trademark hesitation pitch in reform school throwing bricks at rival gang members. Also an ebook.

Queen of the Negro Leagues
by James Overmyer
► "Queen of the Negro Leagues" by James Overmyer. This book honors the life of Effa Manley, the trailblazing female and co-owner of baseball's Newark Eagles of the Negro Leagues. The first woman inducted into the Baseball Hall of Fame. There was no one like Effa Manley in the sports world of 1930s and 1940s. She was a sophisticated woman who never shrank from going head to head with men. A fascinating story about a trailblazing woman in an interesting time and place.
Game Changers: 100 years of Negro League Baseball
by Jason L. Hanson
► Game Changers is a 40-page, richly illustrated booklet that offers an overview of African American history in baseball and the little-known but pivotal role Denver played in breaking down the color barrier.
►►► Click here to View A Conversation Between Kwame Spearman and Clara Villarosa About The Negro Leagues
---
JUNE RECOMMENDATIONS ►►►
In June, it is most honorable to acknowledge, celebrate and commemorate the achievements that African Americans were a part of. Both Juneteenth and PRIDE are annual reminders that African Americans stopped at nothing to be seen, heard, and felt. This month's reads should move you, inform you, or even encourage you to stop at nothing when seeking liberation, autonomy, and the means to authentically be YOU.

Juneteenth (A Novel)
by Ralph Ellison
► In Juneteenth, Ralph Ellison evokes the rhythms of jazz and gospel and ordinary speech to tell a powerful tale of a prodigal son in the twentieth century. At the time of his death in 1994, Ellison was still expanding his novel in other directions, envisioning a grand, perhaps multivolume, story cycle. Always, in his mind, the character Hickman and the story of Sunraider's life from birth to death were the dramatic heart of the narrative. And so, with the aid of Ellison's widow, Fanny, his literary executor, John Callahan, has edited this magnificent novel at the center of Ralph Ellison's forty-year work in progress—its author's abiding testament to the country he so loved and to its many unfinished tasks.
On Juneteenth
by Annette Gordon-Reed
► The essential, sweeping story of Juneteenth's integral importance to American history, as told by a Pulitzer Prize–winning historian and Texas native Annette Gordon-Reed.
Weaving together American history, dramatic family chronicle, and searing episodes of memoir, Annette Gordon-Reed's On Juneteenth provides a historian's view of the country's long road to Juneteenth, recounting both its origins in Texas and the enormous hardships that African-Americans have endured in the century since, from Reconstruction through Jim Crow and beyond. All too aware of the stories of cowboys, ranchers, and oilmen that have long dominated the lore of the Lone Star State, Gordon-Reed—herself a Texas native and the descendant of enslaved people brought to Texas as early as the 1820s—forges a new and profoundly truthful narrative of her home state, with implications for us all.

Juneteenth for Mazie
by Floyd Cooper
► Mazie is ready to celebrate liberty and freedom. She is ready to celebrate a great day in American history. The day her ancestors were no longer slaves. Mazie remembers the struggles and the triumph, as she gets ready to celebrate Juneteenth. In this children's narrative, Floyd Copper captures the essence of liberation and the celebration of African American Freedom in the United States with his illustrations.
All Different Now: Juneteenth, the First Day of Freedom
by Angela Johnson, with illustrations by E.B. Lewis
► Through the eyes of one little girl, All Different Now tells the story of the first Juneteenth, the day freedom finally came to the last of the slaves in the South. Since then, the observance of June 19 as African American Emancipation Day has spread across the United States and beyond. This stunning picture book includes notes from the author and illustrator, a timeline of important dates, and a glossary of relevant terms. Told in Angela Johnson's signature melodic style and brought to life by E.B. Lewis's striking paintings, All Different Now is a joyous portrait of the dawn breaking on the darkest time in our nation's history.

They, She, He Easy as ABC
by Maya Christina Gonzalez, Matthew Sg
► They, She, He easy as ABC shows that including everyone is all part of the dance. It's easy. It's fundamental. As the dance begins the kids proclaim, "No one left out and everyone free," in a sing-song rhyme about inclusion. This sets the stage for readers to meet 26 kids showing us their dance moves.

Surpassing Certainty
by Janet Mock
► Fueled by her dreams and an inimitable drive, Janet makes her way through New York City intent on building a career in the highly competitive world of magazine publishing—within the unique context of being trans, a woman, and a person of color. Hers is a timely glimpse about the barriers many face—and a much-needed guide on how to make a way out of no way. Long before she became one of the world's most respected media figures and lauded leaders for equality and justice, Janet learned how to advocate for herself before becoming an advocate for others. In this "honest and timely appraisal of what it means to be true to yourself" (Booklist), Surpassing Certainty offers an "exquisitely packaged gift of her experiences...that signals something greater" (Bitch Magazine).

Black Boy Out of Time: A Memoir
by Hari Ziyad
► One of nineteen children in a blended family, Hari Ziyad was raised by a Hindu Hare Kṛṣṇa mother and a Muslim father. Through reframing their own coming-of-age story, Ziyad takes readers on a powerful journey of growing up queer and Black in Cleveland, Ohio, and of navigating the equally complex path toward finding their true self in New York City. Exploring childhood, gender, race, and the trust that is built, broken, and repaired through generations, Ziyad investigates what it means to live beyond the limited narratives Black children are given and challenges the irreconcilable binaries that restrict them.

Giovanni's Room
by James Baldwin
► In the 1950s Paris of American expatriates, liaisons, and violence, a young man finds himself caught between desire and conventional morality. With a sharp, probing imagination, James Baldwin's now-classic narrative delves into the mystery of loving and creates a moving, highly controversial story of death and passion that reveals the unspoken complexities of the human heart.

I'm A Wild Seed
by Sharon Lee De La Cruz
► In this delightfully compelling full-color graphic memoir, De La Cruz shares her process of undoing the effects of a patriarchal, colonial society on her self-image, her sexuality, and her concept of freedom. Reflecting on the ways in which oppression was the cause for her late bloom into queerness, we are invited to discover people and things in the author's life that helped shape and inform her LGBTQ identity. And we come to an understanding of her holistic definition of queerness.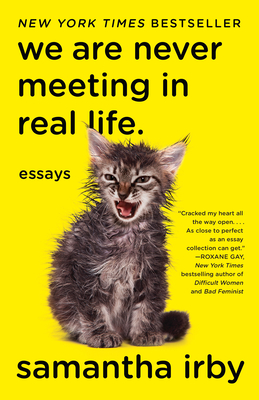 We Are Never Meeting In Real Life
by Samantha Irby
► Whether Samantha Irby is talking about how her difficult childhood has led to a problem in making "adult" budgets; explaining why she should be the new Bachelorette (she's "35-ish, but could easily pass for 60-something"); detailing a disastrous pilgrimage-slash-romantic-vacation to Nashville to scatter her estranged father's ashes; sharing awkward sexual encounters; or dispensing advice on how to navigate friendships with former drinking buddies who are now suburban moms (hang in there for the Costco loot!); she's as deft at poking fun at the ghosts of her past self as she is at capturing powerful emotional truths.

All Boys Aren't Blue: A Memoir-Manifesto
by George M. Johnson
► Taking readers through six decades of migratory transition, Imani chronicles the 20th centuries unprecedented cultural and demographic shifts that resulted from the movement of Black folks from the south. The book explores voting rights, domestic terrorism, discrimination, and segregation alongside the flourishing of arts and culture, activism, and civil rights. Imani shows how these influences shaped America's workforce and wealth distribution by featuring the stories of notable people and events, relevant data, and family histories - together painting the everlasting effects of the powerful journey.
---
APRIL RECOMMENDATIONS ►►►
The Black Experience in the United States has been an ongoing evolution of culture, success, and sociopolitical activism. The era of The Great Migration would be the steppingstone of prosperity as African Americans of the Rural south sought out autonomy and better economic opportunities.

Beginning in 1916 and lasting until 1970, The Great Migration was the relocation of more than 6 million African Americans to cities of the North, Midwest, and West. The need for industrial workers during the First World War and a yearning to escape the Jim Crow laws of the rural south, posed no greater chance for African Americans to redefine their experience.

During this time there would be an emergence of African American artists, writers, musicians, scholars, activists, and reimagined notions of African American Political Thought. The many trailblazers of this time would use their platforms to challenge societal and political issues revolving around race, economy, and justice. They would also create spaces like beauty salons and barbershops and founded other small businesses such as insurance and real estate companies where African Americans formulated community and assisted one another for the greater good. By 1970, more than half the United States African Americans resided in northern, western, and mid-western cities.

The Hue-Man Experience and the Tattered Cover invites you to embark on the many moments of the Black Experience. The following books have been curated to speak to the theme of The Great Migration, exploring African American narratives of prosperity, life, invention, and culture post the abolishment of slavery.

The Great Migration: Journey to the North
by Eloise Greenfield
► Through a collection of poems with illustrations by Jan Spivey Gilchrist, Eloise Greenfield depicts the experiences and emotions of African American families that participated in The Great Migration of the 20th century.

Wandering in Strange Lands: A Daughter of the Great Migration Reclaims Her Roots
by Morgan Jerkins
► Between 1916 and 1970, six million black Americans left their rural homes in the South for jobs in cities in the North, West, and Midwest - a movement known as The Great Migration. But while this event transformed the complexion of America and provided black people with new economic opportunities, Jerkins argues that it also disconnected them from their roots, their land, and their sense of identity. In this fascinating and deeply personal exploration, Jerkins recreates her ancestors' journeys across America, following the migratory routes they took from Georgia and South Carolina to Louisiana, Oklahoma, and California.

"Who Set You Flowin'?": The African-American Migration Narrative
by Farah Griffin
► Twentieth-century America has witnessed the most widespread and sustained movement of African-Americans from the South to urban centers in the North. Who Set You Flowin'? examines the impact of this dislocation and urbanization, identifying the resulting Migration Narratives as a major genre in African-American cultural production. Griffin unearths the Migration Narratives as an essential African American cultural tradition - taking readers through literary texts, migrant correspondence, painting, photography, rap music, blues, and rhythm and blues, isolating the tropes of Ancestor, Stranger, and Safe Space, to portray the vast complexities within the migrant experience.

This Is the Rope: A Story from the Great Migration
by Jacqueline Woodson
► Woodson creates a story of a family's journey north during the Great Migration, starting with a little girl in South Carolina who finds a rope under a tree one summer. That rope becomes a part of her family history - past down for three generations - tying together the family's belongings, used for games, and representing a path to a new life.

Black Protest and the Great Migration: A Brief History with Documents
by Eric Arnesen
► In this collection of articles from a variety of northern, southern, black, and white newspapers, magazines, and books Eric Arnesen explores the "Great Migration" by analyzing the economic, political, and social structures of the Jim Crow south in conjunction with the grassroots movements and social activism of the north and the south. This activism helped to fuel prosperity during the war years and redefine the African American identity during the era of industrialization and urbanization.

Color Me Dark: The Diary of Nellie Lee Love, The Great Migration North
by Patricia McKissack
► 11-year-old Nellie Lee Love is getting ready to leave her home in Tennessee with her grandparents, to accompany her family in Chicago who moved in search of greater opportunities. Through Nellie's personal accounts, we learn the importance of family values and living with love, as these factors play a huge role in helping Nellie get through her transition. Color me Dark is exemplary in explaining the emotions and experiences of adolescents that participated in Great Migration. More so, through Nellie, we learn about influential African American's such as Ida B. Wells-Barnett and W.E.B. DuBois and great atrocities such as the Chicago Riot of 1919.

The Warmth of Other Suns
by Isabel Wilkerson
► With stunning historical detail, Wilkerson tells a story of migration, the movement of Black people from South to North, through the lives of three unique individuals: Ida Mae Gladney, who in 1937 left sharecropping and prejudice in Mississippi for Chicago, where she achieved quiet blue-collar success; sharp and quick-tempered George Starling, who in 1945 fled Florida for Harlem, where he endangered his job fighting for civil rights, saw his family fall, and finally found peace in God; and Robert Foster, who left Louisiana in 1953 to pursue a medical career, the personal physician to Ray Charles as part of a glitteringly successful medical career. Wilkerson delves into the beauty and pain of Black people, the effects of movement, of success, of failures, all in pursuit of a better life.

The Great Migration: An American Story
by Jacobs Lawrence & Walter Dean Meyers
► Renowned artist Jacob Lawrence depicts the story of The Great Migration in a series of sixty panel paintings. Formally titled The Migration Series, Lawrence captures the movement of African Americans from rural southern states, to urban industrial cities in north and west. While this series was completed in 1941 at the start of the second Great Migration, Lawrence uses his paintings to speak to the broader "quest for freedom, equality, and opportunity that fuels ongoing patterns of migration around the world today.

South Side Girls: Growing Up in the Great Migration
by Marcia Chatelain
► Chatelain recasts Chicago's Great Migration through the lens of black girls. Focusing on the years between 1910 and 1940, when Chicago's black population quintupled, Chatelain describes how Chicago's black social scientists, urban reformers, journalists and activists formulated a vulnerable image of urban black girlhood that needed protecting. She argues that the construction and meaning of black girlhood shifted in response to major economic, social, and cultural changes and crises, and that it reflected parents' and community leaders' anxieties about urbanization and its meaning for racial progress. Girls shouldered much of the burden of black aspiration, as adults often scrutinized their choices and behavior, and their well-being symbolized the community's moral health. Referencing girls' letters and interviews, Chatelain uses their powerful stories of hope, anticipation and disappointment to highlight their feelings and thoughts, and in so doing, she helps restore the experiences of an understudied population to the Great Migration's complex narrative.

Remembering Lucile - A Virginia Family's Rise from Slavery and a Legacy Forged a Mile High
by Polly E. Burgos McLean
► Polly E. Burgos McLean uses the narrative of Lucile Berkeley Buchanan Jones to explore the rise of the African American middle class. From slavery in Northern Virginia to a new life in Colorado, Lucile Buchanan Jones is the first-born daughter of emancipated slaves. Refusing to be defined by the sexist and racist ideals of that time and confined to the treacherous laws of the Jim Crow South, Lucile used education to change her narrative as an African American woman. From personal history, McLean explores greater depictions of African American that concern race, class, education, gender, religion, and politics using a blend of Black feminist historiography. Remembering Lucile also depicts Colorado history, and the history of the University of Colorado and its Black Alumni.

Making Our Way Home: The Great Migration and the Black American Dream
by Blair Imani
► Taking readers through six decades of migratory transition, Imani chronicles the 20th centuries unprecedented cultural and demographic shifts that resulted from the movement of Black folks from the south. The book explores voting rights, domestic terrorism, discrimination, and segregation alongside the flourishing of arts and culture, activism, and civil rights. Imani shows how these influences shaped America's workforce and wealth distribution by featuring the stories of notable people and events, relevant data, and family histories - together painting the everlasting effects of the powerful journey.

The Promised Land: The Great Black Migration and how it Changed America
by Nicholas Lemann
► Focusing on the wave of migrants in the 1940s to the 1960s, Lemann analyzes families that left cotton plantations and small towns of the south to greater cities of opportunity in the north. More so, this analysis also explores how major politicians responded to the migration and failed to acknowledge its establishment until it was almost over. The Promised Land investigates how The Great Black Migrations altered politics and popular culture, offering an unnoted perspective of African American life and establishment in the United States.
---
MARCH WOMEN'S HISTORY MONTH RECOMMENDATIONS ►►►

A Black Women's History of the United States
(Book #5 in the ReVisioning American History Series)
by Daina Ramey Berry and Kali Nicole Gross
► "Beautifully researched book that tells little known stories about Black women in history. I liked that it didn't feature a single narrative but encompasses the diaspora of Black women and all of our contributions."


The Sum of Us: What Racism Costs Everyone and How We Can Prosper Together
by Heather McGHee
► "I think this book is important and relevant today as a roadmap for the future. It historically catalogs the ingrained inequality and how racism impacts our economy from the financial crisis, student debt, collapsing infrastructure including energy and power resources. McGhee connects the dots demonstrating that as long those massive divisions remain we will all fail and only through a collective cooperative effort can we all succeed."
"This is the book I've been waiting for."—Ibram X. Kendi, #1 New York Timesbestselling author of "How to Be an Antiracist"

In Search of the Color Purple
by Salamishah Tillet
► "I thought this was interesting the backstory and in depth analysis of such an iconic book."

The Rib King
by Ladee Hubbard
► "Very engaging contemporary novel, familiar yet original well told story. It explores historical dynamics of class and race and how we often our story has been co-opted. It shines a harsh light on how greed and ambition can turn people into their worst selves."

Zami: A New Spelling of My Name
by Audre Lorde
► "Biomythography chronicles her life in Harlem and is particularly devoted to the women who "shaped" her."
Just As I Am: A Memoir
by Cicily Tyson
Becoming
by Michelle Obama
The Yellow House
by Sarah M. Broom
---
FEBRUARY BLACK HISTORY MONTH RECOMMENDATIONS ►►►