A Personal Memoir About the Transition Process; A Graphic Novel Book Talk
CLICK HERE TO PURCHASE TICKETS
Tattered Cover welcomes Julia Kaye to talk about her new book My Life in Transition on Friday February 19th at 5pm MT. She will be in conversation with Shena Wolf.
My Life in Transition is a story that's not often told about trans lives: what happens beyond the early days of transition. Both deeply personal and widely relatable, this collection illustrates six months of Julia's life as an out trans woman—about the beauty and pain of love and heartbreak, struggling to find support from bio family and the importance of chosen family, moments of dysphoria and misgendering, learning to lean on friends in times of need, and finding peace in the fact that life keeps moving forward.
After the nerve-wracking, anxiety-ridden early transition period has ended and the hormones have done their thing, this book shows how you can be trans and simply exist in society. You can be trans and have a successful future. You can be trans and have a normal life full of ups and downs. In our current political and social climate, this hopeful, accessible narrative about trans lives is both entertaining and vital.
Julia Kaye is an award-winning artist and illustrator whose webcomic Up and Out has garnered hundreds of thousands of readers and wide critical praise. Her commitment to activism has led to collaborations with non-profit organizations such as The Trevor Project and Trans Lifeline. Her work has appeared on Webtoon, GoComics, Buzzfeed, and the Disney animated show Big City Greens. Julia lives in Los Angeles.
Shena Wolf is the director of comics and acquisitions at Andrews McMeel Syndication. This is her dream job. She believes that comics are one of the most sophisticated storytelling formats around, and she has worked with cartoonists including Dana Simpson, Bill Amend, Steenz, Olivia Jaimes and Georgia Dunn. She sometimes has cameos in "Nancy," though you may not recognize her since she's (probably) not as sweaty today.
**Important Event and Ticket Information**
-- Tickets are $19.00 (plus tax and convenience fee), include a copy of My Life in Transition shipping and handling to an address in the continental United States, and a link to the live stream.
-- Tickets are limited to one ticket per email address.
-- Attendees will be sent a link to join the live stream the morning of the event via email.
-- Presentation begins at 5:00 pm MDT
-- The event will last about one hour but the official end time of this event is an estimate.
-- Event tickets are available online ONLY, through Eventbrite. Tickets will not be sold in-store or through our website.
--Copies of My Life in Transition will be mailed via media mail after the event
--International Shipping is NOT available for this event. Books requested to be sent to international addresses will be automatically returned and refunded.
** DISCLAIMER: Event details, signing rules and restrictions are subject to changes beyond our control, and often change up to and during the event. Thank you for your understanding.
When you purchase a ticket, or register for an event, you will automatically be added to the Tattered Cover's email subscriber list. We will always protect your privacy. Our email list is used only to promote Tattered Cover events and news, and your information will never be shared or sold. You may unsubscribe or update your subscription at any time.
Event date:
Friday, February 19, 2021 - 5:00pm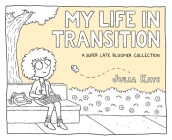 $14.99
ISBN: 9781524860462
Availability: On Our Shelves Now
Published: Andrews McMeel Publishing - February 16th, 2021
---