Join us for a Collage Making Workshop with an award winning illustrator; a Picture Book Talk
Tattered Cover welcomes author Anastasia Higginbotham on Saturday January 23rd at 2pm MT to discuss her new book, What You Don't Know: A Story of Liberated Childhood which can be purchased below. She will hosting a collage creation workshop designed especially for kids
What You Don't Know: A Story of Liberated by Anastasia Higginbotham - CLICK HERE TO PURCHASE YOUR COPY
It's a book about knowing deeply that you matter--always did, always will. It's a book about what schools get wrong and churches don't say; but institutions are made by people and the people are evolving. It's a book about being known and cherished by family, and living in communion with your own personal Jesus, Buddha, Spirit, Source, Father, Mother, God, breath, inner space, outer space, nothingness, and however else we name and relate to our divinity and humility in the presence of all we don't know.
ANASTASIA HIGGINBOTHAM is the author and illustrator of Divorce Is the Worst, Not My Idea: A Book About Whiteness, Death Is Stupid, and Tell Me About Sex, Grandma--all part of the Ordinary Terrible Things series. She lives in Brooklyn. Librarians love her, but not as much as she loves them.
Registration includes access to this live stream event the night of the event, before it is posted on Tattered Cover's YouTube Channel, two days after.
** DISCLAIMER: Event details, signing rules and restrictions are subject to changes beyond our control, and often change up to and during the event. Thank you for your understanding.
When you purchase a ticket, or register for an event, you will automatically be added to the Tattered Cover's email subscriber list. We will always protect your privacy. Our email list is used only to promote Tattered Cover events and news, and your information will never be shared or sold. You may unsubscribe or update your subscription at any time.
Event date:
Saturday, January 23, 2021 - 2:00pm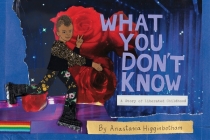 $19.95
ISBN: 9781948340298
Availability: Coming Soon - Available for Pre-Order Now
Published: Dottir Press - January 26th, 2021
---