A Reimagining of a Powerful Middle Eastern Folk Tale, a Picture Book Talk & Signing
Jan Brett is the beloved bestselling author and artist of many books for children including The Mitten, The Hat, and The Mermaid. Brett will discuss and sign The Tale of the Tiger Slippers ($18.99 Putnam Books for Young Readers), which reimagines a powerful Middle Eastern folk tale that celebrates hard work and appreciating your roots.
Set in India, this gorgeous reimagining of "Abu Kassem's Slippers" features a poor tiger cub who is a very hard worker. His mother weaves him slippers to protect his feet, and they allowed him to prosper and eventually becoming very wealthy. He continues to wear them until someone questions why such a prominent person would wear such worn shoes. Feeling embarrassed, Tiger tries to get rid of the slippers, but fate keeps bringing them back. Finally, Tiger sends them to his uncle, who weeps with pride when he sees the slippers his sister made and his nephew used to accomplish so much. He sets off right away to visit them, bringing the slippers along. Tiger can't believe the slippers are back again, but his little cub gives him an idea: honor the slippers by building a special place for them, to remind him of how far he's come.
---
ABOUT THE EVENT
This event is ticketed. This event is not eligible for autograph requests if you cannot attend the event. End time may vary.
Event date:
Thursday, December 12, 2019 - 5:30pm
Event address:
Tattered Cover Colfax Avenue
2526 East Colfax Avenue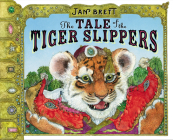 $18.99
ISBN: 9780399170744
Availability: Available to Order - Usually Arrives in Our Store in 4 to 7 Days
Published: G.P. Putnam's Sons Books for Young Readers - September 17th, 2019
---