June welcomes the celebration of Pride Month -- both a triumphant communal celebration of visibility and a personal celebration of self-love and importance. During LGBTQ+ Pride Month, we recognize the resilience and determination of the many individuals who are fighting to live freely and authentically. In doing so, they are opening hearts and minds, and laying the foundation for a more just and equitable future for everyone. Pride is a time to recall the devastating trials the LGBTQ+ community has endured in the past as well as to rejoice in the triumphs of trailblazing individuals who have bravely fought — and continue to fight — for full equality. This Pride Month, we recognize the valuable contributions of LGBTQ+ individuals across the globe, and we reaffirm our commitment to standing in solidarity with the LGBTQ+ community and to uphold the dignity of all people.
We're highlighting LGBTQ+ buyer book picks and a #30DaysofPrideBooks Reading Challenge below. Happy Reading and Happy Pride!
---
#30DAYSOFPRIDEBOOKS READING CHALLENGE
Post a photo of a book written by a LGBTQ+ author and/or featuring LGBTQ+ characters using the daily prompts on the following calendar.
Post to Instagram, Facebook, or Twitter using the hashtag #30DaysofPride so we can see, too, and also share to the Tattered Cover pages to inspire even
more people out there! We will also be participating and adding our own selections to our social pages every day so be sure and follow along!
BUYER'S PRIDE BOOK COLLECTION
Click on any graphic to be taken to the book list.
View the entire PRIDE Book List here.
View the entire PRIDE Book List here.
HUE-MAN EXPERIENCE PRIDE BOOK RECS
SEE ME!
LGBTQIA+ Books You Need to Know
This month takes a look into the minds and hearts of less well-known authors who capture the complexity, beauty and story of Black, queer folks. Whether in memoirs or through fictional protagonists, these books highlight the unique lives and struggles of Black, queer individuals, reminding us of the importance of love, community, and representation regardless of sexual or gender identity.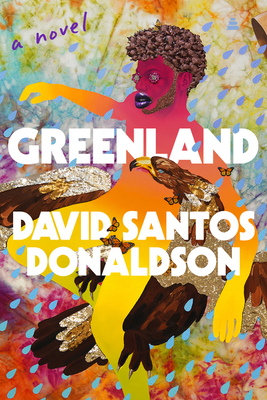 GREENLAND
By David Santos Donaldson
► A dazzling, debut novel-within-a-novel in the vein of The Prophets and Memorial, about a young author writing about the secret love affair between E.M. Forster and Mohammed el Adl--in which Mohammed's story collides with his own, blending fact and fiction.
ALL BOYS AREN'T BLUE
By George M. Johnson
► In a series of personal essays, prominent journalist and LGBTQIA+ activist George M. Johnson explores his childhood, adolescence, and college years in New Jersey and Virginia. From the memories of getting his teeth kicked out by bullies at age five, to flea marketing with his loving grandmother, to his first sexual relationships, this young-adult memoir weaves together the trials and triumphs faced by Black queer boys.

► From National Book Award finalist Akwaeke Emezi comes a companion novel to the critically acclaimed PET that explores both the importance and cost of social revolution--and how youth lead the way.

BLACK BOY OUT OF TIME: A MEMOIR
By Hari Ziyad
► Heartwarming and heart-wrenching, radical and reflective, Hari Ziyad's vital memoir is for the outcast, the unheard, the unborn, and the dead. It offers us a new way to think about survival and the necessary disruption of social norms. It looks back in tenderness as well as justified rage, forces us to address where we are now, and, born out of hope, illuminates the possibilities for the future.
BLACK GIRL, CALL HOME
By Jasmine Mans
► With echoes of Gwendolyn Brooks and Sonia Sanchez, Mans writes to call herself—and us—home. Each poem explores what it means to be a daughter of Newark, and America—and the painful, joyous path to adulthood as a young, queer Black woman. Black Girl, Call Home is a love letter to the wandering Black girl and a vital companion to any woman on a journey to find truth, belonging, and healing.
THE ESSENTIAL JUNE JORDAN
By June Jordan
► Written over the span of several decades―from Some Changes in 1971 to Last Poems in 2001­―Jordan's poems are at once of their era and tragically current, with subject matter including racist police brutality, violence against women, and the opportunity for global solidarity amongst people who are marginalized or outside of the norm. In these poems of great immediacy and radical kindness, humor and embodied candor, readers will (re)discover a voice that has inspired generations of contemporary poets to write their truths.
FILTHY ANIMALS
By Brandon Taylor
► One of the breakout literary stars of 2020, Brandon Taylor has been hailed by Roxane Gay as "a writer who wields his craft in absolutely unforgettable ways." With Filthy Animals he renews and expands on the promise made in Real Life, training his precise and unsentimental gaze on the tensions among friends and family, lovers and others. Psychologically taut and quietly devastating, Filthy Animals is a tender portrait of the fierce longing for intimacy, the lingering presence of pain, and the desire for love in a world that seems, more often than not, to withhold it.
THE PROPHETS
By Robert Jones, Jr.
► With a lyricism reminiscent of Toni Morrison, Robert Jones, Jr., fiercely summons the voices of slaver and enslaved alike, from Isaiah and Samuel to the calculating slave master to the long line of women that surround them, women who have carried the soul of the plantation on their shoulders. As tensions build and the weight of centuries—of ancestors and future generations to come—culminates in a climactic reckoning, The Prophets fearlessly reveals the pain and suffering of inheritance, but is also shot through with hope, beauty, and truth, portraying the enormous, heroic power of love.
View All Hue-Man Monthly Book Recommendations
Wednesday, May 25, 2022 - 2:30pm