Buying Gift Cards is easy! Simply hover over 'SHOP', select 'Gift Cards', and complete your details.
Free shipping over $75.00 on all Media Mail eligible orders.
Amira: An adventure story for brave children (Paperback)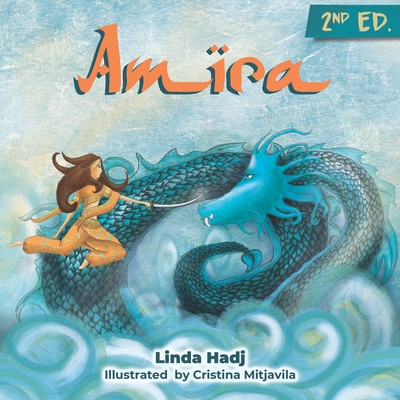 Email or call for price. Handling fee may apply.
Available to Order - Usually Arrives in Our Store in 4 to 7 Days
Description
---
Amira: An adventure story for brave children
Amira is a brave and rebellious princess, who confronts the witch Sharira to rescue Prince Ayman. To free him, she draws on her talents, intelligence and determination in a gripping adventure that reveals the power of resilience, empathy, cunning and compassion.
An illustrated tale of adventure, full of symbolism and values, that breaks with the stereotypes of classic stories and helps children to connect with their inner strength and decision-making capacity. The book includes a section of activities for adults to delve into important issues with young readers, such as managing emotions and self-esteem.
This book has its own music set in the Middle East: the staging, the scenery, the oriental dance and the artistic sensibilities of the actors transport both children and adults to a fantastic world that will make them dream, laugh and be moved.
>> Discover more about Amira's world in www.lindadanzaoriental.com About the Author:
Linda Hadj is one of those free spirits that combines curiosity, passion, art and ingenuity. Born to an Algerian father and a Croatian mother, at an early age she discovered her passion for body language, music and cultural diversity. Several times artistic gymnastics champion in Algeria, and having practiced various disciplines, she finally decided to devote herself body and soul to her vocation: dance. In 2001 she began teaching dance to children and adults and in 2014 she opened her own dance school, "Linda Danza". Promoter of several shows, she has toured in Paris, Oran, Barcelona, Gerona and Seville, among other cities.
Added to this artistic side is her passion for personal development and emotional intelligence Linda is a practitioner and master in NLP (Neuro-Linguistic Programming) and currently has a holistic project that combines the benefits of oriental dance with personal growth to accompany her students on their paths towards harmony between body, mind, and emotions.

How "Amira" was born:
In 2017, while her daughter played princes, princesses and dragons with a small group of friends, Linda observed that the children had reversed the roles, and became aware of the change in the mentality of the new generations. This made her think about the amount of toxic messages that are transmitted in many of the classic tales, among others the limited role of women in society. Usually relegated to the background, the woman is often shown in a passive attitude, where qualities related to her physical appearance are given more importance than her personality or intelligence. This is how she devised "Amira", an artistic and educational project that seeks to contribute to a change in our society's mentality.
Issues addressed in the story:
Emotional intelligence
Gender equality
Women's empowerment
Universal values
Strength
Courage
Ability to make decisions
Resilience