Buying Gift Cards is easy! Simply hover over 'SHOP', select 'Gift Cards', and complete your details.
Free shipping over $75.00 on all Media Mail eligible orders.
Amira: Un conte d'aventures pour petits rebelles (Paperback)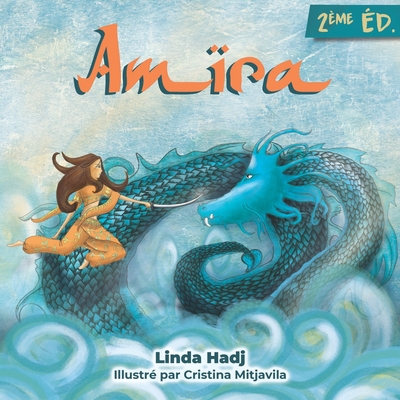 Email or call for price. Handling fee may apply.
Available to Order - Usually Arrives in Our Store in 4 to 7 Days
Description
---
Amira: un conte d'aventures pour petits rebelles.
Amira est une princesse courageuse et rebelle qui affronte la sorci re Sharira pour lib rer son prince Ayman. Tout au long d'une aventure passionnante, elle use de ses talents et de son intelligence avec d termination et d couvre le pouvoir de la r silience, de l'empathie, de l'intelligence et de la compassion.
Un conte d'aventures illustr toff de symboles et de valeurs, qui brisent les st r otypes propres aux contes traditionnels afin d'aider les jeunes enfants se connecter leur force int rieure et leur pouvoir de d cision.

Le conte contient des activit's pour d velopper l'intelligence motionnelle:
la fin du conte, vous trouverez des activit s favorisant le d veloppement de l'intelligence motionnelle et dont l'objectif est d'aborder et d'approfondir avec nos petits lecteurs des sujets importants tels que la gestion des motions et l'estime de soi.

Amira existe aussi sous forme de spectacle:
Le spectacle Amira invite les enfants et les adultes entrer dans un monde f rique qui les incitera r ver, rire et s' mouvoir gr ce sa mise en sc ne situ e au Moyen-Orient, la magie de ses d cors, la danse orientale et la sensibilit artistique des acteurs.
>> Vous voulez en savoir plus sur Amira ? www.lindadanzaoriental.com
propos de l'auteur:
Linda Hadj est un de ces esprits libres qui allie passion, art et curiosit . De p re alg rien et de m re croate, elle d couvre depuis sa plus tendre enfance sa passion pour l'expression corporelle, la musique et la diversit culturelle. Plusieurs fois championne de gymnastique artistique et ayant pratiqu diverses disciplines, elle d cide finalement de se consacrer corps et me sa vocation: la danse.
En 2001, elle commence enseigner la danse aupr's d'enfants et d'adultes et, en 2014, elle ouvre sa propre cole "Linda Danza". Puis, elle cr e plusieurs spectacles dont les tourn es l'ont men e Paris, Oran, Barcelone, G rone ou S ville, entre autres.
ce versant artistique s'ajoute sa passion pour le d veloppement personnel et l'intelligence motionnelle Linda est praticienne de PNL (programmation neurolinguistique) et elle fusionne actuellement toutes ces diff rentes facettes dans un projet de danse holistique qui allie les bienfaits de la danse orientale et le d veloppement personnel, accompagnant ainsi ses l ves dans leur recherche d'harmonie entre le corps, l'esprit et les motions.

La naissance d'"Amira"
En 2017, tandis que sa fille jouait avec d'autres enfants imiter les contes de princes et princesses, elle observa qu'ils avaient invers les r les. Ceci lui fit prendre conscience de l' volution des mentalit's au sein des nouvelles g n rations, ainsi que du nombre de messages n fastes transmis par les contes classiques tout au long de notre enfance, en autres, le cantonnement du r le social de la femme. G n ralement rel gu e un second plan et adoptant une attitude passive, elle est souvent d finie par des qualit's li es uniquement son aspect physique et sans mettre en avant les d tails li's sa personnalit ou son intelligence. Ainsi est n e l'id e "Amira", un projet artistique et ducatif dont l'objectif est de contribuer au changement de mentalit's au sein de notre soci t .