The Book of Tea (Paperback)
TatteredCover.com Has New Hours!
We will be accepting orders Tuesdays at 10am through Saturdays at 5pm
You will still be able to browse books and add them to your shopping cart, but you will not be able to complete an order beginning at 5pm (MDT) on Saturdays, and until 10am on Tuesdays.
---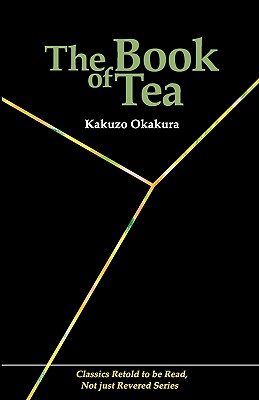 Please email or write store for pricing and availability information.
Available to Order - Usually Arrives in Our Store in 4 to 7 Days
Description
---
"The Book of Tea" is a description of the history, underlying philosophy, and aesthetics of the Japanese tea ceremony. It is also, and more importantly, a book about how to live a meaningful life. It is about nature and simplicity, about art and beauty, about the unfathomable depth in the small things in life that surround us. In this edition of "The Book of Tea," the author, Kakuzo Okakura, writes:
"The way of tea is founded on a love of what is beautiful in our common everyday lives. It teaches purity and harmony, mutual respect, and the importance of nature and the individual. It is essentially a worship of the imperfect. It is an attempt to accomplish something possible in this impossible world of ours."
Part of the "Classics Retold to be Read, Not just Revered" series, the aim of this retelling of "The Book of Tea" is to make the book more widely accessible -- without diluting its intellectual content -- for both young and emerging adults seeking broader perspectives as well as intellectually curious older readers. The book will be of particular interest to those who want a deeper insight into the tea ceremony, flower arrangement, and Japanese aesthetics. The text is set in a slightly larger typeface for easier reading.
The Author
Kakuzo Okakura (1863-1913), was born in Yokohama five years before the outset of the Meiji period, which marked the end of over 200 years of national isolation and the beginning of Japan's headlong rush to transform itself into a military and industrial power that could resist Western incursions and colonization. Yokohama was a boisterous international port, and Okakura's father, a samurai stationed there for business reasons, was a progressive thinker, who started Okakura learning English at the age of six. Okakura's most important works, including "The Book of Tea" (1906), were written in English, and devoted to explaining and defending Japanese and Asian culture.
The era in which Okakura lived was characterized by Western inroads into Asian countries. The West, thanks to the industrial revolution, was materially and militarily superior to the East, and considered itself to be culturally superior as well. Through heroic effort, Japan built up its industry and military, and when it emerged victorious from the Russo-Japanese War in 1905, it became the first non-Western country to achieve international recognition by Western powers.
Okakura, however, was not concerned with this type of recognition. He wanted recognition for Japanese and Eastern arts and culture, and he felt the need to preserve them from increasing Westernization. In 1887 he was one of the founders of the first Japanese fine arts academy, and in 1898 he helped found the Japanese Institute of Fine Arts. In 1904 he was invited to the Boston Museum of Fine Arts as a curator, and in 1910 he became the first head of the Asian art division of that Museum. He died in 1913 at the age of fifty, having devoted his life to preserving Japan's traditional cultural heritage. Important figures influenced by Okakura include the German philosopher Martin Heidegger, the American poet Ezra Pound, the Indian poet Rabindranth Tagore, the American art collector Isabella Stewart Gardner, and the British translator Arthur Waley.