FREE shipping on book orders over $75.00 (Media Mail within USA)
Gift Cards are easy! Hover over SHOP on the bar above and select Gift Cards from the drop down menu.
Quick tip: If a book is listed as "On our Shelves" - call the store for quickest pick up.
De Profundis (Paperback)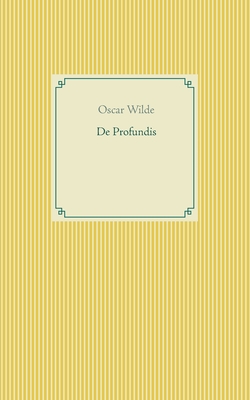 Email or call for price. Handling fee may apply.
Available to Order - Usually Arrives in Our Store in 4 to 7 Days
Description
---
De Profundis Aus der Tiefe (nach Psalm 130) Oscar Wilde schreibt ber sein Leben am Tiefpunkt desselben einen Brief 'Epistel in Gefangenschaft und Fesseln' 'Epistola: In Carcere et Vinculis' . Er sitzt eine zweij hrige Zuchthausstrafe ab, zu der er wegen Unzucht verurteilt wurde. In seinem Brief schildert er die Umst nde seiner Verurteilung und seine Haftbedingungen sowie die Erwartung einer schweren Zeit, die im erst noch bevorsteht. Inhalt: Einleitung Epistola In Carcere et Vinculis Vier Briefe aus dem Zuchthaus Reading an Robert Ross Anmerkungen.