FREE shipping on book orders over $75.00 (Media Mail within USA)
Gift Cards are easy! Hover over SHOP on the bar above and select Gift Cards from the drop down menu.
Quick tip: If a book is listed as "On our Shelves" - call the store for quickest pick up.
I Am a Magical Teenage Princess (Paperback)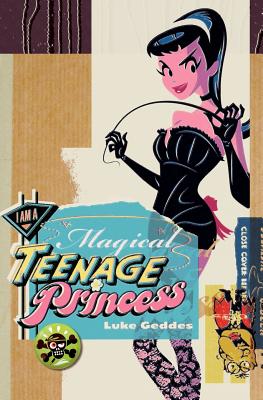 Please email or write store for pricing and availability information.
Special Request - May Not Be Available
Description
---
I Am a Magical Teenage Princess is a thematically linked collection of short stories celebrating and re-examining 1960s and contemporary culture, magnifying such popular icons as Betty and Veronica and Wonder Woman through a literary lens of wit and pathos. In 'Surfer Girl', the title character drifts through time, tormented by the bizarre cliches of drive-in B-movies. 'Another Girl, Another Planet' depicts a reluctant teenage astronaut idling away her post-apocalyptic adolescence huffing gasoline and fooling around with her five brutish shipmates, all named Tommy. 'Habit Patterns' shows us the beleaguered subject of an educational hygiene film who longs to break free from the cruel social strictures of her celluloid world. In these and other stories, Luke Geddes experiments with poise and verve whilst retaining an unfakeable human touch often lacking in works more self-consciously centred on human interest.
Praise For…
---
"Geddes, in his debut story collection, examines American pop cultural archetypes from the 1950s to the 1980s, freeing them from their familiar context. The heartbreaking opening story, "Surfer Girl," details a drowned girl's desire to join an all-boys surf gang and the beginnings of her sexual awareness. In "Invasion," with Elvismania a literal plague sweeping the countryside, it's up to the fathers to rid their community of the menace consuming their wives and daughters; jukeboxes will be smashed, records will be burned, and daughters will walk into the fire and emerge "like demons, flame-engulfed records cradled gingerly in their hands." Several stories are sexualized reworkings of classic television shows and comic books, echoing erotic fan fiction, such as "The Modern Stone Age," a tale of animalistic wife swapping in the Flintstones' town of Bedrock; a villain's view of the highly sexed Scooby Doo team ("And I Would've Gotten Away With It If It Wasn't For You Meddling Kids"); and the struggle of Archie comics' teenagers "Betty and Veronica" to repress their sexual desire for one another in the halls of Riverdale High. In one way or another all Geddes's stories are examinations, sometimes graphic, of adolescent sexuality or the sexualization of youth culture. In a lesser writer's hands the work would come off as puerile, but Geddes's sure prose, empathy, pop cultural knowledge, and stoner wit make for a rewarding and unusual collection."

-- Publishers Weekly