Blue Heron (Mountain West Poetry Series) (Paperback)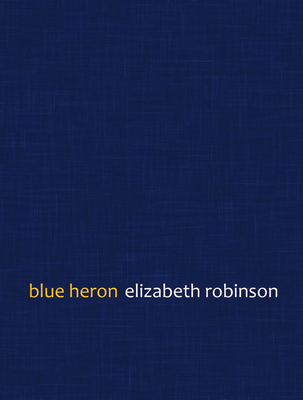 Please email or write store for pricing and availability information.
Special Request - May Not Be Available
Description
---
The poems in Blue Heron delineate a passage through grief and change. Here, personal loss is continuous with threats to other species and landscapes. In response, Robinson has uprooted the terrain of language, "what / bestows itself from / the almost-invisible / and its stain." If these uprootings are casualties of a poetics seeking to redress imbalance and "pollution," then they are also opportunities to rethink what can exist in the field of poetic language as "roots also quicken, bruise their plural pronouns, lose tune, / forsake terrain by moving through and on it." And so Blue Heron links poetic process with organic process, presence with the gap we know as hauntedness. The page is not only a resonant physical field, but also a site of dialogue between human and landscape, between lack and manifestation. If these poems constitute a poetics of loss, they are equally a movement toward a poetics of openness, risk, and renewed balance in which poetry shifts as "a form of weather, a form/of following, falling from the form/as it twists."
About the Author
---
Elizabeth Robinson is the author of multiple collections of poetry, including, most recently, Three Novels (Omnidawn) and Counterpart (Ahsahta Press). Robinson has been a winner of the National Poetry Series and the Fence Modern Poets Prize.  She has received grants from the Fund for Poetry, the Foundation for Contemporary Arts, and the Boomerang Foundation, taught creative writing and literature at the University of Montana as the Hugo Fellow, the Iowa Writers' Workshop, and at several other universities.
Praise For…
---
"In Blue Heron, Elizabeth Robinson unleashes her distinctive minimalism in elegy. Alert to what is partially glimpsed, piecemeal, and indirect, to the way a fragment of life can summon the transcendent, she offers a fierce lament for her father as his physical body, sometimes bird and sometimes man, hurls itself toward burial. The title sequence spins through the wild range of feelings inside grief—fury, confusion, buoyancy, disquiet—while being anchored in an authority that is utterly bracing. Driven by questions and hyper-aware of loss, these poems get close to what is scathing about death: the hungers it reveals, the charades, 'all you may not surmount.'"
—JOANNA KLINK
"Rilke's 1923 Duino Elegies argues that the animal's existence is infinite, unbounded by thoughts about its condition or its mortality. But for the poet who would enter into imaginative sympathy with animal species today, it is as impossible to idealize the figure of "the animal" as it is to make any definitive claims about nonhuman modes of being. Turning this ethical impasse into an opportunity for refiguring the relations between human language and nonhuman others, Blue Heron shows us that "the perimeter around the invisible is a person." Elizabeth Robinson's exceptional new book puts the human capacity for abstraction to work at the boundaries where what's nonhuman escapes our understanding and only seems to go missing. Ever attuned to the paradox of using words to pursue their quarry into the unsayable, Robinson's spare and incomparably graceful lyrics turn language into a liminal space where 'the breathing creature / loves its other.' "
—BRIAN TEARE
"Elizabeth Robinson's Blue Heron performs a high-definition infrared thermographic study, sensing the subtle presence between living entities and what is dying into other forms. In a scintillating rush, nature and culture and the fine line of what it means to be human dissolve into matrices of physical presence itself, no longer cordoned off, sequestered or marked. The blue heron is a guide that kindles relationships with all vantage points. There is also the illusive monster who negotiates otherness and sameness: a gossamer reality that shape-shifts into newness as understanding develops. This is a great work of symbiosis."
—BRENDA IIJIMA