Free Shipping over $50.00
within USA
Mark Twain: Huck Finn; Pudd'nhead Wilson; No. 44, the Mysterious Stranger; And Other Writings (Paperback)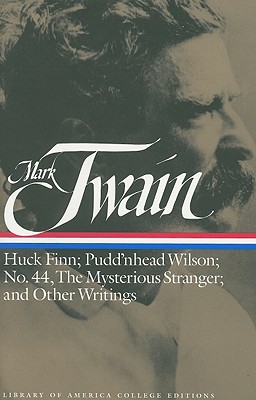 Please email or write store for pricing and availability information.
Special Request - May Not Be Available
Description
---
Against the assault of laughter, nothing can stand". Mark Twain is perhaps the most widely read and enjoyed of American writers. His works span a remarkable range, from the enchantments of boyish fantasy to passionate political invective, and probe the complexities of postbellum life: the violent transformation of the old frontier, the American preoccupation with Europe, and the imperfect reckoning of slavery's terrible cost. Here are Twain's essential works: The Adventures of Huckleberry Finn; Pudd'nhead Wilson; No. 44, The Mysterious Stranger; "Jim Smiley and His Jumping Frog"; "The Private History of a Campaign That Failed"; "Fenimore Cooper's Literary Offences"; "How To Tell a Story"; "The Man That Corrupted Hadleyburg"; and more.

About the Author
---
Mark Twain was born Samuel Langhorne Clemens in Florida, Missouri, in 1835, and died at Redding, Connecticut in 1910. In his person and in his pursuits he was a man of extraordinary contrasts. Although he left school at twelve when his father died, he was eventually awarded honorary degrees from Yale University, the University of Missouri, and Oxford University. His career encompassed such varied occupations as printer, Mississippi riverboat pilot, journalist, travel writer, and publisher. He made fortunes from his writing but toward the end of his life he had to resort to lecture tours to pay his debts. He was hot-tempered, profane, and sentimental--and also pessimistic, cynical, and tortured by self-doubt. His nostalgia helped produce some of his best books. He lives in American letters as a great artist, the writer whom William Dean Howells called "the Lincoln of our literature."

Guy Cardwell has written several books on Mark Twain and is emeritus professor of English at Washington University