FREE shipping on book orders over $75.00 (Media Mail within USA)
Gift Cards are easy! Hover over SHOP on the bar above and select Gift Cards from the drop down menu.
Quick tip: If a book is listed as "On our Shelves" - call the store for quickest pick up.
Hollow City: The Siege of San Francisco and the Crisis of American Urbanism (Paperback)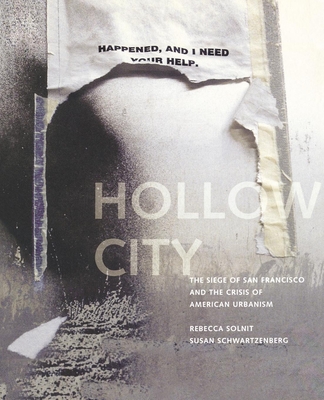 Please email or write store for pricing and availability information.
Available to Order - Usually Arrives in Our Store in 4 to 7 Days
Description
---
Reporting from the front lines of gentrification in San Francisco, Rebecca Solnit and Susan Schwartzenberg sound a warning bell to all urban residents. Wealth is just as capable of ravaging cities as poverty.
About the Author
---
Rebecca Solnit is author of, among other books, Wanderlust, A Book of Migrations, A Field Guide to Getting Lost, the NBCC award-winning River of Shadows and A Paradise Built In Hell. A contributing editor to Harper's, she writes regularly for the London Review of Books and the Los Angeles Times. She lives in San Francisco.

Urban archaeologist and artist Susan Schwartzenberg is the author of Market Street, a visual study of San Francisco's main artery, as well as photo-essays in several books, including Reclaiming San Francisco.
Praise For…
---
"Schwartzenberg's images survey more than thirty years of upheaval in the name of 'urban renewal,' and Solnit's text brings urgency to the question of whether a place in which artists, activists, and members of diverse races and classes can no longer afford to live is fated to become 'a city of presentation without creation.'"—New Yorker

"So many of the people who kept American cities alive and creative through dark decades, when capital abandoned the city, have become victims of capital's recent triumphant return to the city. This beautifully composed and crafted book tells their story. It is a compelling vision of our emerging global culture of displaced persons."—Marshall Berman

"Passionate, potent, and to the point, Solnit's polemic embodies American political and social writing at its best."—Publishers Weekly

"One day, we all woke up and San Francisco had become a bohemian entertainment park, without bohemians. Those were the golden days of virtual capitalism. Rebecca Solnit and Susan Schwartzenberg help us to understand why this happened. Their book is necessary to understanding our new place in a brand new scary world."—Guillermo Gomez-Pena