German Pionier 1939-45: Combat Engineer of the Wehrmacht (Warrior #146) (Paperback)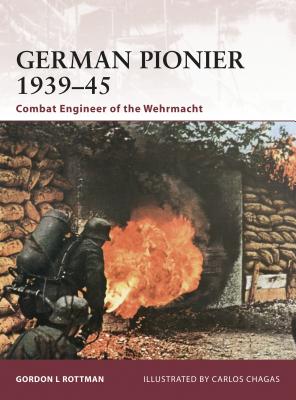 Please email or write store for pricing and availability information.
Special Request - May Not Be Available
Description
---
The German Army of World War II (1939-1945) collectively referred to its various engineer units as Pioniere - what would be called combat engineers in the West. This organization included Pioniertruppen (Pionier Troops), Bautruppen (Construction Troops), Eisenbahntruppen (Railway Troops), and Technische Truppen (Technical Troops). They were first and foremost assault troops, and construction workers second. They were tasked with overcoming manmade and natural obstacles, and in the attack they supported the infantry as specialist assault troops, attacking fortified positions with demolitions and flamethrowers. In the defence they constructed fortifications and shelters, erected obstacles, laid minefields, planted booby traps, cleared fields of fire, erected camouflage, and maintained supply routes. This book examines the recruitment and special training of a German Pionier. It also covers life in the field while on campaign and the of a Pionier role in supporting infantry assaults.
About the Author
---
Gordon L. Rottman entered the US Army in 1967, volunteered for Special Forces and completed training as a weapons specialist. He served in the 5th Special Forces Group in Vietnam in 1969-70 and subsequently in airborne infantry, long-range patrol and intelligence assignments until retiring after 26 years. He was a Special Operations Forces scenario writer at the Joint Readiness Training Center for 12 years and is now a freelance writer, living in Texas. The author lives in Cyprus, Texas.
Praise For…
---
"This is a short yet detail packed study of the Pioniertruppen of the Wehrmacht. Whether your interest is historical, archival, or modelling, Mr. Rottman offers you an in-depth and insightful resource for the topic of the Combat Engineer of the Wehrmacht." - Frederick Boucher, Armorama

"In this book on German Pioneers,  author Gordon Rottman covers a brief chronology on what it was like to be a young man in Hitler's Germany... All of this is superbly illustrated by Carlos Chagas and an excellent collection of period photographs, some of them in full color. In all, another excellent book on some of the less exciting, but very necessary components of warfare." - Scott Van Aken, Modeling Madness

"A fine survey... deserves a spot in any German specialty collection." - The Midwest Book Review