Spad XIII Vs Fokker D VII: Western Front 1916-18 (Duel #17) (Paperback)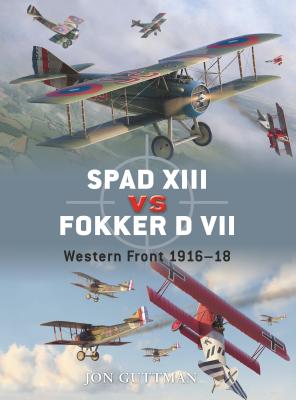 Please email or write store for pricing and availability information.
Special Request - May Not Be Available
Description
---
Having established its SPAD VII as the most effective French fighter of 1916, the Societ Pour l'Aviation at ses D riv's strove to improve the model with a 220hp Hispano Suiza 8B engine and two machine guns. Despite initial teething troubles with the new engine, by mid-1918 the SPAD XIII had taken its place as the principal fighter of both France and the US. Meanwhile, the German quest for a successor for their structurally flawed Albatros D V finally bore fruit with the Fokker D VII. Entering combat in May 1918, this plane earned a reputation as the most formidable fighter of the war, yet the SPAD XIII's greater speed, especially in a dive, and its outstanding durability, proved a fearsome rival. This is the gripping story of two of the best fighters produced in World War I - the SPAD XIII and the Fokker D VII - as they dueled in the skies above the trenches in the closing months of the war. Never before published artwork, including fascinating cockpit illustrations, reveal several dramatic clashes between the two foes while diary entries and first-hand accounts from the pilots bring this classic World War I duel to life with intimate detail.
About the Author
---
A resident of Leesburg, Virginia, Jon Guttman is senior editor, research director and contributing writer for Primedia Enthusiast Publications. Specialising in World War 1 aviation, he has written 12 titles, including the popular Balloon Busting Aces of World War I.
Praise For…
---
"SPAD XIII vs Fokker D VII is the gripping story of two of the best fighters produced in World War I-the SPAD XIII and the Fokker D-VII-as they dueled in the skies above the trenches in the closing months of the war. Never before published artwork, including fascinating cockpit illustrations, reveal several dramatic clashes between the two foes while diary entries and first-hand accounts from the pilots bring this classic World War I duel to life with intimate detail." -Flying Models (August 2009)

"In this book, the author, Jon Guttman, discusses the development of both aircraft as well as their technical specifications and deployments to the front. Pilot training and tactics are also part of the story and one will find quite a few 'I was there' stories to add some spice to the book... In all, a superlative inclusion to this series. It is a book that I thoroughly enjoyed reading and is one that I know you will find a delight as well." -Scott Van Aken, Modeling Madness www.modelingmadness.com (July 2009)

"Guttman profiles the great pilots of the era, deftly incorporating research on exactly how well they liked their respective mounts. But I must confess that what impressed me most were the full-color illustrations of aircraft profiles, cockpits and equipment, which give a rarely seen perspective of the aircraft." - Walter J. Boyne, Aviation History (July 2010)