FREE shipping on book orders over $75.00
USPS Media Mail within USA
Gift Cards are easy! Click SHOP on the bar above and choose Gift Cards.
Against Value in the Arts and Education (Disruptions) (Hardcover)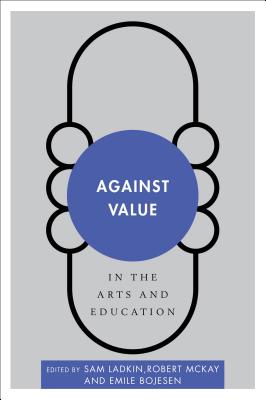 Please email or write store for pricing and availability information.
Available to Order - Usually Arrives in Our Store in 4 to 7 Days
Description
---
Against Value in the Arts and Education proposes that it is often the staunchest defenders of art who do it the most harm, by suppressing or mollifying its dissenting voice, by neutralizing its painful truths, and by instrumentalizing its ambivalence. The result is that rather than expanding the autonomy of thought and feeling of the artist and the audience, art's defenders make art self-satisfied, or otherwise an echo-chamber for the limited and limiting self-description of people's lives lived in an "audit culture", a culture pervaded by the direct and indirect excrescence of practices of accountability. This book diagnoses the counter-intuitive effects of the rhetoric of value. It posits that the auditing of values pervades the fabric of people's work-lives, their education, and increasingly their everyday experience. The book uncovers figures of resentment, disenchantment and alienation fostered by the dogma of value. It argues instead that value judgments can behave insidiously, and incorporate aesthetic, ethical or ideological values fundamentally opposed to the "value" they purportedly name and describe. The collection contains contributions from leading scholars in the UK and US with contributions from anthropology, the history of art, literature, education, musicology, political science, and philosophy.
About the Author
---
Sam Ladkin is Senior Lecturer in Contemporary Literature at the University of Sheffield. Robert McKay is Senior Lecturer in English Literature at the University of Sheffield. Emile Bojesen is Senior Lecturer in Education at the University of Winchester.