Free Shipping over $50.00
within USA
QuickBooks for CPAs (Hardcover)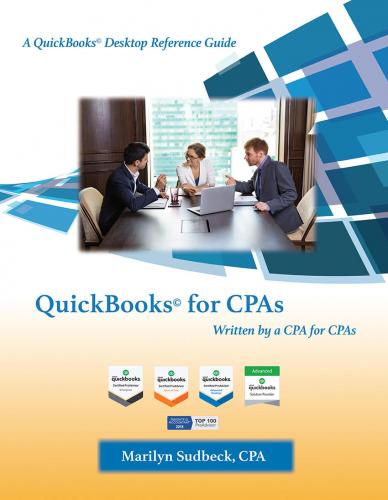 Please email or write store for pricing and availability information.
Special Request - May Not Be Available
Description
---
Are you one of the CPAs that doesn't use QuickBooks Accountant Edition because you don't fully understand how it works?

If you've held off using QuickBooks Accountant version before, now you can avail yourself fully of what this software offers you and your business. If you've been using the software, use this resource so that you can take full advantage of what it can do for your clients.

About the Author
---
Marilyn Sudbeck, CPA, is an Advanced Certified QuickBooks ProAdvisor and one of the Top 100 ProAdvisors in 2018. Working with QuickBooks since 1995, she is a charter member of the Intuit Trainer/Writer Network and QuickBooks Solutions Provider group. She helps accounting professionals in a myriad of professions and make QuickBooks presentations to colleges and professional conferences. For more information, visit www.nimbusqb.com
Praise For…
---
"QuickBooks for CPAs is a "must have" resource for every CPA who uses QuickBooks Accounting. Marilyn Sudbeck is a very knowledgeable and experienced QB instructor and has been teaching QuickBooks classes to CPAs at CPE4U Colorado for over ten years. She knows the software extremely well, and because she is a CPA she is best suited to help other CPAs use QuickBooks efficiently and effectively."

Mark A. Vogel, J.D., LL.M., CPA
President, CPE4U Colorado


"Marilyn's book is a welcome addition to any CPA's professional library. It's a clear and concise guide for professionals. No more befuddlement or bewilderment with the intricacies of QuickBooks."

Mark E. Wagner, CPS, MT, CGMA
Golden, Colorado


"Marilyn has managed to take her years of teaching and working with QuickBooks to encapsulate them into a wonderful book for the professional accountant. CPAs can better navigate through the sometimes complex task of working with QuickBooks using QuickBooks for CPAs."

Keith Hollingsworth, CPA, MT
Denver, Colorado


"Finally a source for professionals that use QuickBooks and want to learn more. Great tips, short cuts, and reasons to use them. I use this in my business all the time. I like this book!"

Dave Gossett, CPA, CFP
Broomfield, Colorado