Tattered Cover Holiday Hours:
Thanksgiving Day - November 26, ALL STORES CLOSED
Doing the Right Things Right: How the Effective Executive Spends Time (Paperback)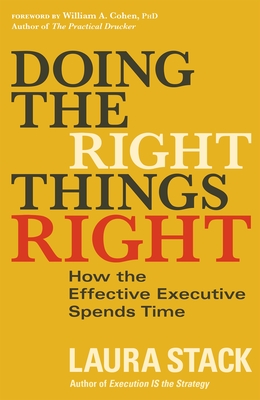 Please email or write store for pricing and availability information.
Special Request - May Not Be Available
Description
---
A How-To Guide for the Modern Leader

Inspired by Peter Drucker's groundbreaking book The Effective Executive, Laura Stack details precisely how 21st-century leaders and managers can obtain profitable, productive results by managing the intersection of two critical values: effectiveness and efficiency.

Effectiveness, Stack says, is identifying and achieving the best objectives for your organization—doing the right things. Efficiency is accomplishing them with the least amount of time, effort, and cost—doing things right. If you're not clear on both, you're wasting your time. As Drucker put it, "There is nothing so useless as doing efficiently that which should not be done at all." Stack's 3T Leadership offers twelve practices that will enable executives to be effective and efficient, grouped into three areas where leaders spend their time: Strategic Thinking, Teamwork, and Tactics. With her expert advice, you'll get scores of new ideas on how you, your team, and your organization can boost productivity.
About the Author
---
Laura Stack, MBA, CSP, CPAE, is an award-winning keynote speaker, bestselling author, and noted authority on productivity. She is the CEO and president of the Productivity Pro, Inc., and a member of the Speaker Hall of Fame.


Foreword author William A. Cohen, PhD is an authority on leadership and strategy formulation and deployment. He gives speeches and seminars for the Industrial College of the Armed Forces, the Air War College, the FBI Academy, all four armed services, and corporations from Boeing to The Cheesecake Factory. He is the author of The Practical Drucker.
Praise For…
---
"I hired Laura Stack to work with my team. Her views are drawn from her twenty-five years of experience with hundreds of leaders and organizations like mine, and I give her work my highest recommendation."
—Steve Silver, Human Resources Director, AlliedBarton Security Services

"If you follow the concepts Stack sculpts in Doing the Right Things Right, you can gather insight into where you can improve results, why you might be falling short in some areas, and how to improve both your work and your life."
—Cathy Krause, Learning and Development Manager, MillerCoors

"Stack is so right about 'doing the right things right.' My advice for how an effective executive should spend some time? Read and learn from her book!"
—Harvey Mackay, author of the #1 New York Times bestseller Swim with the Sharks without Being Eaten Alive

"Laura Stack is one of the brightest professional people I know. Her content is useful. Her approach is practical. Her recommendations are right on. I recommend her work with conviction."
—Nido R. Qubein, President, High Point University

"If you're tired of all the business fables and want real-world coaching on getting more done, then this is the book for you."
—Randy Gage, author of the New York Times bestseller Risky Is the New Safe and Mad Genius

"I hired Laura Stack personally six years ago. My staff and I were frazzled and felt overworked and out of control. Stack came to town and came to work and life has been better since. Rarely does a day go by that I don't think of one or two of the productive tips she teaches. Now, Doing the Right Things Right comes along and updates, refreshes, and adds a new perspective to the science of productivity and all that I thought I knew. Read this book so you too can 'manufacture' that time in your life that you need so you can go home early!"
—Montague Boyd, CFP, forty-year financial advisor, Atlanta, Georgia

"Laura Stack doesn't beat around the bush when it comes to productive advice—because that would waste time. Not a word's wasted here. Her examples are to the point, her advice concise, and the book itself surprisingly brief. If she were anyone else, I'd say she tried to cram too many topics into one book, but that's part of this book's utility—this book saves time and shelf space."
—Jeremy Eaves, Director, People Services, DaVita Inc.

"To be successful in business, you must make money, and time is money. The more time you can save, the more of it you can repurpose to higher-value activities. In Doing the Right Things Right, Laura Stack offers leaders a practical guide on doing their jobs efficiently and effectively."
—Alex Doverspike, Director of Financial Services, Chick-fil-A, Inc.

"Once again the 'right' thing to do is to read Laura's latest book, Doing the Right Things Right. Her time-saving productivity systems are vital to strong leadership of self or team. Her practical approach, coupled with a quarter century of teaching leaders, will help you succeed without the pain of mistakes."
—Jeff Bettinger, Global Head of Talent Acquisition, Alcon

"I love Laura's refreshingly practical perspective. No one really cares how many items you've crossed off your to-do list or how many hours you spend at the office. What matters is that you get the right things done—and that's what this no-nonsense little book will teach you to do."
—Laura Vanderkam, author of I Know How She Does It

"Laura Stack has taken the best ideas of Peter Drucker to a new level for the 21st century. This book shows you how to dramatically increase your efficiency, effectiveness, and results—faster than you ever thought possible."
—Brian Tracy, author of Time Power and Eat That Frog!

"Execute today, plan for tomorrow, and invite the very best from your team. Sound compelling? Then add Laura Stack's latest book, Doing the Right Things Right, to the top of your reading list. There's no time to waste, so use her 3T Leadership Assessment and jump straight to the content that will help you most!"
—Catherine Stewart, talent, culture, and organizational development consultant, H&R Block

"More than a book, Doing the Right Things Right is a complete program in leadership efficiency and effectiveness. Offering a tool for analysis, online support, and resources for additional information, Laura Stack provides an exceptional straightforward model for organizational and personal productivity."
—Karla R. Peters-Van Havel, PhD, COO, Institute for Management Studies

"I'm a big fan of concise writing and straight talk, so I found Stack's Doing the Right Things Right: How the Effective Executive Spends Time right on the mark. Stack makes it easy for executives at all levels to be effective and efficient in twelve practical chapters."
—Jennifer Colosimo, coauthor of Great Work, Great Career (with Stephen R. Covey) and former Vice President of Wisdom, DaVita Healthcare Partners