We Gotta Get Out of This Place: The Soundtrack of the Vietnam War (Culture and Politics in the Cold War and Beyond) (Hardcover)
Now Open for Prepaid Curbside Pickup at Colfax Avenue. Phone Ordering and Inquires. Limited Hours.
For your safety and ours, our stores are still closed to the public. Our website is now open (24/7).
We're also offering Prepaid Curbside Pick up at our Colfax Avenue location only. Pick up hours will be 12:00 pm to 6:00 pm on Tuesday through Friday and 10:00 am to 2:00 pm on Saturday.
Please wait for confirmation that your order is ready before coming to the store. We cannot promise same day order and pick up, but we will process your request as fast as we can. We appreciate your patience.
Also, our Colfax Avenue phone lines are now open 10:00 am to 4:00 pm on weekdays for inquiries and ordering. 303-322-7727. We look forward to hearing from you!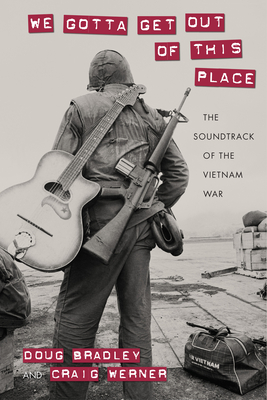 Please email or write store for pricing and availability information.
Available to Order - Usually Arrives in Our Store in 4 to 7 Days
Description
---
For a Kentucky rifleman who spent his tour trudging through Vietnam's Central Highlands, it was Nancy Sinatra's "These Boots Are Made for Walkin'." For a "tunnel rat" who blew smoke into the Viet Cong's underground tunnels, it was Jimi Hendrix's "Purple Haze." For a black marine distraught over the assassination of Martin Luther King Jr., it was Aretha Franklin's "Chain of Fools." And for countless other Vietnam vets, it was "I Feel Like I'm Fixin' to Die," "Who'll Stop the Rain," or the song that gives this book its title. In We Gotta Get Out of This Place, Doug Bradley and Craig Werner place popular music at the heart of the American experience in Vietnam. They explore how and why U.S. troops turned to music as a way of connecting to each other and the World back home and of coping with the complexities of the war they had been sent to fight. They also demonstrate that music was important for every group of Vietnam veterans--black and white, Latino and Native American, men and women, officers and "grunts"--whose personal reflections drive the book's narrative. Many of the voices are those of ordinary soldiers, airmen, seamen, and marines. But there are also "solo" pieces by veterans whose writings have shaped our understanding of the war--Karl Marlantes, Alfredo Vea, Yusef Komunyakaa, Bill Ehrhart, Arthur Flowers--as well as songwriters and performers whose music influenced soldiers' lives, including Eric Burdon, James Brown, Bruce Springsteen, Country Joe McDonald, and John Fogerty. Together their testimony taps into memories--individual and cultural--that capture a central if often overlooked component of the American war in Vietnam.
About the Author
---
Doug Bradley, a Vietnam veteran, teaches a course on the war with Craig Werner, professor of Afro-American studies at the University of Wisconsin-Madison and author of Higher Ground: Stevie Wonder, Aretha Franklin, Curtis Mayfield, and the Rise and Fall of American Soul.