Equilateral (Hardcover)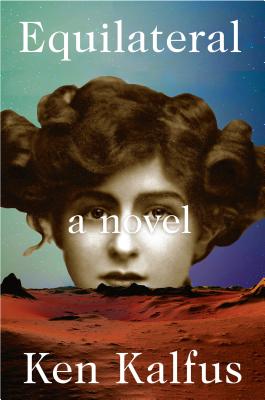 Please email or write store for pricing and availability information.
Special Request - May Not Be Available
Description
---
Equilateral is an intellectual comedy set just before the turn of the century in Egypt. A British astronomer, Thayer, high on Darwin and other progressive scientists of the age, has come to believe that beings more highly evolved than us are alive on Mars (he has evidence) and that there will be a perfect moment in which we can signal to them that we are here too. He gets the support and funding for a massive project to build the Equilateral, a triangle with sides hundreds of miles long, in the desert of Egypt in time for that perfect window. But as work progresses, the Egyptian workers, less evolved than the British, are also less than cooperative, and a bout of malaria that seems to activate at the worst moments makes it all much more confusing and complex than Thayer ever imagined. We see Thayer also through the eyes of two women--a triangle of another sort--a romantic one that involves a secretary who looks after Thayer but doesn't suffer fools, and Binta, a houseservant he covets but can't communicate with--and through them we catch sight of the depth of self-delusion and the folly of the enterprise.
Equilateral is written with a subtle, sly humor, but it's also a model of reserve and historical accuracy; it's about many things, including Empire and colonization and exploration; it's about "the other" and who that other might be. We would like to talk to the stars, and yet we can barely talk to each other.
About the Author
---
Ken Kalfus is the author of two novels, The Commissariat of Enlightenment and A Disorder Peculiar to the Country, which was a finalist for the 2006 National Book Award. He's also published two collections of stories, Thirst and Pu-239 and Other Russian Fantasies, a finalist for the PEN/Faulkner Award. His books have been translated into more than ten foreign languages. He lives in Philadelphia.
Praise For…
---
"A virtuosic portrait of the animating power of self-delusion." —Nathaniel Rich, The Daily Beast, Novel of the Year "Kalfus writes so well that his storytelling carries us along...that narrative becomes darker and more complex, evolving into a more intricate fable, an exploration of man's hubris." —Andrew Wulf, New York Times Book Review "Few American novelists get as many rewards from their investment in ideas." —The New York Times "Like Thayer's enormous triangle, the Big Idea underlying Equilateral the novel isn't illuminated until nearly its completion. It's a pretty neat trick for a novelist to pull off, to obscure the fact that what at first looks like an intricate fantasy novel actually contains pointed social commentary." —Maureen Corrigan, NPR's "Fresh Air" "Equilateral reads as a compact and deeply satisfying work of fiction, which, moreover, boasts that rarest of endings: one that's surprising yet, if you've been reading closely, inevitable." —NPR.org "Thayer's late 19th-century fascination is enough to carry the book, but Kalfus adds a love triangle as well as a cast of characters — some who support the professor's efforts and others who rebel against them — for an even richer story." —NPR's "Morning Edition," Critic's List: Summer 2013 "Kalfus…has woven a tale that is both fantastical and believable. He's done it not just with an expansive imagination and sharp writing skills, but a convincing aptitude in the disciplines of astronomy, trigonometry and history…erupts in a satisfying climax." —Denver Post "Intriguing . . . a slender but substantial new novel by Ken Kalfus…who manages here to blend history, humor, politics, science—and even a little bit of romance." —Los Angeles Times "By turns sophisticated, suspenseful, and entertaining, Equilateral uses this fantastic conceit to deconstruct the late 19th century's empirical, Social Darwinist ("survival of the fittest"), and colonialist worldviews, elements of which remain dominant in our own time." —Philadelphia Inquirer
"Just crazy enough to work." —Flavorwire, "20 Highbrow Books to Read on the Beach This Summer" "Kalfus has as demonic imagination. The glamour of consistent disaster is recognizable in every line, every scene, every lacquered articulation: it is what we moderns like to call a neo-classical construct. I'm overcome by the splendor of what he's done." —Richard Howard "Magic. . . . As it progresses, it's hard not to regard the novel with something akin to the awe with which the characters regard their project." —Washington Independent Review of Books "When a new Ken Kalfus novel appears I stop eating, drinking, shaving, and breathing until I finish it. Equilateral is one of his smartest and most ambitious books yet. It left me thinking and wondering well past my bedtime." —Gary Shteyngart "This is an interesting twist on historical fiction, bringing to life a bygone worldview rather than dramatizing a real-life event . . . . The novel contains a shimmer of science fiction without ever coming untethered from the realities of earth, desert and humanity . . . . Profound." —Kansas City Star "Kalfus has crafted a powerful, mesmerizing story about ambition—and its limitations." —The Daily Beast "Kalfus maps the boundary between science and mysticism while simultaneously muddying, in a way the 20th century soon would, the previously bright line between scientific certainty and arrogant, self-deluded error." —Kirkus Reviews (starred review) "Startlingly original . . . Equilateral overflows with intrigue and action . . . [Kalfus] invest[s] characters like Thayer and his devoted private secretary Adele Keaton, among others, with a depth that engages us fully in their bizarrely inspiring quest . . . . Kalfus nicely balances a fast-paced plot with consideration of the big themes that lurk under the surface of the story." —Bookpage  "[A] slyly satirical novel…. Kalfus wittily skewers the Europeans' cosmic fantasies before reaching the ambiguous ending, which... befits the story's equal attention to the wonder of prospective first contact and absurdity of human self-delusion." —Publishers Weekly "Kalfus's previous novel, A Disorder Peculiar to the Country, won raves…and garnered a National Book Award nomination…. His latest work…takes a big step forward with stylistic elegance and deeper insights into human nature." —Booklist
"A thoughtful, wisely rendered modern science fiction pastiche with just the right dash of an Ibsen play."
—Shelf Awareness