The Language of Life: How Communication Drives Human Evolution (Paperback)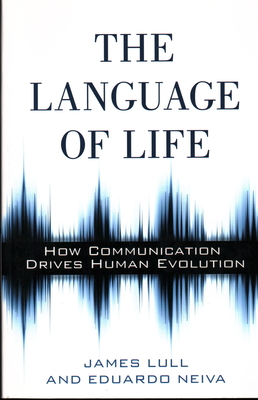 Please email or write store for pricing and availability information.
Special Request - May Not Be Available
Description
---
Communication in its most basic form--the sending of signals and exchange of messages within and between organisms--is the heart of evolution. From the earliest life-forms to Homo sapiens, the great chain of communication drives the evolutionary process and is the indispensable component of human culture. That is the central message of this unique perspective on both the biological evolution of life and the human development of culture. The book explores the totality of communication processes that create and sustain biological equilibrium and social stability. The authors argue that this ubiquitous connectivity is the elemental unity of life. Introducing a new subdiscipline--evolutionary communication--the authors analyze the core domains of life--sheer survival, sex, culture, morality, religion, and technological change--as communications phenomena. What emerges from their analysis is a brilliant interpretation of life interconnected through communication from the basic molecular level to the most sophisticated manifestations of culture. Challenging the boundaries of conventional approaches to cultural analysis, this is an original and engaging view of evolution and an encouraging prognosis for our collective future.
About the Author
---
James Lull is a distinguished authority on the impact of mass media, communications technology, and popular culture. The author of twelve books, he has appeared as a commentator on such media outlets as CNN, the BBC, and NPR; has written essays for the Los Angeles Times, the International Herald Tribune, and the San Francisco Chronicle, among others; and lectures worldwide. He is professor emeritus of communication studies at San Jose State University. Visit the author online at www.JamesLull.com. Eduardo Neiva is a leading authority on how visual images influence culture. He is the author of two books in English on communication, culture, and images, and many books in Portuguese. He was a Fulbright research scholar at Indiana University in Bloomington and is professor of communication studies at the University of Alabama at Birmingham.
Praise For…
---
"Charles Darwin lives on in James Lull and Eduardo Neiva's lively book. . . . Their clear, direct, and personable narratives explain how transmissions surrounding senders and receivers become signs and symbols as humans evolve through the 'great chain of communication.' . . . A fascinating, wide-ranging tour de force."
-Kevin G. Barnhurst, PhD, professor, Department of Communication, University of Illinois–Chicago

"In this profoundly original work, Lull and Neiva introduce a new way of seeing both communication and evolution. . . . Their innovative exploration of how communication contributes to the evolutionary progress of organisms and culture provides a rallying cry for all who build on the brilliant tradition of nineteenth-century evolutionists in realizing the power of the past and the promise of the future."
-Michael Real, professor, School of Communication and Culture, Royal Roads University, Victoria, British Columbia

"Lull and Neiva have written a book of grand theory, in the best sense of that term. The Language of Life ranges effortlessly across a wide and varied disciplinary terrain. The authors make bold conceptual leaps, and they chart new paths for future scholarship. They argue their case with impressive intellectual agility in lucid and elegant prose."
-Paul Messaris, Lev Kuleshov Professor of Communication, Annenberg School for Communication, University of Pennsylvania

"The authors combine vivid descriptions of contemporary phenomena . . . with time-tested evolutionary principles to fashion a most powerful argument. One of the most original, compelling, and entertaining books I've read in years."
-Toshie Takahashi, PhD, associate professor, School of Culture, Media and Society, Waseda University, Japan

"The Language of Life demonstrates . . . [a] vast knowledge of human culture from biology to philos-ophy. The authors unify these separate perspectives into a unique understanding of life—one that articulates the complex sequences of events in human evolution. This book is written with subtlety, sensibility, and intelligence. . . . This work is both powerful and valuable."
-Jean-Richard Bodon, PhD, professor and chair, Department of Mass Communication, Sam Houston State University

"Written in a clear, playful, and engaging style, The Language of Life presents ideas that have been virtually ignored in the humanities, social sciences, and biology. . . . A must read."
-Monica Rector, professor, University of North Carolina–Chapel Hill