Anya's Ghost (Prebound)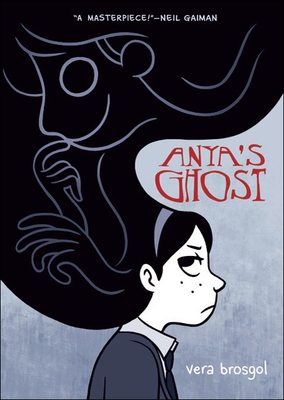 Please email or write store for pricing and availability information.
Special Request - May Not Be Available
Staff Reviews
---
       Anya is a Russian born student in a dreary New England suburb. She attends what she calls the 'third worst private school in the state'. She is an outsider. She attends orthodox church, which lasts three hours. Her parents are divorced and money is tight. Her grades and social life are mediocre and desperately need improvement. When she trips and falls into a deep well she comes across the bones of a ghost who died a hundred years earlier. The ghost turns out to be her high school savior. She gives Anya answers to tests and helps her in awkward social situations with the dream boy in league with the popular kids. But gradually things begin to sour between the two when the ghost, like an angry and difficult high school social climber, wants to rule over Anya's life. When Anya doesn't do what the ghost request she becomes a threatening presence who endangers Anya and Anya's family. This story if excellent for teenagers facing the difficulties of social acceptance and it has a suspenseful narrative that will keep the reader on pins and needles." ~Steve 
— Steve has been selling books at TC for decades & he really knows kids' books. Trust him.
Description
---
Anya could really use a friend. But her new BFF isn't kidding about the "Forever" part . . .
Of all the things Anya expected to find at the bottom of an old well, a new friend was not one of them. Especially not a new friend who's been dead for a century.
Falling down a well is bad enough, but Anya's normal life might actually be worse. She's embarrassed by her family, self-conscious about her body, and she's pretty much given up on fitting in at school. A new friend--even a ghost--is just what she needs.
Or so she thinks.
Spooky, sardonic, and secretly sincere, "Anya's Ghost "is a wonderfully entertaining debut graphic novel from author/artist Vera Brosgol.
"Anya's Ghost" is a 2011 "Kirkus" Best Teen Books of the Year title.
One of "School Library Journal"'s Best Fiction Books of 2011.
One of "Horn Book"'s Best Fiction Books of 2011.
Winner of the 2012 Eisner Award for Best Publication for Young Adults (Ages 12-17)
About the Author
---
Vera Brosgol was born in Moscow, Russia, and emigrated with her family to the United States as a child. She has a degree in Classical Animation and currently works as a storyboard artist at Laika, Inc. Her work can be seen in the recently released "Coraline."