I Am an Executioner: Love Stories (Compact Disc)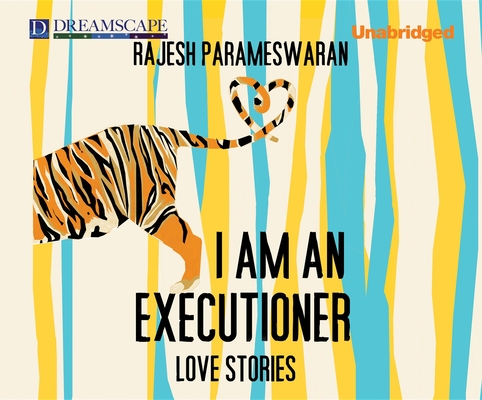 Please email or write store for pricing and availability information.
Special Request - May Not Be Available
Description
---
In the unforgettable opener, 'The Infamous Bengal Ming, ' a misunderstood tiger's affection for his keeper goes horribly awry. In 'Demons, ' a woman tries to celebrate Thanksgiving after the sudden death of her husband, even though his corpse is still sprawled on their living-room floor. In 'The Strange Career of Dr. Raju Gopalarajan, ' an ex-CompUSA employee sets up a medical practice in a suburban strip mall armed only with textbooks from the local library and fake business cards. The heroes - and anti-heroes - of this collection include a railroad manager in a turn-of-the-century Indian village, the newlywed executioner of the title, and an elephant writing her autobiography - the creations of a riotous, singular imagination that promises to dazzle the universe of American fiction.
About the Author
---
Rajesh Parameswaran is a graduate of Yale Law School. His stories have appeared in McSweeney's, Granta, Zoetrope: All-Story, Fiction, and Book. 'The Strange Career of Doctor Raju Gopalarajan' earned McSweeney's a National Magazine Award and was anthologized in Best American Magazine Writing 2007. He has had residencies at Yaddo, the Ucross Foundation, and the MacDowell Colony.READER BIO Neil Shah is a classically trained actor whose credits range from off-Broadway and regional stages to television and film appearances. Past audiobooks include the recently released House of Stone and The Black Banners (both with Blackstone Audio), among several others. He holds an MFA from the University of San Diego/Old Globe Program. Lina Patel is a performer and writer based in Los Angeles. A critically acclaimed actor and voice-over artist Lina has performed on stage in New York, Los Angeles and regionally, and guest-starred on several television shows.Titles Lina has narrated for Penguin and Random House include Faulkner s, As I Lay Dying, Rani Manicka s Rice Mother, and Arturo Perez-Reverte s, The Queen of the South."
Praise For…
---
Starred review. "Lethal innocence and the uncanny pairing of brutality and tenderness [shapes] Parameswaran's macabre love stories. A thoughtful zoo tiger is only trying to express love when he inadvertently goes on a killing spree. The thin line between freedom and imprisonment is traced to provocative effect in a story told by a captured elephant, though the footnotes written by her alleged translator, a curious sort of elephant-man obsessed with suicide, take over her narrative. Venturing into Kafka and Borges territory, Parameswaran writes pristine, even serene prose that flows in disquieting counterpoint to the grotesqueness of most of his tales, with one sterling exception, the heartbreaking, Chekhovian story about an aging art director helplessly in love with the wife of a world-famous filmmaker. A potent, haunting, darkly sublime, and completely compassionate debut collection." - Booklist
"In the staggering title story, the awkward, love-starved narrator maneuvers between his day job finishing off convicted criminals and his home life, where he tries unsuccessfully to reassure his new wife that he's not as bad as his profession would imply. His poetic, if exaggerated, Indian English creates its own cadence just as his compulsive justification creates its own logic...Parameswaran should be applauded for pushing the limits of genre and for the searing brilliance of his language...[An] admirably risky debut collection." - Publishers Weekly
"The characters in this first collection, including a frustrated Bengal tiger and a woman gamely managing Thanksgiving dinner with her husband sprawled dead on the floor, suggest an offbeat temperament at work. The venues where these stories have appeared - e.g., McSweeney's, Granta, and Zoetrope - suggest talent at work as well. Great expectations!" - Library Journal
"...bizarre...masterful...marks the advent of a genuinely distinctive voice in American fiction, abundantly inventive, deceptively cunning and fearless...This gift for the unusual perspective results in a debut collection of startling freshness and force." - The Washington Post
"Parameswaran writes like a demon...When you read this, you will be telling everyone you know about this book." - Jason Rice, Three Guys One Book
"To claim that an author has written inventive stories about love conjures up many possibilities, but none will compare to the fertile imaginings of Rajesh Parameswaran. His debut collection, I Am an Executioner, is filled with the voices of astonishing characters - a misunderstood tiger, a strip mall con man who opens a medical clinic with only library texts to guide him, an executioner, a surveillance agent, a pompous railway manager, and more - whose pitch-perfect stories recalibrate the notion of love and power with dark humor and unbearable tenderness." - Walter Mosley
"I Am an Executioner gets the pulse racing from word one. I love Rajesh because his last name is even more impossible than my own, and because he has redefined the American short story for me. Bravo!" - Gary Shteyngart, author of Super Sad True Love Story
"This collection fizzes with a mesmeric, restless energy. Rajesh Parameswaran makes us believe the unbelievable - in his hands the fantastic becomes intimate and human." - Tash Aw, author of The Harmony Silk Factory
"I Am an Executioner is intelligent and hilarious and wildly imaginative. Parameswaran explores with great delicacy that fraught line between provincial life and modern times. There are traces of Chekhov in his writing. These stories have the power to endure." - Saïd Sayrafiezadeh, author of When Skateboards Will Be Free
"Stories that are savagely funny, stories that haunt and sear and stun, stories so original they defy categorization - above all, stories generously laden with sheer reading pleasure: I Am an Executioner is a brilliant and spellbinding collection." - Manil Suri, author of The Death of Vishnu
"Brilliantly unnerving, wickedly funny, and deeply satisfying. These are ferocious stories about the power of love both to save and destroy, and what can happen to us when we succumb to our true animal natures. Rajesh Parameswaran writes with elegance and style and a fiendishly seductive wit that will take your breath away. An astonishingly original debut by a writer to reckon with." - Julie Otsuka, author of The Buddha in the Attic
"Wonderful stories - like small, deft carnivals entering our desert cities and cranky towns to, for a while, muster us into feeling, resolution, and happiness, before they go on their way. We can't help but be grateful for them." - Charlie Smith, author of Word Comix