Just Like Us: The True Story of Four Mexican Girls Coming of Age in America (Compact Disc)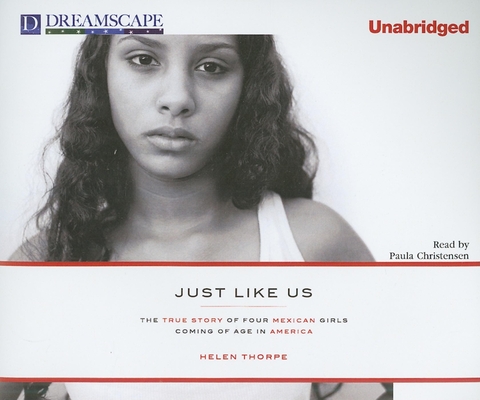 Please email or write store for pricing and availability information.
Special Request - May Not Be Available
Description
---
Just Like Us tells the story of four high school students whose parents entered this country illegally from Mexico. All four of the girls have grown up in the United States, and all four want to live the American dream, but only two have documents. As the girls attempt to make it into college, they discover that only the legal pair see a clear path forward. A coming-of-age story about girlhood and friendship, as well as the resilience required to transcend poverty, Just Like Us is also a book about identity. The girls, their families, and the critics who object to their presence allow the reader to watch one of the most complicated social issues of our times unfurl in a major American city.
About the Author
---
Helen Thorpe was born in London, England, and grew up in Medford, New Jersey. Her journalism has appeared in The New York Times Magazine, New York Magazine, Texas Monthly, and The Texas Observer. Theorpe has worked for The New York Observer, where she wrote the Talk of the Town stories; and Texas Monthly. She is married to John Hickenlooper, who was recently elected Governor of Colorado. Just Like Us is her first book. READER BIOPaula Christensen was born in Buenos Aires, nursed in Chicago, raised in New York, and attended a fancy liberal arts college in Massachusetts before finally settling in Los Angeles. She has appeared onstage throughout Los Angeles, with several television appearances. Look for her in the upcoming feature Open House starring Anna Paquin, and on the improvised web series Caffe Etc.
Praise For…
---
"An excellent, in-depth study of immigration policies gone amok." - Library Journal
"Narrator Paula Christensen provides a believable set of accents and rhythms for the Mexicans and Mexican-Americans featured, as well as for the outspoken politicians who join in the political debate. Christensen's delivery enhances the characters' personalities and Thorpe's depiction of the heated political climate of that period." - AudioFile Magazine
"Just Like Us beautifully and powerfully reminds us of the individuals whose lives lie at the center of the chaos that is our approach to immigration. Helen Thorpe has taken policy and turned it into literature." - Malcolm Gladwell
"With a gaze that is tender and ever alert, Helen Thorpe follows the lives of four young women - Mexican and American - so alike in their coming-of-age, but separated by the ironies of geography, the border that cuts through the heart." - Richard Rodriguez, author of Brown: The Last Discovery of America
"This is a penetrating, fair, and refreshingly personal examination of the passions that fuel the immigration controversy in this country. Helen Thorpe measures the arguments on both sides of this national debate against the actual human costs imposed by the status quo. This book will find a central place in this debate." - Lawrence Wright, Pulitzer Prize-winning author of The Looming Tower
"With a perfect combination of narrative and reflection, empathy and analysis, Helen Thorpe tells both a particular story of four irresistibly engaging young women, and a universal story of the struggle between human aspiration and intractible obstacles. If this book gets widely read, our national conversation on immigration could make a shift from 'shrill and draining' to 'thoughtful and productive.' In this book, the force and power of journalism reach their peak." - Patricia Nelson Limerick, author of The Legacy of Conquest