Suburra (Paperback)
Now Open for Prepaid Curbside Pickup at Colfax Avenue. Phone Ordering and Inquires. Limited Hours.
For your safety and ours, our stores are still closed to the public. Our website is now open (24/7).
We're also offering Prepaid Curbside Pick up at our Colfax Avenue location only. Pick up hours will be 12:00 pm to 6:00 pm on Tuesday through Friday and 10:00 am to 2:00 pm on Saturday.
Please wait for confirmation that your order is ready before coming to the store. We cannot promise same day order and pick up, but we will process your request as fast as we can. We appreciate your patience.
Also, our Colfax Avenue phone lines are now open 10:00 am to 4:00 pm on weekdays for inquiries and ordering. 303-322-7727. We look forward to hearing from you!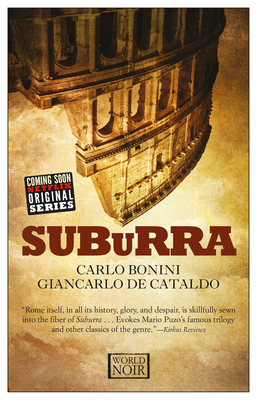 Please email or write store for pricing and availability information.
Special Request - May Not Be Available
Description
---
Soon to be a Netflix Original Series.

Suburra takes a deep dive into a politically and financially corrupt contemporary Italy, where a mighty local crime family, the Mafia, corrupt politicians, and new rabid criminal elements battle each other for control of a glittering prize—control over a multibillion dollar development twenty miles from the Italian capital.
 
During the final days of Silvio Berlusconi's reign, a massive development proposal that will turn the depressed coastal settlement of Ostia into a gambling paradise, a Las Vegas on the Mediterranean, is winding its way through the Italian legislature thanks to the sponsorship of politicians in the pay of crime syndicates. It's business as usual in the Italian capital. Or so it seems. A vicious gang of local thugs loyal to nobody but themselves is insisting on a bigger cut than agreed upon. The Mafia and their political puppets aren't going to back down without a fight.
 
Orchestral in its movement and sweeping in its ambition, Suburra is a compelling, provocative portrait of contemporary Rome—a city prey to pitiless criminal factions and political opportunism. Suburra has already been adapted into a critically acclaimed Italian film and soon to be a Netflix Original Series.
About the Author
---
Carlo Bonini is an Italian writer and journalist for the Italian national
daily, La Repubblica.

Giancarlo De Cataldo is a bestselling novelist, essayist, the author of numerous TV screenplays, and a judge on the circuit court of Rome.

Antony Shugaar's translations for Europa Editions include seven books in the Commissario Ricciardi series by Maurizio de Giovanni, For Grace Received by Valeria Parrella, Fabio Bartolomei's Alfa Romeo 1300 and Other Miracles, and Margherita Dolce Vita by Stefano Benni.
Praise For…
---
Praise for
Suburra
"Rome itself, in all its history, glory, and despair, is skillfully sewn into the fiber of
Suburra
. . . Evokes Mario Puzo's famous trilogy and other classics of the genre."
—
Kirkus Reviews
"[A] fast-moving crime thriller . . . an unflinching look at real-life widespread corruption in Italy."
—
Publishers Weekly

"The basis of an award-winning 2015 Italian film, this contemporary noir will appeal to readers intrigued by gangland crime, big-city corruption, and how Italy actually 'works.'"
—
Library Journal
(Starred Review)
"[C]austic and blunt [...]
Suburra
is a reminder that crime fiction can say as much about a society as other genres."
—
The Guardian


"The plot of
Suburra
, fast-paced and brutal, thrills from the get-go. [A] blistering, grimly absorbing satire of Rome's kickback and bribery culture."
—
The New Statesman
"An enthralling noir novel that draws inspiration from the real-life scandals
that have plagued Italy in recent years."
—
Paris Match
"With a bit of added splatter à la Tarantino,
Suburra
captures a great city
that has been tragically handed over to political, economic, and criminal corruption."
—
La Repubblica
"No code of honor, magnificent godfathers, or other such nonsense here, just cynicism, rapacity, money as the only value that matters. Made in the image of the world as it is. Chilling."
—
Télérama
"
Suburra
may deal in traditional gangster movie tropes, but it uses them to tell a story that's modern and universal."
—
Vice
(on film adaptation of the novel)  
"Bonini and de Cataldo find the courage to recount the unadulterated truth of a city that seems to have forgotten it is part of the civilized world."
—Paolo Sorrentino, Oscar Award-winning director of
The Great Beauty