Little Known Facts (Hardcover)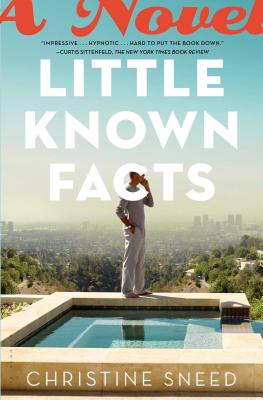 Please email or write store for pricing and availability information.
Special Request - May Not Be Available
Description
---
The people who orbit around Renn Ivins, an actor of Harrison Ford-like stature--his girlfriends, his children, his ex-wives, those on the periphery--long to experience the glow of his flame. Anna and Will are Renn's grown children, struggling to be authentic versions of themselves in a world where they are seen as less important extensions of their father. They are both drawn to and repelled by the man who overshadows every part of them.
Most of us can imagine the perks of celebrity, but Little Known Facts offers a clear-eyed story of its effects--the fallout of fame and fortune on family members and others who can neither fully embrace nor ignore the superstar in their midst. With Little Known Facts, Christine Sneed emerges as one of the most insightful chroniclers of our celebrity-obsessed age, telling a story of influence and affluence, of forging identity and happiness and a moral compass; the question being, if we could have anything on earth, would we choose correctly?
About the Author
---
Christine Sneed has a creative writing MFA from Indiana University and has lived in Chicago and Evanston, IL since 1998. She teaches creative writing at DePaul University, Northwestern University and Pacific University. Her story collection, Portraits of a Few of the People I've Made Cry, won AWP's 2009 Grace Paley Prize in Short Fiction, was a finalist for the Los Angeles Times Book Prize, first-fiction category, was named the Chicago Writer's Association Book of the Year, and has been chosen as the recipient of Ploughshares' 2011 first-book prize, the John C. Zacharis Award. It was also long-listed for the Frank O'Connor International Short Story Award and named one of the seven best books of the year by Time Out Chicago. Her stories have appeared or are forthcoming in Best American Short Stories, PEN/O. Henry Prize Stories, Ploughshares, Southern Review, Massachusetts Review, New England Review, Notre Dame Review, and a number of other journals. Visit her web site at http: //www.christinesneed.com.
Praise For…
---
"Impressive. . . hypnotic. . . hard to put down. . . . Little Known Facts is juicy enough to appeal to our prurience but smart enough not to make us feel dirty afterward…. Sneed is such a gifted writer… Her depiction of both proximity to celebrity and celebrity itself had me totally convinced." —Curtis Sittenfeld, New York Times Book Review (cover)
"An entertaining, formally inventive read …the world that Sneed creates in Little Known Facts— a blend of truth and fiction that weaves real life actors and directors into Renn's everyday life — makes for a clever take and a fun read." —Los Angeles Times
"I grabbed Christine Sneed's novel Little Known Facts on my way out the door this weekend and ate it up. It's a great canny read: wry, observant, inventive in style, rich in character. Christine Sneed knows her Hollywood, but more than that, she knows her people." —Jess Walter, author of Beautiful Ruins and National Book Award finalist for The Zero
"Sneed possesses uncanny insight into the power dynamics in families, friendships and workplaces. Exquisitely structured, with its spotlight segueing among characters, bits of tabloids, journal entries and overheard conversations, Little Known Facts is one of those rare novels that is both profound and fun." —Chicago Tribune, Editor's Choice
"An ensnaring first novel that delves into the complex challenges and anguish of living with and in the shadow of celebrity. Sneed's wit, curiosity, empathy, and ability to divine the perfect detail propel this psychologically exquisite, superbly realized novel of intriguing, caricature-transcending characters and predicaments…As Sneed illuminates each facet of her percussively choreographed plot via delectably slant disclosures—overheard conversations, snooping, tabloids, confessions under duress, and journal entries, among them—she spotlights 'little known facts' about the cost of fame, our erotic obsession with movie-star power, and where joy can be found." —Booklist (starred review)
"Sneed is a graceful prose stylist; sentence by sentence Little Known Facts is clean, spare and uncluttered." —San Francisco Chronicle 
"The gravitational pull of fame in a celebrity-obsessed culture informs this smart, fresh debut about a family living in the shadow cast by its larger-than-life patriarch." —Bonnie Jo Campbell, National Book Award finalist for American Salvage
"Sneed inhabits her characters' interior lives with impressive clarity and precision." —Time Out Chicago
"Goes beyond the tabloid headlines… Sneed effectively blurs the line between fact and fiction and brings each character to life." —Kirkus Reviews
"Christine Sneed's compelling first novel, Little Known Facts, reads with the effortlessness of a page-turner. The story is located at an intersection of romance - make that romances--fame, and physical beauty, and yet Sneed's insight into her credibly drawn characters combined with the novel's multi-faceted construction make the story anything but formulaic, and confer upon its subjects the depth and grace of the author's lucid prose and book's imaginative construction." —Stuart Dybek, author of I Sailed With Magellan
"Christine Sneed's Little Known Facts is a contemporary, culturally vibrant novel brimming with superb dialog, a sharp sense of scene and narrative pace, emotional/psychological clarity, and a bracing humanity. A blazing piece of work." —Floyd Skloot, author of In the Shadow of Memory
"[An] impressive debut…a Hollywood tale that aspires to complicate the traditional Hollywood narrative." —Minneapolis Star Tribune
"I tore through this instantly engaging box of literary candy in a weekend and immediately thought: TV series, HBO or AMC-style." —MSN
"Five years ago, Salman Rushdie was so impressed with fiction writer Christine Sneed that he included her work in 2008's Best American Short Stories anthology. But the Evanston resident has kept a low-profile, occasionally producing more short stories in the years since. That's about to change though, with the publication of Sneed's elegant first novel, Little Known Facts." —Chicago Magazine
"Sneed writes with authority and deftness."
—New City
"Well-crafted and character-focused . . . . the story's shifting perspectives are expertly intertwined and never heavy-handed . . . . Little Known Facts tells a story that moves beyond the salacious lives of its characters, illustrating the difficulties and obsessions that are as common within Hollywood as outside of it." —Zzyzzyva
"If Jennifer Egan's A Visit from the Goon Squad and Jess Walter's Beautiful Ruins had an illicit affair, Christine Sneed's Little Known Facts might be the love child." —Kirkus Reviews
"I really, really loved Little Known Facts. From the point f view of those closest to Hollywood super star Renn Ivins we see that flaws and foibles of the airbrushed lives of the rich and famous and the people closest to them. This is a deeply sensitive novel that takes the reader into a world of usually glamorized or carefully spun by publicists, revealing the havoc wreaked on most of the lives of ex's and offspring and lovers and the stars themselves. This insightful novel avoids moralizing, though in the end the moral might well be 'Be careful what you wish for." —Cathy Langer, Tattered Cover
 "I thoroughly enjoyed this novel. The writing is fresh, and so honest.  And she shows us that everyone, no matter how famous or rich, is human and capable of making mistakes.  All we really want in life is to be happy and content but many of us never get there because we are so wrapped up in what we should be doing or what others think of us. Will struggles in the glitzy shadows of his move star father, only not really sure whether he should go to law school or follow in his father's footsteps, or even in his mother's or sister's. both of whom are successful medical doctors. How can any of these related people have a healthy romantic relationship when their father is on his third wife, the most recent one the age of his daughter Anna?
      While we all read the tabloids about famous movie stars like Brad and Angie, little do we know that they are all wondering about their role in this world. Christine Sneed brings us into their world, showing us that not matter how famous one may be, all of us are facing the same question.  Who are we and what do we want from our life? An insightful read, Little Known Facts will make you think, make you laugh and perhaps feel a little sad at how fame and fortune can give a family such wealth, yet also cause so much damage to our intimate lives. Everyone will want to read this novel to catch a glimpse into this world of glitter and fame of Hollywood."—Annie Philbrick, Bank Square Books, Mystic, Connecticut (President, New England Independent Booksellers Association)