The Infinite Tides (Hardcover)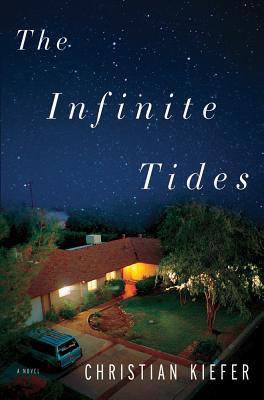 Please email or write store for pricing and availability information.
Special Request - May Not Be Available
Description
---
Keith Corcoran has spent his entire life preparing to be an astronaut. At the moment of his greatness, finally aboard the International Space Station, hundreds of miles above Earth's swirling blue surface, he receives word that tragedy has befallen his family and that, in its wake, his wife has left their failing marriage. Returning to earth, to his now empty suburban home, Keith is alone with the ghosts, the memories and feelings he can barely acknowledge. He is a mathematical genius, a brilliant engineer, a revered astronaut, but nothing has prepared him for such a vacancy.
His experiences in space quickly dwindle to a distant memory. What remains are endlessly interlocking cul-de-sacs, big box stores, enormous parking lots. And yet out of this landscape comes reconnection. A neighbor who holds a secret to Keith's own crumbling life. A man from a distant country who presents an opportunity for redemption. An unlikely friendship that helps him come to some understanding about everything he has lost. And finally a sense of how to live under the weight of gravity.
The Infinite Tides is a deeply moving, tragicomic story of love, loss, and resilience. It is also an indelible and nuanced portrait of modern American life, rendering our strengths and weaknesses with great and tender beauty.
About the Author
---
Christian Kiefer earned his Ph.D. in American literature from the University of California, Davis, and is on the English faculty of American River College in Sacramento. His poetry has appeared in various national journals including the Antioch Review and Santa Monica Review. He is also an accomplished songwriter and recording artist. He lives in the hill country north of Sacramento with his wife and five sons.
Praise For…
---
"An astute, impressive, and ambitious debut." —Publishers Weekly, starred review
"[W]ith a shimmering lexicon of fractals, space travel, and physics as well as a piquantly metaphorical sense of place…Kiefer illuminates the nature of a mathematical mind, depicts a dire failure of familial empathy, and translates emotions into cosmic and algorithmic phenomena of startling beauty and profound resonance." —
Booklist
"Arresting and haunting...What do we give up for our careers? What are we willing to sacrifice? For Keith Corcoran, in the stunning climax of
The Infinite Tides
, the answer is far too much. With intelligent and lyrical prose, this novel is at times heartbreaking... [A] remarkably self-assured debut. This isn't just the best first book I'll read this year; it may be the best." —
Brooklyn Rail
  "Smart, lyrical, deeply moving. The central character, a NASA astronaut who has touched the stars, must come to earth, as we all must. What he finds down here beneath the heavens is dizzying in its emotional complexity and pure aching beauty." —
T.C. Boyle, author of When the Killing's Done
"
The Infinite Tides
takes as its subject an astronaut brought to earth by abandonment and bewilderment. His journey is into the unknown of common suburbia, which he inhabits like an alien, and in whose unfamiliar atmosphere he must be taught to survive. This is a subtle and moving novel, a re-entry and recovery story that eloquently inhabits the terrain of grief and endurance." —
Antonya Nelson, author of Bound
"With astronaut Keith Corcoran, Kiefer will take you on an awesome American life odyssey from the International Space Station down to the lower depths of suburbia. This is a breathtakingly beautiful and honest rendering of one man's massive life crisis. Part
Space Oddity
, part
Revolutionary Road
, this is a magnificently original novel.  There are moments in this book I will never forget." —
Anthony Swofford, author of Jarhead
"This novel will break your heart and take your breath away." —
Ayelet Waldman, author of Red Hook Road
"Maybe the most beautiful subject in literature, when it is handled with grace and intelligence, is the realization and release of long denied grief.  Christian Kiefer created astronaut Keith Corcoran to travel that galaxy of earthbound loss and regret, after one brief and glorious trip into orbit.
The Infinite Tides
is the most emotionally and syntactically sophisticated debut I have seen, possibly ever.  Keith Corcoran's space walk is so powerfully rendered, it keeps showing up in my dreams." —
Pam Houston, author of Contents May Have Shifted