FREE shipping on book orders over $75.00 (Media Mail within USA)
Gift Cards are easy! Hover over SHOP on the bar above and select Gift Cards from the drop down menu.
Quick tip: If a book is listed as "On our Shelves" - call the store for quickest pick up.
The Meaningful Writing Project: Learning, Teaching and Writing in Higher Education (Paperback)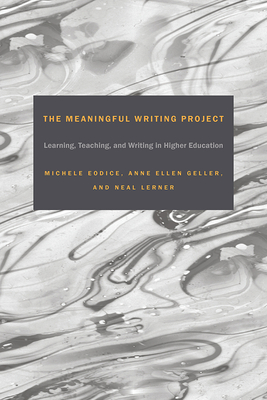 Please email or write store for pricing and availability information.
Special Request - May Not Be Available
Description
---
In the face of the continuing discourse of crisis in US education, The Meaningful Writing Project offers readers an affirming story of writing in higher education that shares students' experiences in their own voices. In presenting the results of a three-year study consisting of surveys and interviews of university seniors and their faculty across three diverse institutions, authors Michele Eodice, Anne Ellen Geller, and Neal Lerner consider students' perceptions of their meaningful writing experiences, the qualities of those experiences, and instructors' perspectives on assignment design and delivery.
This study confirms that meaningful assignments offer students opportunities to engage with instructors, peers, and texts and are relevant to past experiences and passions as well as to future aspirations and identities. Meaningful writing occurs across majors, in both required and elective courses, and beyond students' years at college. Additionally, the study makes clear that faculty across the curriculum devote significant care and attention to creating writing assignments that support student learning, as they understand writing performance to be a developmental process connected to overall cognitive and social development, student engagement with learning, and success in a wide variety of disciplines and professions.
The Meaningful Writing Project provides writing center directors, WPAs, other composition scholars, and all faculty interested in teaching and learning with writing an unprecedented look into the writing projects students find meaningful.
About the Author
---
Michele Eodice is associate provost for Academic Engagement and director of the writing center at the University of Oklahoma. She is a coauthor of Working with Faculty Writers, The Everyday Writing Center, and (First Person)².
Anne Ellen Geller is professor of English and director of Writing Across Communities at St. John's University in Queens, New York. She is a coauthor of Working with Faculty Writers and The Everyday Writing Center.
Neal Lerner is professor of English and writing program director at Northeastern University. He is the author of The Idea of a Writing Laboratory, winner of the 2011 NCTE David H. Russell Award for Distinguished Research in the Teaching of English, and a coauthor of Learning to Communicate in Science and Engineering, winner of the 2012 CCCC Advancement of Knowledge Award.
Praise For…
---
"A significant contribution to discussions of student learning among instructors committed to fostering writing and learning across the university."
—Rebecca Nowacek, Marquette University

"This book not only provides rich research about writing assignments from the perspectives of students and teachers, but does so on a large scale. The students' perspectives on what makes writing assignments meaningful is especially original, as is the emphasis on learning for transfer and on agency."
—Daniel Melzer, author of Assignments across the Curriculum

"The Meaningful Writing Project explores students' perspectives on what makes writing meaningful for them and makes a powerful argument for why that matters. . . . This is a valuable book that engages current conversations on learning and pedagogy."
—Anne Herrington, Distinguished Professor of English Emerita, University of Massachusetts Amherst

"​​[T]hought-provoking. . . . [has] tantalizing implications for those of us who design writing assignments — whatever the discipline, and whether they are for a first-year writing course or a senior seminar.​"​  
—Chronicle of Higher Education

"The authors' years of study has resulted in a useful work for anyone who wishes to connect an assignment to the greater scope of their students' lives and provide a college experience that resonates beyond the classroom."
—Scholarship and Practice of Undergraduate Research