What Matters Most (Diary of a Teenage Girl #15) (Paperback)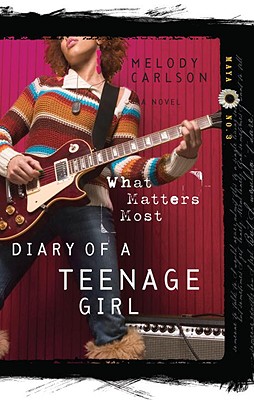 Please email or write store for pricing and availability information.
Special Request - May Not Be Available
Description
---
Maya's Green Tip for the Day: Recycled fashion is one of the most fun ways to go green. A pair of jeans could be transformed into a denim skirt. A sweater into a vest. A bunch of old ties into a dress. A blanket into a poncho. Accessorize it in new way–with beads, buttons, appliqués, buckles, stencils, or ribbons…your imagination is only the limit. (65 words)

Sixteen-year-old Maya Stark has a lot to sort through. She could graduate from high school early if she wants to. She's considering it, especially when popular cheerleader Vanessa Hartman decides to make her life miserable–and Maya's ex-boyfriend Dominic gets the wrong idea about everything.

To complicate matters even more, Maya's mother will be released from prison soon, and she'll want Maya to live with her again. That's a disaster waiting to happen. And when Maya plays her dad's old acoustic guitar in front of an audience, she discovers talents and opportunities she never expected. Faced with new options, Maya must choose between a "normal" life and a glamorous one. Ultimately, she has to figure out what matters most.
About the Author
---
Melody Carlson is an award-winning, best-selling author of nearly two hundred books for teens, children, and adults, including the Diary of a Teenage Girl series, the Secret Life of Samantha McGregor series, the True Color Series, and Notes from a Spinning Planet series. Melody has two grown sons and lives in central Oregon with her husband, where they enjoy skiing, hiking, gardening, camping, and biking.
Praise For…
---
"Maya is a fun character! It's not even possible to read It's a Green Thing and not relate to her questions, her challenges, and her struggles as a teen and Christian. And I found myself jotting down her awesome eco-friendly tips!"
Jenny B. Jones, Award winning author of In Between and The Charmed Life series

"As Maya Stark pours her heart out in her journal, readers are treated to an inside view of a life that is at times exotic and unfamiliar, and at other times hauntingly similar to our own. Maya's struggles become our struggles, her pain our pain, and her successes, therefore, even sweeter. A Not-So-Simple Life is another triumph for Melody Carlson."
Virginia Smith, author of Sincerely, Mayla and Stuck in the Middle

"Fantastic book! Maya is so easy to like–this is a hard story to put down!"
Erynn Mangum, author of Miss Match

"Melody Carlson has proven her skill once again at writing gritty stories about characters in difficult situations. In A Not-so-Simple Life, Maya Stark seeks to escape life under the controlling hand of her drug-addict mother by acting on a plan for independence with admirable determination."
Michelle Buckman, author of Maggie Come Lately and My Beautiful Disaster

"I just finished Melody's book and loved it! The journal format makes the story, and Maya, so real and believable. Readers will easily be able to identify with the realistic approach to a prevalent situation."
Patricia Rushford, author of the Max & Me Mysteries