Restless (Hardcover)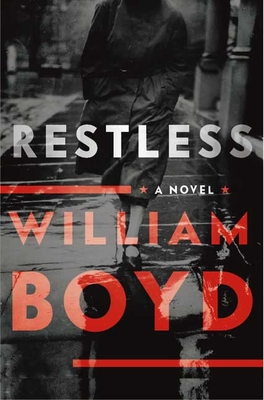 Please email or write store for pricing and availability information.
Special Request - May Not Be Available
Description
---
It is Paris, 1939. Twenty-eight year old Eva Delectorskaya is at the funeral of her beloved younger brother. Standing among her family and friends she notices a stranger. Lucas Romer is a patrician looking Englishman with a secretive air and a persuasive manner. He also has a mysterious connection to Kolia, Eva's murdered brother. Romer recruits Eva and soon she is traveling to Scotland to be trained as a spy and work for his underground network. After a successful covert operation in Belgium, she is sent to New York City, where she is involved in manipulating the press in order to shift American public sentiment toward getting involved in WWII.
Three decades on and Eva has buried her dangerous history. She is now Sally Gilmartin, a respectable English widow, living in a picturesque Cotswold village. No one, not even her daughter Ruth, knows her real identity. But once a spy, always a spy. Sally has far too many secrets, and she has no one to trust. Before it is too late, she must confront the demons of her past. This time though she can't do it alone, she needs Ruth's help. "Restless" is a thrilling espionage novel set during the Second World War and a haunting portrait of a female spy. Full of tension and drama, emotion and history, this is storytelling at its finest.
About the Author
---
William Boyd is the author of eight novels, three collections of short stories, and twelve screenplays that have been filmed. He has been the recipient of numerous awards, including the Whitbread Award for Best First Novel, the John Llewellyn Rhys Prize, the James Tait Black Memorial Prize, and the Los Angeles Times Book Prize for Fiction. He lives in London and southwest France.
Praise For…
---
"Against [a] background of moral ambiguity and laudable mendacity--ally spying on ally for the greater good--William Boyd has set his latest novel, his ninth, and his best since An Ice-Cream War . . . Boyd has written a crackling spy thriller, but more than that, he has evoked the atmosphere of wartime espionage: the clubby, grubby moral accommodations, the paranoia, the tense sexuality . . . Boyd's first novel, A Good Man in Africa, was a glinting satire, while An Ice-Cream War combined history, comedy and tragedy to wonderful effect. Here he has used a more muted palette, with no humor, no literary embroidery and little emotion. The pared-down style, clipped and understated, perfectly fits the sepia setting."--Ben Macintyre, The New York Times Book Review "Britisher William Boyd's ninth novel, "Restless," is superbly written, has a hypnotic plot that unfolds in an intellectually interesting fashion, gives us compelling characters whose psychic twists and turns make them seem both real and fascinating, sets marvelous scenes in two time periods--England on the brink of World War II and the mid-1970s--offers several beautifully articulated locations (among them Oxford, London, New York and the American Southwest) and combines all of these elements into one of the most smoothly readable novels of the year..."Restless" seems at first to be a serious version of a genre novel that reads like a dream and moves along like a racing thoroughbred in its finest hour….a terrifically narrated spy story, takes on even more importance because of the way it unfolds, as a new and unnerving aspect of Ruth's present life. This takes the entire novel beyond the boundaries of genre fiction into the realm of the mainstream, in which we're all swimming.How pleasing that a novel that tackles such serious questions as the relation between past and present, old selves and new identities, love and work, and, of course, illusion versus reality can be such an enjoyable thing to read." - Alan Cheuse, Chicago Tribune "Entertaining…Vivid and human. He weds the engaging personal lives of his characters to diverse and far-reaching episodes of 20th-century history in a way that feels simultaneously accurate and intimate…Restless is a gripping and smartly crafted spy thriller set against a fascinating and largely hidden episode in U.S.-British relations…An absorbing success." - John Dalton, Washington Post "Restless is very like a genre novel: a World War II thriller, plus a little bit more, as it mixes meditations on mortality with questions of how well anyone knows anyone...Boyd artfully captures how, in BSC's hands, an invented news story would circulate via the wire services from the U.S. to overseas and back, until it began "accumulating weight and significance -- more date-lines, more sources somehow confirming its emerging status as fact." His portrait of a neutral USA in 1940 and 1941, trying to tune out the war in Europe, rings true, as does much of his period detail." - Michael Upchurch, Seattle Times "[Boyd]is master...of the most various kinds of fiction...The absurdities are the joy of Boyd's books, along with a juggling mastery of story and character, and a style that is both lean and generous...'Restless' is one more example of Boydean variousness, as well as large talent...It tells the breath taking and breath takingly gnarled story of Sally Gilmartin, a respectably settled old Englishwoman -- country cottage, comfortable means, assiduously tended garden -- who was a wartime spy." - Richard Eder, Boston Globe

"It's a particular pleasure when a superb writer takes up one of the genres, and the consistently superb William Boyd has done just that with his new novel...The quality of Boyd's prose and the insight he brings to the story make "Restless" resonate. Boyd has penned a fine tale here -- told in his characteristically unobtrusive and elegant tone -- and he explores the very idea of spying...Boyd is surely among the foremost of England's contemporary novelists." - Timothy Peters, San Francisco Chronicle "[An] utterly absorbing page-turner. British fiction contains a rich tradition of literary thrillers, from Wilkie Collins through Graham Greene to John Le Carré, and William Boyd's new novel, Restless, sits firmly within it…Eva's story is not only thrilling but poignant…the mystery at the story's heart [is] one of human nature as much as wartime espionage. Boyd is a first-rate storyteller, and this is a first-rate story."--Times Literary Supplement (London)

"The plot is gripping, and [Boyd] creates characters who are spies in every fibre of their being…Boyd registers the sensuous texture of life very precisely…Restless is enormously readable in every respect: a confident, intelligent, ambitious novel about the "bitter current that flowed beneath the placid surface of [Eva's] ordinary life."--Guardian (London)
"In this espionage thriller and domestic drama by one of the very best prose stylists and storytellers in the English language, an eccentric English grandmother and garden enthusiast reveals to her daughter that she was a Russian émigré and a spy for Great Britain during the Second World War. Now she fears someone is trying to kill her." - Atlantic Monthly "In Restless, the versatile and prolific British novelist William Boyd (Stars and Bars, Any Human Heart) has written a supple literary thriller about the years immediately before Pearl Harbor, when as many as 3,000 British secret agents, working out of Rockefeller Center, carried out an extraordinary propaganda campaign intended to convince both the average American and the U.S. government that it was the nation's duty to send its young men to fight for England….And by focusing on the initial American reluctance to join Churchill in battling the Nazis, the book also makes an intriguing companion piece to The Plot Against America...Boyd handles the historical details expertly -- in earlier novels, such as The New Confessions and the wonderful Any Human Heart, he's run up and down the length of the 20th century -- and he evokes the breadth and sheer audacity of Britain's covert operations in the U.S. in a way that will definitely keep readers turning the pages. As an exercise in genre, Restless brings a fascinating, shadowy sliver of history to light, and the movie's likely to be pretty good too." -Brendan Bernhard, LA Weekly
"William Boyd's superb new novel, Restless, echoes its title in the way it segues between times (the Second World War and the protest-riven 1970s) and places (Britain, America, France, Germany). Boyd is a master when it comes to conjuring the mood and feel of a country. Africa has often been his stomping ground, and his interest in colonial outposts and global intrigue inevitably brings to mind Graham Greene. Tantalizingly well plotted, Restless gradually reveals the story of Sally Gilmartin, a former British spy who worked covertly to coax America into the Second World War. She fears her past is catching up with her, putting her once more at risk, and cajoles her single-mother daughter, Ruth, into helping her with a major piece of unfinished business. Ruth is a grudging player in her mother's drama, and Boyd has some fun with the gap between the life-and-death intrigue in Sally's past and Ruth's amateur sleuthing (time and again she leaps to the wrong conclusion about other people's motives), but as the threats intensify, mother and daughter discover more in common than genes. Restless achieves a coup of its own--blowing the lid off a little-known facet of recent history in the midst of this noir story of revenge." - Elaina Richardson, O Magazine "William Boyd's smooth, assured ninth novel contains the most inventive, well-written murder I've read in a decade. More deliciously, the killing appears and disappears with Hitchcockian menace and control. "Restless" is a deceptively light, intricately plotted spy story." - Karen Long, (Cleveland) Plain Dealer "[A] deftly executed novel...This solid page- turner flirts with the romance of espionage while probing deeper questions of trust and the limits of reinvention." - Hephzibah Anderson, Bloomberg News "An unnerving examination of identity and duty, calculation and collusion. It is also a superior mother-daughter book, though probably not one that would play on 'Oprah.'" - Newsday