FREE shipping on book orders over $75.00 (Media Mail within USA)
Gift Cards are easy! Hover over SHOP on the bar above and select Gift Cards from the drop down menu.
Quick tip: If a book is listed as "On our Shelves" - call the store for quickest pick up.
Pilgrim: Risking the Life I Have to Find the Faith I Seek (Hardcover)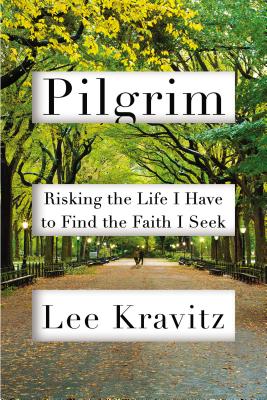 Please email or write store for pricing and availability information.
Special Request - May Not Be Available
Description
---
Lee Kravitz is adrift.

Shaken deeply after 9/11 and the loss of his job, he begins to feel the pull toward rediscovering his spirituality—a yearning long-buried since young adulthood. But in this he's alone—his wife doesn't understand why their family life can't provide what he needs, and his friends can't relate. When he suffers what he thinks is a heart attack and finds himself calling out for God, Lee realizes he must take action, whatever the cost.

In Pilgrim, Lee's journey takes him to many places—from the quiet reflection of Buddhist meditation groups and Quaker meetings to the joyous noise of Hindu ecstatic chanting sessions and a candlelit Christmas Eve mass—until he finds a place where he feels he's finally found the community he has sought. Along the way, he strives to reconcile his needs and beliefs with those of his family, knowing that he may be risking their bond.

In documenting his quest to pursue a contemplative life in the chaos of everyday existence, Lee offers a blueprint for anyone who might find himself lost at one point or another. Spanning areas of faith from Judaism to Protestantism to Nada yoga, the book also explores the latest research on the effects religion and God have on our brains, emotions, and health.

A thoughtful, stirring blend of memoir, religion, and science, Pilgrim is an engrossing narrative that speaks to the universal need to feel connected to the world around us.
About the Author
---
Lee Kravitz is the author of the widely acclaimed memoir Unfinished Business and the former editor in chief of Parade magazine. Previously, he was founding editor of React magazine and an editorial director of Scholastic Inc. A graduate of Yale and the Columbia Graduate School of Journalism, Lee lives with his wife and children in New York City and Clinton Corners, New York.
Praise For…
---
"Lee Kravitz has brilliantly captured the spirit of searching so many of us feel. Pilgrim is the perfect book for our time—open, engaging, even suspenseful. You'll be cheering him on even as you learn more about yourself."—Bruce Feiler, bestselling author of Walking the Bible and The Secrets of Happy Families
 
"In Pilgrim, Lee Kravitz takes us along on his deeply-felt spiritual journey.  This is a courageous work filled with wisdom and life lessons that all of us can benefit from."—Dave Isay, founder of StoryCorps and bestselling author of Listening Is an Act of Love and Ties That Bind
 
"What a beautiful, honest, enlightening, modest, and wise book this is. Lee has written a map for all us wanderers and seekers who take the perennial spiritual challenge to "Go Forth" and become the artists of our own life. Pilgrim is crackling with insights, and reminds us that the most important quality of a genuine spiritual journey is its unpredictability, but if we risk the life we have we gain a maze of grace. Thank you, Lee!"—Rabbi Irwin Kula, author of Yearnings and president of the National Jewish Center for Learning and Leadership
 
"Lee Kravitz's journey of spiritual renewal leads him right into the heart of what matters most: family, community, and love. Pilgrim is a beautiful, heartfelt book for anyone who has struggled with the big questions about passion and purpose – which is to say, everyone."—Hope Edelman, bestselling author of Motherless Daughters and The Possibility of Everything