The Crane Wife (Hardcover)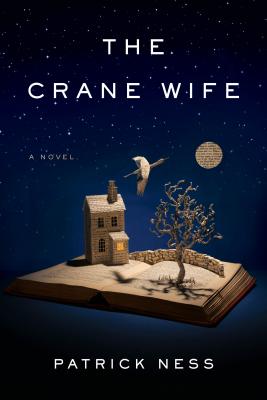 Please email or write store for pricing and availability information.
Special Request - May Not Be Available
Staff Reviews
---
This book is turning into quite a stir. I've read many of the reviews,
most raving about the wonderfulness that this book contains. It's a
story of a myth colliding with real life, it's a story of love, a story
of war, a story of the everyday, and a story of magic. It can make your
heart soar and, at the same time it's knocking it into pieces. It's
funny, violent, strange, beautiful, far-fetched and yet many people's
most fervent dream come true. You have to read this book for yourself
because I'm pretty sure its magic is going to work a little different
for each person who encounters it. Open your mind when you open this
book--I'm almost positive you'll enjoy the ride." ~Jackie
— Jackie is a prolific reader and our top Tattered Cover book blogger
The Crane Wife is great in a lot of ways. It's creative
and fun and thematically interesting and the art described inside of it
is beautiful. There's some structural experimentation, the myth being
told in a series of very short sections, and that's exciting. The
dialogue is fun and the characters are lively and true to life. Though
it strays a little into sentimentality at points, I think for the most
part it's romantic in a way that doesn't feel cloying or overdone. In
fact there are revelations in The Crane Wife about love,
with all its difficulty and sadness, that feel honest and ring true, the
kind of sentences that make you want to write them down somewhere and
revisit them later, which I very much enjoyed. If you like magical realism, or books about love, give it a shot. ~Sonia
— Sonia is new to our book blog "Between the Covers" but can she ever write a good review!
February 2014 Indie Next List
---
"Based on a Japanese folk tale, The Crane Wife spins a story about two artists -- one of whom may not be fully human -- and how they achieve the act of creation and destruction, both in their art and in their personal lives and relationships. The characters are fully drawn, each with faults but very lovable in their own ways, and the act of creation is beautifully explored through children, art, and budding relationships, as well as through myths of earth-creation. This is my favorite read of the year -- and it's been a good year for fiction!"
— William D Carl, Books On The Square, Providence, RI
Description
---
"A magical novel, based on a Japanese folk tale, that imagines how the life of a broken-hearted man is transformed when he rescues an injured white crane that has landed in his backyard."
George Duncan is an American living and working in London. At forty-eight, he owns a small print shop, is divorced, and lonelier than he realizes. All of the women with whom he has relationships eventually leave him for being too nice. But one night he is woken by an astonishing sound a terrific keening, which is coming from somewhere in his garden. When he investigates he finds a great white crane, a bird taller than even himself. It has been shot through the wing with an arrow. Moved more than he can say, George struggles to take out the arrow from the bird's wing, saving its life before it flies away into the night sky.
The next morning, a shaken George tries to go about his daily life, retreating to the back of his store and making cuttings from discarded books a harmless, personal hobby when through the front door of the shop a woman walks in. Her name is Kumiko, and she asks George to help her with her own artwork. George is dumbstruck by her beauty and her enigmatic nature, and begins to fall desperately in love with her. She seems to hold the potential to change his entire life, if he could only get her to reveal the secret of who she is and why she has brought her artwork to him.
Witty, magical, and romantic, "The Crane Wife" is a story of passion and sacrifice, that resonates on the level of dream and myth. It is a novel that celebrates the creative imagination, and the disruptive power of love.
About the Author
---
Born in Virginia and raised in Hawaii and the state of Washington, Patrick Ness is the author of seven novels and a short story collection. He has won the Carnegie Medal twice, the Guardian Children's Fiction Prize and the Costa Children's Book Award. In 2012 his bestselling novel "A Monster Calls" became the first ever to win both the Kate Greenaway and Carnegie Medals. His books are published in over twenty languages. He lives in London."