Real Belonging: Give Siblings Their Right to Reunite (Paperback)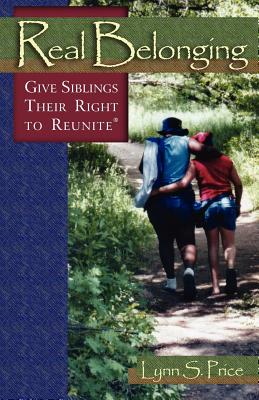 Please email or write store for pricing and availability information.
Special Request - May Not Be Available
Description
---
"In telling her own true story in REAL BELONGING, Lynn Price masterfully weaves in lessons to benefit all youth and families involved in foster care, and even those that are not. Lynn tells stories showing the twists, triumphs, setbacks, myths and facts of the journey through the system, and in doing so, proves that nothing in a child's life can compare to the sibling bond. Those in the social services including caseworkers; foster, adoptive and kinship providers will find great insights in this book. And most importantly, kids and foster families-every family-will find hope." -LeAnn Thieman, Co-author of "Chicken Soup for the Caregiver's Soul" "Anyone who values the importance of family and the magic connection between siblings will come away from reading REAL BELONGING with a rich understanding of the reasons why. For those who seek ways to make a difference in people's lives, this book will show you how one person's vision can become a reality that touches thousands of individuals. And, with so many people seeking fulfillment in their lives, Lynn Price's book points us all in an important and promising direction...towards connecting with our family members." -Craig L. Fuller, President and CEO, National Association of Chain Drug Stores, and author of "Monday Morning @ NACDS - From the Front Lines of Community Pharmacy" "It's no secret that our most sacred institutions have been rocked to the core and it has adversely affected our nation's youth. But in this book, Lynn Price demonstrates that we all still need to belong to something bigger than ourselves and she shows how we can make others feel as if they do belong and they really do matter. This is a must read for anyone who has kids, likes kids, or is a kid at heart." -Eric Chester, President and Founder of Generation Why, Inc. and author of "Employing Generation Why" and "Teen Power" "As a foster child, not only was Lynn able to reunite my sister and me with my brothers (who lived with our aunt) for an amazing week at camp each year, she also taught me there were no limitations no matter who you were. She made it ok to be a foster child and let foster children know they're not alone. Read this book so your life is changed as much as mine was." -Amber L. Peterson, former Camper.