FREE shipping on book orders over $75.00 (Media Mail within USA)
Gift Cards are easy! Hover over SHOP on the bar above and select Gift Cards from the drop down menu.
Quick tip: If a book is listed as "On our Shelves" - call the store for quickest pick up.
Mindfulness for Beginners (CD-Audio)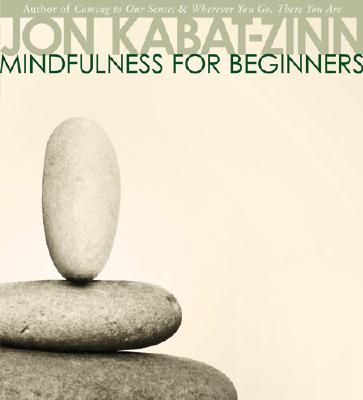 Please email or write store for pricing and availability information.
Special Request - May Not Be Available
Description
---
What if you could profoundly change your life just by becoming more mindful of your breathing? According to Jon Kabat-Zinn, you can. What if paying attention on purpose (and nonjudgmentally) could improve your health? Again, according to Dr. Kabat-Zinn—it can.

On Mindfulness for Beginners, this internationally known scientist, bestselling author, and teacher who brought mindfulness meditation into the mainstream of medicine and society gives you immediate access to a practice that can potentially add years to your life, and will certainly enhance the quality of your moments and your years.

Join Dr. Kabat-Zinn to:

Explore five guided meditations that lead you breath-by-breath into the essence of Mindfulness-Based Stress Reduction (MBSR), a program offered in medical clinics and hospitals around the world
• Cultivate the Seven Key Attitudinal Factors of MBSR—qualities of heart and mind that lay the foundation for mindfulness practice and for seeing and accepting things as they are as a first step to working wisely and compassionately with stress, pain, illness, and sorrow as well as life's joys and pleasures
• Free yourself from limiting perspectives, and become more intimate with your own boundless awareness

You're already in the perfect moment for inhabiting this liberating awareness, which is always available, teaches Jon Kabat-Zinn. With Mindfulness for Beginners, he invites you to cultivate mindfulness as if your life depended on it, which it surely does, and experience the magnitude and beauty of who you already are.

Course objectives:

Apply an understanding of the concept of mindfulness
• Utilize simple guided meditations led by Kabat-Zinn
• List the ethical and attitudinal foundations necessary to cultivating mindfulness
• Assess how we can choose where to focus our awareness
• Plan to use mindfulness to help us develop compassion and insight into our true nature
About the Author
---
Jon Kabat-Zinn, Ph.D., has been a student and practitioner of meditation and yoga for over three decades. He is the founder and director of the Stress Reduction Clinic at the University of Massachusetts Medical Center and an associate professor of medicine. He lives in Worchester, Massachusetts. He is the author of the classic Wherever You Go, There You Are, also available from Audio Renaissance.


Jon Kabat-Zinn, PhD, is the founder and director of the Stress Reduction Clinic at the University of Massachusetts Medical Center and associate professor of medicine in the Division of Preventative and Behavioral Medicine. His clinic was featured in 1993 in the public television series Healing and the Mind with Bill Moyers. Jon Kabat-Zinn is the author of Wherever You Go, There You Are: Mindfulness Meditation in Everyday Life and Full-Catastrophe Living: Using the Wisdom of Your Body and Mind to Face Stress, Pain and Illness.