Treasury of the True Dharma Eye: Zen Master Dogen's Shobo Genzo, Two-Volume Slipcased Edition (Hardcover)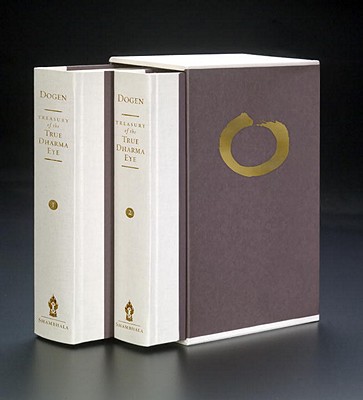 Please email or write store for pricing and availability information.
Special Request - May Not Be Available
Description
---
Treasury of the True Dharma Eye (Shobo Genzo, in Japanese) is a monumental work, considered to be one of the profoundest expressions of Zen wisdom ever put on paper, and also the most outstanding literary and philosophical work of Japan. It is a collection of essays by Eihei Dogen (1200–1253), founder of Zen's Soto school.

Kazuaki Tanahashi and a team of translators that represent a Who's Who of American Zen have produced a translation of the great work that combines accuracy with a deep understanding of Dogen's voice and literary gifts. The finely produced, two-volume boxed set includes a wealth of materials to aid understanding, including maps, lineage charts, a bibliography, and an exhaustive glossary of names and terms—and, as a bonus, the most renowned of all Dogen's essays, "Recommending Zazen to All People."
About the Author
---
Dogen (1200-1253) is known as the founder of the Japanese Soto Zen sect.
Praise For…
---
"A vast, beautiful translation of the master work of the Japanese genius Dogen Zenji. English-speaking practitioners will be indebted to Kaz Tanahashi and his associates for this truly magnificent teaching, an indispensable contribution to Zen letters."—Peter Matthiessen (Muryo Roshi)

"At long last! A discerning, poetic, and intimate rendering of Dogen's true expression of the dharma. Dogen's devotees have long awaited Tanahashi's complete translation of the Shobogenzo into a contemporary and deeply profound version. Those new to the wisdom of this great teacher as well as those who treasure him will delight in the extraordinary work by our foremost translator and interpreter of Dogen's masterpiece."—Pat Enkyo O'Hara, Abbot of Village Zendo, New York

"Kaz Tanahashi, a renowned translator of Dogen and noted artist, has put together an outstanding team of co-translators to create a complete rendering of Dogen's magnum opus, the Shobo Genzo. This publication, which will be in great demand by all scholars, students, and practitioners of Zen Buddhism and Eastern thought more generally, is both accurate and accessible in following the original text literally while capturing the spirit of Dogen's poetic genius. Although there are numerous versions of the work available in English, this new edition is sure to be the one turned to and cited consistently by knowledgeable readers."—Steven Heine, Professor of Religious Studies and Director of Asian Studies, Florida International University, author of Zen Skin, Zen Marrow and Opening a Mountain: Koans of the Zen Masters

"Reading over Treasury of the True Dharma Eye: Zen Master Dogen's Shobo Genzo, I am astonished first by the incredible range and variety of Dogen's writings, and second by the immense task that has been done to translate this major text.  With the possible exception of Hakuin's complete writings, there is nothing in Japanese Zen to equal the immense breadth and depth of Dogen's work, which ranges from direct instructions in simple language to the most complex and profound teachings that use words to go far beyond words.  I am convinced that Zen students will find this text especially valuable to contemplate, study, and absorb over the entire course of their lifetimes."—Stephen Addiss, author of The Art of Zen

"A deeply considered and deeply relevant text.  Shambhala's publication of Kazuaki Tanahashi's two volume translation of the complete text of Eihei Dogen's Shobogenzo marks a watershed moment for Western Buddhism.  With the Tanahashi version, it appears we now have an edition that will receive the sort of attention this great work deserves. Tanahashi's effort to preserve the particular Japanese difficulty of Dogen's poetic prose, aided by the excellent work of the poet and Zen teacher Peter Levitt, emphasizes the text's ambiguity, multiplicity, and resonance of meaning more effectively than other versions."—Norman Fischer, Tricycle

"For adventuresome Dharma students of any tradition . . . Dogen's writings offer the possibility of a profound exploration into the nature of practice, words, intimacy. This complete and splendid translation, the work of translators deeply immersed in Dharma and three languages—medieval Japanese, modern Japanese and English—is a new atlas for such adventurers."—Inquiring Mind