Rethinking Pasteur's Germ Theory: How to Maintain Your Optimal Health (Paper Textbook)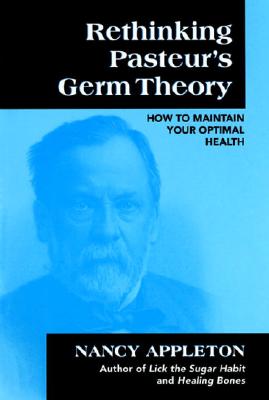 Please email or write store for pricing and availability information.
Special Request - May Not Be Available
Description
---
Rethinking Pasteur's Germ Theory is more than a history of medical science. Throughout the book, practicing nutritionist Dr. Nancy Appleton applies the findings of these researchers to a greater understanding of our own bodies. This reader-friendly guide shows us how to preserve our well-being through our attitude, environment, and diet. Common foods to avoid for particular body constitutions and a series of health-promoting food plans are outlined. Appleton provides information and practical advice that will educate and motivate the reader to achieve an optimal state of health.
About the Author
---
Nancy Appleton earned her B.S. in clinical nutrition from UCLA and her Ph.D. from Walden University in health services. To contact Nancy Appleton, Ph.D.: P.0. Box 3083 Santa Monica, CA 90403 e-mail: info@nancyappleton.com web-site: www.nancyappleton.com.
Praise For…
---
"The author, a noted nutritionist, shows how an upset body chemistry initiates the many detrimental changes that lead to degenerative disease. [Appleton's] scrutiny of Pasteur's work confirms the wrong road down which medicine has traveled in the past century."
—Townsend Letter for Doctors and Patients