Mud Season (Hardcover)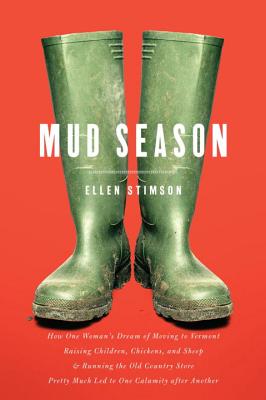 Please email or write store for pricing and availability information.
Special Request - May Not Be Available
Staff Reviews
---
"Have you ever dreamed about completely changing your life? Moving
across the country with kin, cat and canines to an old house in the
woods? And what about changing your profession? Doesn't it sound
delightful to become a small village grocer? The Rushing-Simson family
certainly thought so, and landed in Vermont with boundless energy and
enthusiasm. A year later, which was filled with chickens, killer
icicles, skunks, sheep, creative uses for 911, a great deal of mud and
misplaced bread, their dreams had changed a bit. This is the hilarious
story of a family turning a new leaf, or at least trying to, and Ellen
doesn't gloss over much of anything (her hilarious footnotes are pretty
much the best part of an already entertaining book). As you read
through it, you will feel relieved that it wasn't your family, though,
somewhere in your deepest heart, you will also kind of wish it was your
family who went through all of these hilariously challenging
adventures." ~Jackie
— Jackie is our top blogger & manager of our cafe in LoDo
October 2013 Indie Next List
---
"Have you ever dreamed of moving to rural Vermont? Imagined the good life away from traffic, noise, and the difficulties of city life? Stimson and her husband did exactly that, moving from St. Louis with children and dogs and cats in tow. By turns hilarious and heartbreaking, Mud Season is the story of their immersion into a small town populated with crusty Vermonters who view 'flatlanders' with a combination of suspicion and amusement. This is a funny, self-deprecating memoir of making a new life in a beautiful place."
— Ellen Burns, Books On The Common, Ridgefield, CT
Description
---
In self-deprecating and hilarious fashion, Mud Season chronicles Stimson's transition from city life to rickety Vermont farmhouse. When she decides she wants to own and operate the old-fashioned village store in idyllic Dorset, pop. 2,036, one of the oldest continually operating country stores in the country, she learns the hard way that "improvements" are not always welcomed warmly by folks who like things just fine the way they'd always been. She dreams of patrons streaming in for fresh-made sandwiches and an old-timey candy counter, but she learns they're boycotting the store. Why? "The bread," they tell her, "you moved the bread from where it used to be." Can the citified newcomer turn the tide of mistrust before she ruins the business altogether?
Follow the author to her wit's end and back, through her full immersion into rural life--swapping high heels for muck boots; raising chickens and sheep; fighting off skunks, foxes, and bears; and making a few friends and allies in a tiny town steeped in history, local tradition, and that dyed-in-the-wool Vermont "character."