Dinner with a Perfect Stranger: An Invitation Worth Considering (Hardcover)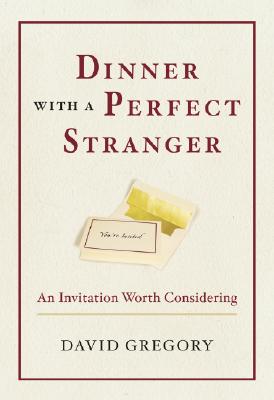 Please email or write store for pricing and availability information.
Special Request - May Not Be Available
Description
---
You are Invited to a Dinner with Jesus of Nazareth

The mysterious envelope arrives on Nick Cominsky's desk amid a stack of credit card applications and business-related junk mail. Although his seventy-hour workweek has already eaten into his limited family time, Nick can't pass up the opportunity to see what kind of plot his colleagues have hatched.

The normally confident, cynical Nick soon finds himself thrown off-balance, drawn into an intriguing conversation with a baffling man who appears to be more than comfortable discussing everything from world religions to the existence of heaven and hell. And this man who calls himself Jesus also seems to know a disturbing amount about Nick's personal life.

…………..

"You're bored, Nick. You were made for more than this. You're worried about God stealing your fun, but you've got it backwards.… There's no adventure like being joined to the Creator of the universe." He leaned back off the table. "And your first mission would be to let him guide you out of the mess you're in at work."
………….

As the evening progresses, their conversation touches on life, God, meaning, pain, faith, and doubt–and it seems that having Dinner with a Perfect Stranger may change Nick's life forever.

About the Author
---
DAVID GREGORY is the author of "Dinner with a Perfect Stranger," "A Day with a Perfect Stranger," "The Next Level," The "Last Christian," and the coauthor of the nonfiction "The Rest of the Gospel." After a ten-year business career, he returned to school to study religion and communications, earning Master's degrees from Dallas Theological Seminary and the University of North Texas. A native of Texas, he now lives in the Pacific Northwest.
Praise For…
---
"Here's a wonderful feast for the mind and soul! Pull up a chair and eavesdrop on this provocative conversation. If you're like me, you'll hear questions that match your own — and answers that can change your life."
— Lee Strobel, author of The Case for Christ, The Case for Faith, and The Case for a Creator

"There's just one thing people need in order to live a happy, abundant life: to be convinced that God loves them. Want to be convinced? Read Dinner With a Perfect Stranger. The author deftly anticipates and answers every question. I predict this little book will become a classic--one of a handful of modern books (like Mere Christianity) that people read to kindle or rekindle faith. All of the "business" surrounding the dinner is done so well it reminds me of Babette's Feast--simple, earthly details that profoundly convey spiritual reality.  Dinner with a Perfect Stranger is truly a wonderful book that makes me feel I've just heard the gospel for the very first time."
— Mike Mason, author of The Mystery of Marriage, Champagne for the Soul, and Practicing the Presence of People

"The choice is yours: Enjoy a delicious meal of, say, veal fantarella with grilled vegetables. Or spend a quiet hour reading David Gregory's book. You may find an altogether different sort of hunger has been sated by the final page. Brilliant in its simplicity, fearless in its presentation of the truth, Dinner with a Perfect Stranger is one invitation you'll want to RSVP."
– Liz Curtis Higgs, best-selling author of the Bad Girls of the Bible series