The Dorm Room Diet: The 8-step Program for Creating a Healthy Lifestyle Plan That Really Works (Paperback)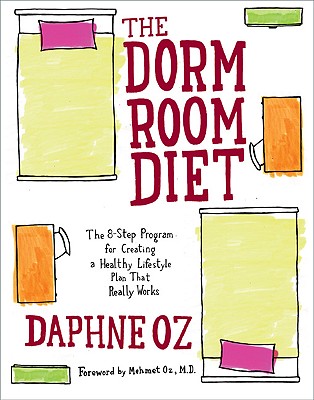 Please email or write store for pricing and availability information.
Special Request - May Not Be Available
Description
---
Introducing a fresh new voice and a simple 8-step program specifically created for college students by a college student—a complete lifestyle guide to eating well and staying fit.

Like many girls, Daphne Oz struggled with her weight as a teenager and couldn't stick with the extreme restrictions of fad diets. She was able to seize control over her health and her weight only when she recognized the golden opportunity offered by the major transition to college life. With the help of her father and grandfather, both cardiac surgeons, and her grandmother, a homeopathic practitioner, she developed the eating and exercise habits that would help her lose 10 pounds in her first semester. So much for the proverbial Freshman 15! All her friends wanted to know how she did it. Now they, and thousands of others, can.

Daphne's 8-step program shows college students how to stop eating out of emotional need and examine when, where, and especially what they should eat to keep their minds in focus and their bodies in shape. With warmth and humor, she coaches readers on managing time, storing food, and respecting budgets; helps them navigate the most common danger zones at school for unhealthy eating; and shows them how to get the exercise they need, even in a tiny dorm room. She also offers invaluable tips on vitamins and supplements, and simple, effective ways to relax and rejuvenate right on campus, so students can stay mentally as well as physically fit.

The Dorm Room Diet is a winning combination of the author's personal story and practical strategies that empower young women to use their newfound independence to create a healthy lifestyle while in college—and for life.

Daphne Oz's 8-step program for looking good, feeling great, and keeping fit in college:
Step 1: Get Inspired
Step 2: Get Informed: The Frosh 15
Step 3: Get Started: Healthy Eating 101
Step 4: Get a Grip: Where and How to Eat Responsibly at College
Step 5: Get Prepared: The Five Danger Zones and How to Survive Them
Step 6: Get Moving: The Exercise Factor
Step 7: Get Your Vitamins: Everything You Need to Know About Supplements
Step 8: Get Recharged: A More Relaxed, More Effective You
About the Author
---
Daphne Oz is a sophomore at Princeton University. While still in high school, she was a writer for "ELLEgirl" magazine and was responsible for changing her school's lunch menu, introducing the Healthy Eating Initiative which replaced processed cafeteria food with whole grains and raw foods. She is the daughter of Dr. Mehmet Oz, bestselling co-author of "You: The Owner's Manual." She grew up in Cliffside Park, NJ, with her parents, two younger sisters, and a brother.
Praise For…
---
"This is a great book to pack between the extra-long twin sheets and study lamp." — Publishers Weekly