Tumbledown: A Novel (Hardcover)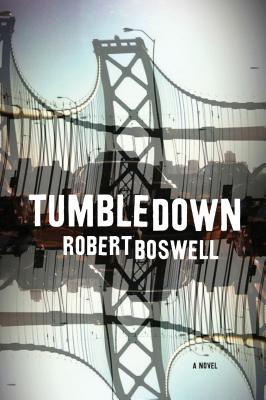 Please email or write store for pricing and availability information.
Special Request - May Not Be Available
Description
---
Robert Boswell's first novel since Century's Son showcases once again his "dazzling technical skill, intelligence and moral seriousness" (The New York Times Book Review)
*A Library Journal "Best Indie Fiction of 2013" *
At age thirty-three, James Candler seems to be well on the road to success. He's in line for a big promotion at Onyx Springs, the treatment facility where he's a therapist. He has a fiancée, a sizable house, and a Porsche.
But . . . he's falling in love with another woman, he's underwater on his mortgage, and he's put his hapless best friend in charge of his signature therapeutic program. Even the GPS on his car can't seem to predict where he should turn next. And his clients are struggling in their own hilarious, heartbreaking ways to keep their lives on track. How can he help them if he can't help himself?
In Tumbledown, Robert Boswell presents a large, unforgettable cast of characters who are all failing and succeeding in various degrees to make sense of our often-irrational world. In a moving narrative twist, he boldly reckons with the extent to which tragedy can be undone, the impossible accommodated.
About the Author
---
Robert Boswell is the author of two story collections and five novels, including Mystery Ride and Crooked Hearts. He lives with his wife, the writer Antonya Nelson, and their two children, in Houston, Texas.
Praise For…
---
"A winning ensemble cast of therapists and patients make stabs at sanity in Robert Boswell's mordantly funny novel Tumbledown." —Vanity Fair
"Boswell can write the most refreshingly old-fashioned kind of narrative: one that evokes deep sympathy for all its characters. . . . All the novel's characters know that in adulthood they're supposed to settle for what could pass for a normal life. Maybe it was a C- sort of life, but that was a passing grade. Still, they want to keep hope, wonder and love in their lives. . . . Without a whiff of sentimentality, he shows exactly how elusive such balance can be." —The New York Times Book Review
"A deft twining of irony and insight on nearly every page. . . . Tumbledown wryly mines the heartache in emotional disturbances, some present from birth and the rest brought on by the business of living." —The New York Times
"A complicated, nuanced look at human experience and the insights into that experience contributed by people of varying kinds of intelligence. Oh, it's funny, too. . . . What most enlivens Tumbledown is the moving inner life that Boswell imagines for his mentally disabled characters. " —The Washington Post
"[Tumbledown] blossoms in surprising ways. . . . It's hilarious, sad, messy, and often unintentionally insightful. Boswell manages to treat each of his lost souls--even the most shabby, offensive, and insane among them--with affection and understanding. . . .He's writing excellent books about the complexities, frailties, and triumphs of human relationships in the modern age." —The Daily Beast
"When most of us think of today's great American novel, we think of Franzen's Freedom or Egan's A Visit from the Goon Squad--sprawling stories that comment on contemporary society as we live it. Tumbledown, Robert Boswell's latest, is just such a book--and one you'll stay up until 3 a.m. reading. . . . Boswell is a writer who can see the humanity, and yes, even beauty, in just about anything." —Oprah. com, "Book of the Week"
"Like a funnier One Flew Over the Cuckoo's Nest, this story focuses on a therapist and his wild yet well-meaning patients, bumbling through life, trying to make sense of the world and one another." —O: The Oprah Magazine, "Ten Books to Pick Up Now"
"A moving and often darkly hilarious meditation on sanity." —Houston Chronicle
"[An] intriguing new book. Boswell creates memorable characters with a few well-chosen lines." —Dallas Morning News
"[Tumbledown] shines a searing spotlight on the human condition. . . [It] is bursting with life. . . . Tumbledown is a welcome return from a grossly overlooked and underrated novelist." —Star Tribune (Minneapolis)
"With a big heart and a perceptive eye for the layers of wisdom behind the surface kinks of madness, Boswell stands solidly in the literary tradition that brings us understanding through those who don't quite understand." —Shelf Awareness
"[Tumbledown] is a successful complication of a book: light and dark, difficult and easy, a profound soap opera. . . . From each character's idiosyncrasies, a bustling and believable world emerges." —St. Louis Post-Dispatch
"Dive into Boswell's novel of love affairs, messy friendships, family tragedies, human frailty, and things we don't understand about ourselves. It can make you see the world in a whole new way." —Bustle
"Within a suspenseful plot spiked with love triangles and flashbacks, Boswell renders each complex psyche and scene with magnificent precision and penetrating vision, fine-tuning our definitions of disorder and healing and deepening our perception of what it is to be normal, what it is to be human." —Booklist, starred review
"This is a crowded, tender, and captivating novel, the experience of which brings to the fore how reading itself can replenish our love of the imperfect beauty of humanity." —Publishers Weekly, starred review
"[An] absorbing tale of modern chaos steeped in moral issues." —Library Journal
"Boswell displays immense talent for characterization and observation . . . An impressive work." —Kirkus Reviews
"If you read Tumbledown in public, beware: Boswell's story is barkingly, snort-spurtingly, people-give-you-looks funny. Yet its humor is the most generous kind, uncynical and unsentimental, and woven through an ensemble story so large-hearted it keeps bursting its narrative seams. The result is a brilliant, humane, engrossing argument for how infinitely whacked and contingent life can be, and therefore how desperately we need one another to survive. I finished it with a long contented sigh, thinking, this is why I love reading novels." —David Wroblewski, author of The Story of Edgar Sawtelle
"Robert Boswell has always been an extremely appealing writer: uncommonly intuitive, a sparkling observer, graceful yet surprising sentence-to-sentence; and always in pursuit of important complexity in human behavior--a rare gift, which makes his writing increasingly essential." —Richard Ford