Stay Sweet Lib/E (Compact Disc)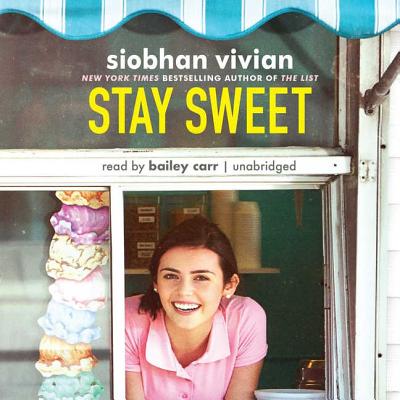 Please email or write store for pricing and availability information.
Special Request - May Not Be Available
Staff Reviews
---
Stay Sweet is about two very important things: the friendship between girls and ice cream. Siobhan Vivian's (New York Times bestselling author of The List) new book is a delicious summer (or winter, when you're missing the sun) read. The book follows Amelia during her final summer before college. For the last four summers, Amelia has worked at Meade Creamery along with nine other girls. The traditions the girls create and the bonds they form are reasons so many girls covet a position working at the ice cream shop. On Amelia's last first day, she finds the owner, Molly, on the floor of the office. Through the next weeks, Amelia struggles to keep the shop afloat with the help of her best friend, Cate, and the boy who is now in charge. The book has a parallel plot line taking place during WWII, highlighting the founding of Meade Creamery. If you like books about strong friendships and coming of age with a sprinkling of romance and history, this book is for you. Just make sure you have some of your favorite ice cream nearby!
— Vivian, Tattered Cover Teen Advisory Board member
This book is as sweet as the title. Amelia is a strong young woman who will do anything she can save the little ice cream stand she cares so much about. I loved how this book delved into the relationships between her and her best friend, her and the other Meade Creamery girls, and her and Grady--the new boy trying to reinvent the Meade Creamery. I felt everything Amelia was feeling, and I found myself wanting her to save the ice cream stand she loves so much just as badly as she did. The characters and the story made this book a wonderful read that I flew through. It's the perfect book for a hot summer day, or even a cold snowy one! But most importantly, Stay Sweet reminded me that a little bit of ice cream can fix almost any problem.  
— Alina, Tattered Cover Teen Advisory Board member
A cute summer before college story about Amelia who is now Head Girl of the local ice cream shop for the summer.  She and her best friend, Cate, have the perfect summer planned until the owner of the shop, Molly Meade, turns up dead and all the sudden her great-nephew, Grady, has come to take over the previously female only business.  Amelia is in for a summer of romance, hard work, drama and self discovery.  I really enjoyed the slightly older feeling that came from the ideas of enjoying your last summer before college and figuring out how to enjoy your last summer before you leave.  I also appreciated the dual story telling of Amelia and Molly Meade's life as they created and carried on the legacy of Meade Creamery.
— Kayla R., Tattered Cover Teen Advisory Board
This book is the perfect summer book, whether being read by the pool or in the colder months trying to channel that sunshine. Full of complex friendships, a small town feel, a mystery to solve, and a new boy, Stay Sweet will make you melt! A great read for fans of Morgan Matson books. 
— Zoe J., Tattered Cover Teen Advisory Board member
Stay Sweet is a sweet summer read that delves into the world of growing up, maintaining relationships, and taking new steps. The book chronicles the new male management of a historical, all-female run ice cream shop, Meade Creamery, through the eyes of Amelia, a young girl who has worked at the shop every summer for the last four years. As current high school seniors entering the summer before college, this book was relatable due to our current worries and excitement for the future, but is also relatable to anyone who has had to experience change. If you're looking for a sweet, quick read with a unique setting, this is the book for you!
— Mary M. and Jordan H., Tattered Cover Teen Advisory Board members
Description
---
From the author of The Last Boy and Girl in the World and The List comes a bold and sweet summer read about first love, feminism, and ice cream.
Summer in Sand Lake isn't complete without a trip to Meade Creamery-the local ice cream stand founded in 1944 by Molly Meade, who started making ice cream to cheer up her lovesick girlfriends while all the boys were away at war. Since then, the stand has been owned and managed exclusively by local girls, who inevitably become the best of friends.
Seventeen-year-old Amelia and her best friend Cate have worked at the stand every summer for the past three years, and Amelia is Head Girl at the stand this summer. When Molly passes away before Amelia even has her first day in charge, Amelia isn't sure that the stand can go on. That is, until Molly's grandnephew Grady arrives and asks Amelia to stay on to help continue the business ... but Grady's got some changes in mind.