FREE shipping on book orders over $75.00
USPS Media Mail within USA
Gift Cards are easy! Click SHOP on the bar above and choose Gift Cards.
Kooks and Degenerates on Ice: Bobby Orr, the Big Bad Bruins, and the Stanley Cup Championship That Transformed Hockey (Hardcover)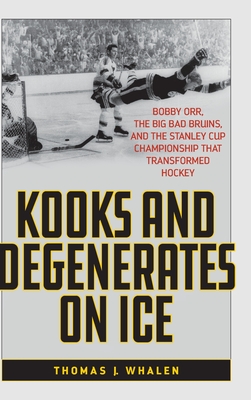 Please email or write store for pricing and availability information.
Available to Order - Usually Arrives in Our Store in 4 to 7 Days
Description
---
Celebrate the 50th anniversary of the Boston Bruins' 1970 Stanley Cup championship season by reliving all the moments in Kooks and Degenerates on Ice. While the United States seethed from racial violence, war, and mass shootings, the 1969-70 "Big, Bad Bruins," led by the legendary Bobby Orr, brushed off their perennial losing ways to defeat the St. Louis Blues in the Stanley Cup Finals for their first championship in 29 years. In Kooks and Degenerates on Ice: Bobby Orr, the Big Bad Bruins, and the Stanley Cup Championship That Transformed Hockey, Thomas J. Whalen recounts all the memorable moments from that championship season. Behind the no-nonsense yet inspired leadership of head coach Harry Sinden, the once laughingstock Bruins became the talk of the sporting world. Nicknamed the "Big, Bad Bruins" for their propensity to out-brawl and intimidate their opponents, the team rallied around the otherworldly play of Bobby Orr and his hard-hitting teammates to take the NHL by surprise in a season to remember. Kooks and Degenerates on Ice brings to life all the colorful personalities and iconic players from this Stanley Cup-raising team. In addition, the season is placed into its historical context as the United States struggled with issues of war, race, politics, and class, making this a must-read for sports enthusiasts, hockey fans, and those interested in twentieth-century American history.
About the Author
---
Thomas J. Whalen is an associate professor of social science at Boston University. Whalen's social/political commentary has appeared in the New York Times, ABCNews.com, Wall Street Journal, USA Today, Boston Globe, Los Angeles Times, and the AP. He has also appeared on several national broadcast outlets including CNN, NPR and Reuters TV. Whalen is the author of multiple books, including Dynasty's End: Bill Russell and the 1968-69 World Champion Boston Celtics (2003), When the Red Sox Ruled: Baseball's First Dynasty, 1912-1918 (2011), and Spirit of '67: The Cardiac Kids, El Birdos, and the World Series That Captivated American (R&L, 2017).