Macbeth (Paperback)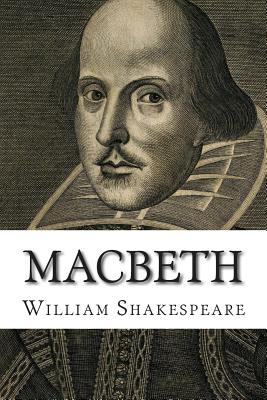 Please email or write store for pricing and availability information.
Special Request - May Not Be Available
Description
---
Macbeth on William Shakespearen kirjoittama naytelma. Se perustuu Skotlannin todellisen kuninkaan Macbethin vaiheisiin, mutta ei ole historiallisesti tarkka. Macbeth on Shakespearen sailyneista tragedioista lyhin. Vaikka tata ei suoraan sanota naytelmassa, Banquosta periytyvan suvun katsotaan olevan Skotlannin, ja myohemmin myos Englannin, Stuart-hallitsijasuku. Mahdollisesti Shakespeare halusi talla mielistella kuningas Jaakko I: ta. Jotkut nayttelijat eivat suostu lausumaan naytelman nimea pukuhuoneissa, koska sen kerrotaan tuovan huonoa onnea. Britanniassa kaytetaan sen sijaan usein nimitysta The Scottish Play ("Skottilainen naytelma"). Taistelusta voittoisana palaava Macbeth ja hanen ystavansa Banquo tormaavat kolmeen noitanaiseen. Nama ennustavat Macbethin saavan haltuunsa ensin Cawdorin kreivikunnan ja myohemmin tulevan kuninkaaksi. Banquolle ei luvata kuninkuutta, mutta hanesta ennustetaan kuningassuvun kantaisaa. Pian Macbethin luokse tulee sanansaattaja, joka ilmoittaa kuninkaan lahjoittaneen hanelle Cawdorin kreivikunnan. Kuningas itse kunnioittaa Macbethia lasnaolollaan. Tama ei paase eroon kuninkuusajatuksesta ja laatii vaimonsa kanssa murhasuunnitelman. Macbeth murhaa kuninkaan ja lavastaa syylliseksi juopuneet henkivartijat. Kuninkaan pojat pelkaavat vaaraa ja pakenevat maasta, Macbeth kruunataan kuninkaaksi. Macbeth surmauttaa Banquon, jonka poika kuitenkin paasee pakoon. Tappotuomittu ylimys Macduff pakenee, mutta hanen perheensa surmataan. Macbeth hallitsee hirmuvaltiaana, mutta alkaa pian nahda tunnontuskissaan harhoja, kuten Banquon haamun omassa tuolissaan. Macbethin vastainen liitto kokoontuu Englannissa: Macduff ja vanhan kuninkaan poika Malcolm kokoavat armeijan ja lahtevat vapauttamaan Skotlantia. Macbeth menee viela kerran tapaamaan noitia, jotka antavat hanelle tapansa mukaan totuudenmukaisia, mutta harhaanjohtavia lupauksia. Han jatkaa hirmuhallintoa karsien tunnontuskista yha enemman. Hanen vaimonsa alkaa karsia samoista kohtauksista ja lopulta kuolee, ilmeisesti itsemurhan tehneena. Tassa vaiheessa Macbeth pitaa kuuluisan monologinsa: "Elama on kuin varjo hailyvainen, vain nayttelija rukka, joka riehuin lavalla keikkuu aikansa ja haipyy; se kertomus on, hupsun tarinoima, tays aanta, vimmaa - tarkoitusta vailla." Macbethin armeija ja hovi hylkaavat hanet. Macbeth kuolee lopulta taistellessaan Macduffia vastaan. Malcolmista tulee kuningas.
About the Author
---
Paavo Emil Cajander (24. joulukuuta 1846 Hameenlinna - 14. kesakuuta 1913 Helsinki) oli suomalainen runoilija ja kaikkien aikojen tyoteliain suomentaja. Cajander oli Helsingin yliopiston suomen kielen lehtori 1890-1912. Hanet tunnetaan etenkin William Shakespearen naytelmien ensimmaisena suomentajana. Suomennokset ovat sailyttaneet asemansa uudempien suomennosten rinnalla. Myos J. L. Runebergin Vanrikki Stoolin tarinat tunnetaan parhaiten Cajanderin vuoden 1889 suomennoksena. Suomen kansallislauluna tunnettu Maamme on usein laitettu Cajanderin nimiin, mutta se periytyy kuitenkin Julius Krohnin vuoden 1867 kaannoksesta. Merkittavan tyon Cajander teki myos Zacharias Topeliuksen Maamme kirjan suomennostyossa. Han muokkasi perusteellisesti Johan Backwallin suomennosta vuoden 1878 toisesta painoksesta lahtien lukuisissa uusissa painoksissa vuosisadan vaihteeseen asti. Cajanderin oma tuotanto runoilijana oli niukka ja on paaosin jaanyt unohduksiin. Hanen runojaan ilmestyi Valikoima runoelmia -nimisena kokoelmana 1898. William Shakespeare (kastettu 26. huhtikuuta 1564 Stratford-upon-Avon, Warwickshire - 3. toukokuuta (J: 23. huhtikuuta) 1616 Stratford-upon-Avon, Warwickshire) oli englantilainen naytelmakirjailija ja runoilija. Hanen katsotaan olevan historian merkittavimpia kirjailijoita ja aikansa etevimpia englannin kielen taitajia. Shakespeare kirjoitti useita naytelmia, niin tragedioita kuin komedioitakin, sonetteja ja runoja. Shakespeare kirjoitti teoksensa vuosina 1585-1613, mutta naytelmien kirjoitusjarjestysta ei tiedeta varmasti. Stratford-upon-Avonin Pyhan kolminaisuuden kirkon kirjoista loytyy 26. huhtikuuta 1564 latinankielinen kastemerkinta Guilelmus filius Johannes Shakespere eli William, John Shakespearen poika. Kasteen ajankohdan mukaan on syntymapaivaksi yleisesti arveltu 23. huhtikuuta. Arvio perustunee etupaassa siihen, etta kyseinen paiva on Pyhan Yrjon paiva, joka 1800-luvulla katsottiin Englannin kansallisrunoilijalle sopivaksi syntymapaivaksi. Shakespeare saattoi syntya myos 21. tai 22. paivana. William oli John Shakespearen ja Mary Ardenin kahdeksasta lapsesta kolmas. Hanella oli nelja siskoa ja kolme veljea. William oli lapsista ensimmainen joka selviytyi yli lapsuusian, vaikka pian Williamin synnyttya Stratfordiin saapui ruttoepidemia, joka vei joka seitsemannen asukkaan kaupungissa."