FREE shipping on book orders over $75.00 (Media Mail within USA)
Gift Cards are easy! Hover over SHOP on the bar above and select Gift Cards from the drop down menu.
Quick tip: If a book is listed as "On our Shelves" - call the store for quickest pick up.
The Meat Racket: The Secret Takeover of America's Food Business (MP3 CD)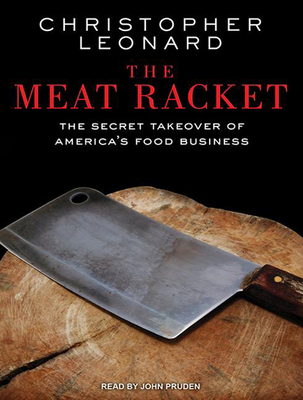 Please email or write store for pricing and availability information.
Special Request - May Not Be Available
Description
---
How much do you know about the meat on your dinner plate? Journalist Christopher Leonard spent more than a decade covering the country's biggest meat companies, including four years as the national agribusiness reporter for the Associated Press. Now he delivers the first comprehensive look inside the industrial meat system, exposing how a handful of companies executed an audacious corporate takeover of the nation's meat supply. Leonard's revealing account shines a light on the inner workings of Tyson Foods, a pioneer of the industrial system that dominates the market. You'll learn how the food industry got to where it is today and how companies like Tyson have escaped the scrutiny they deserve. You'll discover how these companies are able to raise meat prices for consumers while pushing down the price they pay to farmers. And you'll even see how big business and politics have derailed efforts to change the system, from a years-long legal fight in Iowa to the Obama administration's recent failed attempt to pass reforms. Important, timely, and explosive, The Meat Racket is an unvarnished portrait of the food industry that now dominates America's heartland.
About the Author
---
Christopher Leonard is the former national agribusiness reporter for the Associated Press. His work has appeared in "Fortune," "Slate," and the "New York Times." He lives outside Washington, D.C.

John Pruden is a professional voice actor who records audiobooks, corporate and online training narrations, animation and video game characters, and radio and TV commercials. An "AudioFile" Earphones Award winner, his audiobooks include "The Sisters Brothers" by Patrick deWitt, which was chosen by the "Washington Post" as the best audiobook of 2011.