The Glass Cage: Automation and Us (Pre-Recorded Audio Player)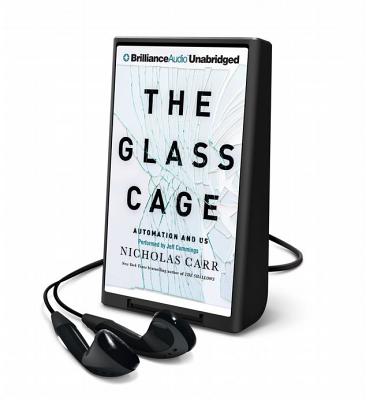 Please email or write store for pricing and availability information.
Special Request - May Not Be Available
Staff Reviews
---
       Keeping up with the increasingly wired world is typically seen as a necessity... at least as an obvious good. However, local (Boulder) author Nicholas Carr (The Shallows: What the Internet Is Doing to Our Brains) begs to differ in his latest book, The Glass Cage: Automation and Us. It's not so much that Carr sees the automation in our lives as a bad or harmful thing so much as he cautions us to pay better attention to the ways in which the slave-like qualities of the machines designed to save time and reduce stress and strain for humans can unwittingly wind up reversing those roles and turning the human into a mere appendage, or servant, of the machines (s)he operates. Cases in point range from the head-mounted "Google Glass" computer to the cockpits of Airbus' more 'technology-centered' vs. Boeing's more 'human-centered' jets, and all the way back to mechanical weaving looms introduced in the 19th century that enraged the machine-breaking Luddites, who'd had it with the devaluing and gradual replacement of skilled human labor with technologies rendering their work redundant. In diverse quadrants of human life, from aviation to trading on Wall Street to designing buildings or trusting computers to ensure doctors' nuanced knowledge of their patients' health histories, Carr makes a reasonable case for questioning the infallibility of computers and acknowledging the uniquely human skills that cannot be entirely replaced by clever technologies. Are expedience or financial profitability -or the mere fact that a new technology becomes possible- reasons enough to go ahead with implementing that technology? How are our technologies that shape our very personalities, our cultures and our economies changing our ability or willingness to connect with the messy non-computerized world? Is the formula, more 'frictionless' technology = happiness and ease, really, actually what is happening?... actually what we want out of our lives? These aren't simple questions to answer for either humans or the 'wisdom of algorithms', but The Glass Cage is a good place to begin if one is hoping to more consciously notice how and when the abstract world of the 'glass cage' is impacting the development or maintenance of our skills... even our very thoughts, in the sensory, physical world our technology ostensibly is helping us to navigate better."~ Lynn 
— Lynn has been reading, recommending & selling books to Tattered Cover for decades
Description
---
At once a celebration of technology and a warning about its misuse, The Glass Cage will change the way you think about the tools you use every day.
In "The Glass Cage," bestselling author Nicholas Carr digs behind the headlines about factory robots and self-driving cars, wearable computers and digitized medicine, as he explores the hidden costs of granting software dominion over our work and our leisure. Even as they bring ease to our lives, these programs are stealing something essential from us.
Drawing on psychological and neurological studies that underscore how tightly people's happiness and satisfaction are tied to performing hard work in the real world, Carr reveals something we already suspect: shifting our attention to computer screens can leave us disengaged and discontented.
From nineteenth-century textile mills to the cockpits of modern jets, from the frozen hunting grounds of Inuit tribes to the sterile landscapes of GPS maps, "The Glass Cage" explores the impact of automation from a deeply human perspective, examining the personal as well as the economic consequences of our growing dependence on computers.
With a characteristic blend of history and philosophy, poetry and science, Carr takes us on a journey from the work and early theory of Adam Smith and Alfred North Whitehead to the latest research into human attention, memory, and happiness, culminating in a moving meditation on how we can use technology to expand the human experience.