The Days of Anna Madrigal (Tales of the City #9) (Compact Disc)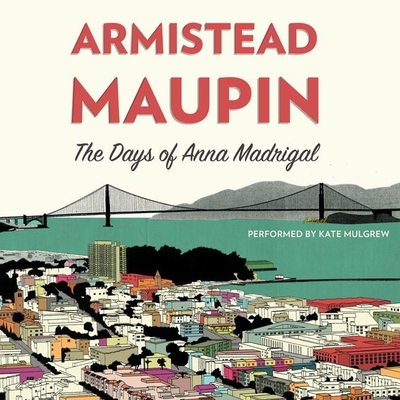 Please email or write store for pricing and availability information.
Special Request - May Not Be Available
Staff Reviews
---
In this ninth volume, Armistead Maupin brings his Tales of the City
series to a close. The first three books describe 1970s life in San
Francisco, the eponymous City, in all its glorious diversity and
unconventionality, introducing us to a charming cast of characters. The
second three, by necessity, deal with the changes wrought by the onset
of the AIDS epidemic, although there are plenty of other things
happening in its midst. After a hiatus, Maupin writes in the last three
books about aging and mortality, while introducing us to some younger
new characters. The Days of Anna Madrigal is simpler in
some respects than the other Tales. Two groups of characters follow
contemporary journeys which diverge and then reconverge at the end,
alternating with a third flashback storyline, revealing information
about Anna's pre-transgender youth. Readers of the series will not be
surprised that after a close call in the last book, Mary Ann in Autumn,
Anna realizes and accepts that she's winding down, and wants to take
care of some unfinished business while she can. This is a loving and
respectful sendoff for a wise character we've admired along with her
fictional "logical family." When I closed the book, I wished it had been
a little longer. There's probably a metaphor there." ~Hank
— Hank has been a Tattered Cover jack-of-all-trades for 2 decades, now retired—but not from reading
When I first learned there was a forthcoming installment of Tales of the
City, I was thrilled. Seriously, this is one of my favorite series ever
written. Learning that The Days of Anna Madrigal
would be the final book in the series broke my heart. Of course, the
series can't go on forever, and we, as readers, are always welcome back
to Barbary Lane by re-reading all of the books. The previous two books
in the series, Michael Tolliver Lives and Mary Ann in Autumn, revisited the beloved characters, bringing us up-to-date on their lives more than twenty years after we met them.

In The Days of Anna Madrigal, the story is centered on the
titular character, determined to make peace with her past in her waning
days. Unlike the other books, more of this story is told in flashbacks
to Anna Madrigal's days as a youth in Winnemucca, Nevada. We meet her
first love and get a glimpse of life growing up in a brothel. Brian
Hawkins returns to San Francisco to take Anna to Winnemucca to come to
terms with her past. Meanwhile, Michael Tolliver, his lover Jake, and
Brian's daughter, Shawna, are headed to a different part of the Nevada
desert for the Burning Man festival. Armistead Maupin still tells his
story in short chapters, and he winds his two storylines together with
seamless ease. Maupin has been telling us this story for over thirty
years, and the story is just as ahead of the times as ever. Anna
Madrigal surrounds herself with what she calls her "chosen family" and
that family has expanded as many do, introducing new characters on the
edges of the story.

Knowing this is the final book in the series, I read it as slowly as I
could, savoring the bittersweet story the whole way. Maupin made me
laugh, made me underline and dog-ear pages, and made me cry. Turning
that final page, having said goodbye to these characters I have known my
entire adult life, felt like stepping out on your own, knowing the
folks who've raised you did their best, and their best was fantastic. I
will miss Anna Madrigal, Michael, Mary Ann, Brian, and the rest of the
gang from Barbary Lane. Armistead Maupin, thank you for bringing them
into my life!" ~Joe
— Joe is one of our most beloved alumni, having moved to a farm to grow his own veggies
February 2014 Indie Next List
---
"Maupin's Tales of the City series has enchanted many over the years. At the center of its fictional 'logical family' - the family you get to choose -- is Anna Madrigal, now 92, a bit unsteady on her pins and frail but still the anchor of this quirky, lovely group of people. As time goes on, Anna feels the need to revisit Winnemucca, Nevada, the home of her youth, to acknowledge her past and secrets too-long hidden. As luck would have it, familiar characters Michael, Ben, Shawna, Jake, and Amos are also heading into the dry flats of Nevada for the Burning Man festival. It is always a treat to read about this community, where what you are does not matter nearly as much as who you are."
— Deon Stonehouse, Sunriver Books, Sunriver, OR
Description
---
Suspenseful, comic, and touching, the ninth and final novel in Armistead Maupin's bestselling Tales of the City series follows one of modern literature's most unforgettable and enduring characters--Anna Madrigal, the legendary transgender landlady of 28 Barbary Lane--on a road trip that will take her deep into her past. Now a fragile ninety-two years old and committed to the notion of "leaving like a lady," Anna Madrigal has seemingly found peace in the bosom of her "logical family" in San Francisco: her devoted young caretaker, Jake Greenleaf; her former tenant Brian Hawkins; Brian's daughter Shawna; and Michael Tolliver and Mary Ann Singleton, who have known and loved Anna for nearly four decades. Some members of Anna's family are bound for the otherworldly landscape of Burning Man, the art community in the Black Rock Desert of Nevada where sixty thousand revelers will build a temporary city (Michael calls it "a Fellini carnival on Mars") designed to last only a week. Anna herself has another Nevada destination in mind: a lonely stretch of road outside of Winnemucca where the sixteen-year-old boy she used to be ran away from the whorehouse he called home. With Brian and his beat-up RV, she journeys into the dusty troubled heart of her Depression-era childhood, where she begins to unearth a lifetime of secrets and dreams, and to attend to unfinished business she has long avoided.