Annihilation Lib/E (Southern Reach Trilogy #1) (Compact Disc)
TatteredCover.com Has New Hours!
We will be accepting orders Tuesdays at 10am through Saturdays at 5pm
You will still be able to browse books and add them to your shopping cart, but you will not be able to complete an order beginning at 5pm (MDT) on Saturdays, and until 10am on Tuesdays.
---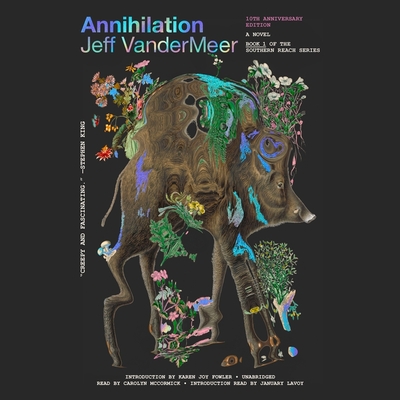 Please email or write store for pricing and availability information.
Special Request - May Not Be Available
Description
---
If J. J. Abrams, Margaret Atwood, and Alan Weisman collaborated on a novel ... it might be this awesome.
Area X has been cut off from the rest of the continent for decades. Nature has reclaimed the last vestiges of human civilization. The first expedition returned with reports of a pristine, Edenic landscape; all the members of the second expedition committed suicide; the third expedition died in a hail of gunfire as its members turned on one another; the members of the eleventh expedition returned as shadows of their former selves, and within months of their return, all had died of aggressive cancer.
This is the twelfth expedition.
Their group is made up of four women: an anthropologist, a surveyor, a psychologist-the de facto leader-and a biologist, who is our narrator. Their mission is to map the terrain and collect specimens; to record all their observations, scientific and otherwise, of their surroundings and of one another; and, above all, to avoid being contaminated by Area X itself.
They arrive expecting the unexpected, and Area X delivers-they discover a massive topographic anomaly and life-forms that surpass understanding-but it's the surprises that came across the border with them and the secrets the expedition members are keeping from one another that change everything.
Cover artwork (C) Paramount Pictures. All Rights Reserved.